Jayden Rey is an American actress who in the past couple of years has been making headlines. She is best known for her work on the series The Conners. She is also quite notable for her role in the controversial series Roseanne. Having had started acting at just the tender age of two, Jayden is on her way to greatness.
Not only is she an actress, but she is also an advocate for equal rights and racism. She can be seen voicing her opinion on various racial related matters. And it's essential to take into consideration that she's just ten years old. 
Bio, Wiki, & Family
Jayden Rey was born in the year 2009 in New York, USA. She celebrates her birthday every year on the 26th of April. Jayden holds American nationality and is of African-American ethnicity. As for her height, Jayden seems to stand at an average height for a ten-years-old, i.e., 138.4 cm.
In her family, she has an older sister and a four-year-old brother as her siblings. On the occassion of her brother's second birthday, she posted a picture of her baby brother on her Instagram and captioned the photo by writing
I will be flooding my timeline today because my baby brother turned 2 yrs old today!!! HAPPY 2ND BIRTHDAY JONAH.
Her relationship with her parents seems to be very strong. A look into her Instagram account will reveal tons of pictures of her family. The young Jayden can be seen sharing moments with her mother, father, sister, and her grandparents. So, it would seem her family has a strong bond between them.
On-Screen Family
Stepping outside of her family, Jayden also has a very close relationship with her on-screen parents from the ABC show The Conners.
Jayden posts several posts on her social media, dedicating her love towards her on-screen parents. In the series, Michale Fishman played her on-screen father, while Maya Anne Robinson played her on-screen mother.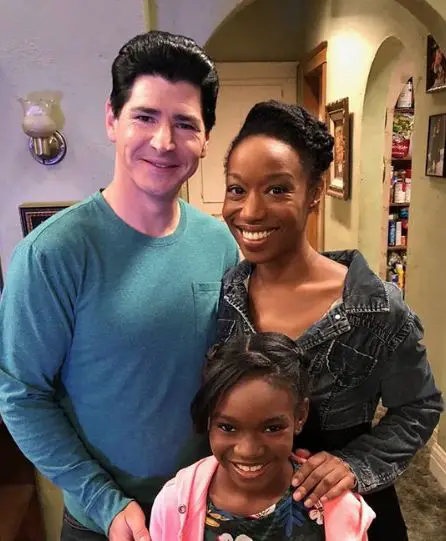 Jayden with her on-screen parents (Photo: Jayden's Instagram)
Her on-screen chemistry with her reel life parents is what has made the show a hit amongst fans. And to their excitement, they will get a chance to witness the chemistry even more. The ABC show has been renewed for a new season for 2019.
Net Worth
Jayden is an actress best known for her roles in the series The Conners and Roseanne. She began her acting career at just two years old. She started by doing commercials and soon landed a role in one episode of CBS's Unforgettable. She has worked as a model for Dannon, Kohl's, Nick Jr., Sprouts, Farm Rich, ESPN and Toys 'R' Us.
Besides acting, Jayden is adept at singing and dancing. She can be seen voicing her opinion regarding female empowerment, grace, peace, and success. It is fair to say, Jayden has greatness coming towards her in the coming years.
Interesting: Chelsea Handler Net Worth, Husband, Parents
As for her net worth, the exact numbers have as of 2019, remained unrevealed. But it would be fair to assume that she could have earned the fortunes in the range of thousands of dollars.