Bringing a sudden change in the lifestyle isn't an easy thing, but with some time and patience, everything gradually falls into place. The "Flipping Out" star, Jeff Lewis struggled to cope with his the entry to parenthood. But he and his partner, Gage evolved into parenthood and are now looking to provide the best upbringing for their baby daughter, Monroe.
Differences after the Arrival of Baby!
With the charm that Jeff Lewis has, fans expect him to get married to the most beautiful wife. But he gave an absolute shocker to the fans when he announced himself to be gay and in a long-term relationship with his business partner. 
Discover This: Noah Munck Gay, Girlfriend, Net Worth
Openly Gay Jeff Lewis, 47 is in a relationship with his business manager, Gage Edwards, 33 for more than eight years now. Everything seemed to be heading in the right direction for the gay couple when they decided to become the parent in 2016.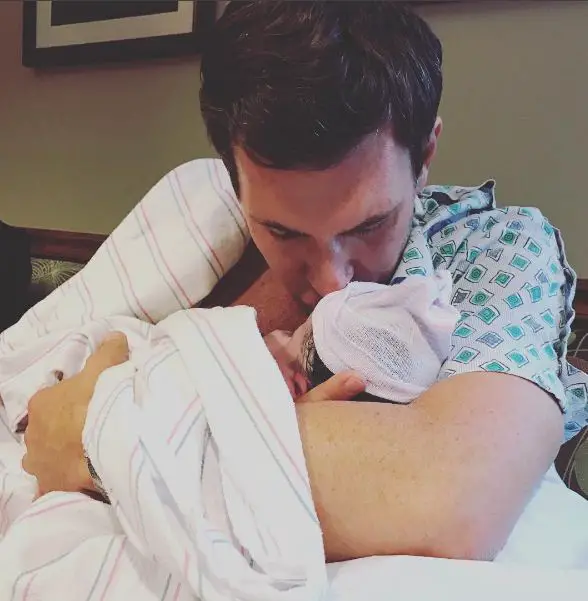 Jeff embracing his daughter on 26th October 2016 (Source: Instagram)
Jeff welcomed a baby daughter Monroe on 25th October 2016 with the partner, Gage through surrogacy. But soon after their arrival of their baby, the duo couldn't adjust to parenthood right away as they struggled to stop Monroe from crying. Their struggle then created a rift between the couple, making him think ought about breaking up with Gage.
The reality star also discussed the matters with his attorney over the possible legal battle with his long-time partner and came to find that Gage was eligible for palimony as well. 
Do Not Miss: Tim Hasselbeck Wife, Children, Net Worth
Is Jeff Still Together with Gage? 
After their public bust-up and possible legal battle, everything looked done and dusted in their relationship. But the duo then reevaluated their status and decided to stick together as they were still in love.
Jeff even went in public records and complimented Gage as a great father and said that:
"He's so nurturing and the primary caregiver. I take his lead ... I just let him make most decisions. For major decisions, we consult each other, but really he's a natural."
Jeff and Gage were going actively about their business and juggling well with their baby daughter, Monroe who was set to complete an anniversary into this world. However, later, Jeff confirmed that he and his lover for a decade broke off and dissolved their happy relationship in January 2019. During SiriusXM radio show Jeff Lewis Live, he admitted that they separated from his partner, Gage after Edward moved out of the family home they shared with their two-year-old daughter, Monroe.
Jeff, who previously revealed that Gaze moved with another guy for a date whom he met at Gym, stated that his boyfriend left him. Asserting the alleged Gym guy a homewrecker, he also disclosed that he and Gaze were not in the relationship for over a couple of years. He stated that the couple broke off during Valentine's Day 2017; however, it took two years to be separated from one another officially. 
Despite their break-up, the duo has been working out to co-parent their daughter, Monroe and sharing the custody. 
Career and Professional Life
After graduating in 1993, he worked as a real estate agent. After working hard for years, he then founded his design firm with Jenni Pulos in 2009. He got the exposure that he deserved when his design of the "Kitchen of the Year" for House Beautiful featured at Rockefeller Center.
But his real success story started from 31st July 2007, when he debuted as the star of the Bravo's reality series called "Flipping Out." The renowned TV series is now in its 10thseason which aired on 17th August 2017.
He then starred in the spinoff show of "Flipping Out" called "Interior Therapy with Jeff Lewis" on 14th March 2012 which stunned the fans for two seasons.
How Much is Jeff's Net Worth?
The Interior designer earns his fortune through his design firm as well as starring in "Flipping Out." Everyone can predict his stardom as he converted his housekeeper Zoila into the mini-celebrities. Given his mega-stardom, his gigantic net worth of $10 million doesn't come as a surprise.
See Also: Josh Flagg Wiki, Married, Boyfriend, Dating, Split, Gay, Net Worth
Short Bio
California native Jeff Lewis was born on 24th March 1970 which makes his age 47 in Orange County, California. As per his wiki, he attended the University of Southern California and Chapman University. American national, Jeff was born to father Tom and lost his mother when he was just aged 18. Jeff, who belongs to white ethnicity, had a strained relationship with his parents but later evolved and now has strengthened the relationship with his father and stepmother. With a good body shape, he stands at a tall height.