Sometimes in life, people end up choosing the profession they never intended to take. The same thing happened with one of the most famous interior designers, Jeremiah Brent.
Jeremiah knew that he was creative enough to join the line of designing since childhood as he loved to imagine the people could live in a space. But, he only realized that he was meant to be an interior designer when he first made a piece of TV cabinet by himself as per his mother's suggestion.
Similarly, Jeremiah rose into fame after being associated with Rachel Zoe's project and appearing in her show, The Rachel Zoe Project.
Also, he gained popularity when his work and art was featured in publications like GQ, Harper's Bazaar, and The Wall Street Journal.
Furthermore, he achieved more limelight after being featured in the drama movie, The Ode, in 2008.
Openly Gay Jeremiah Brent Wedding To Nate Berkus, Children
Jeremiah is married to his husband, Nate- who came out as gay in his college days for several years. They were friends for years but the friendship was upgraded after they attended one of their mutual friend's birthday parties. And, they fell deeper after going to an antique shop while Jeremiah was in New York for a vacation.
Related: Openly Gay August Getty Wiki: Age, Net Worth To Family Details
After being in a relationship for a year, Jeremiah and Nate decided to embark on a new journey by exchanging rings in 2013 in Peru. Finally, the two tied the knot on 3rd May 2014 at the New York Public Library. Their wedding ceremony was attended by some big personalities, including Oprah Winfrey.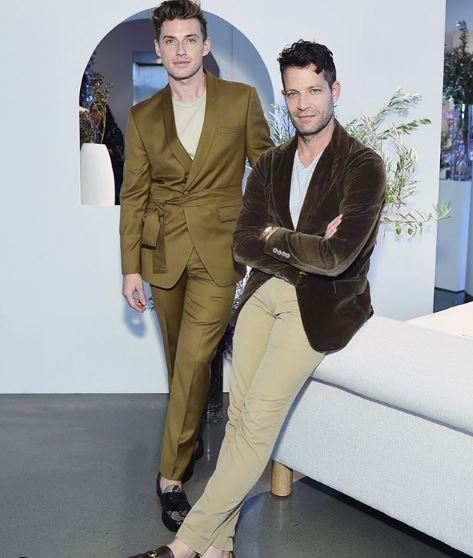 Jeremiah Brent and husband Nate Berkus on 11th January 2020 (Photo: Nate Berkus' Instagram)
Together, the couple has two children; one daughter and a son. His daughter, Poppy Brent-Berkus was born on 23rd March 2015 via surrogacy. The announcement of Poppy's birth was made by posting a status on Facebook. His son named Oskar was born in 2018 through the same process.
Who Is Nate Berkus?
Jeremiah's husband, Nate is a design expert and a TV show host. He is popular for hosting the show named The Nate Berkus Show which premiered from 2010 to 2012. He is also famous for being featured in The Oprah Winfrey Show.
Another Interior Designer: Roxy Sowlaty Wiki, Boyfriend, Engaged, Parents, Net Worth
Before meeting Jeremiah, Nate was healing from the tragic death of his ex-partner Fernando Bongoechea- who died on the Indian Ocean Tsunami that took place in 2004.
Now, Jeremiah and Nate are living a happy and luxurious life as Nate's net worth is $18 million, which is fueled via his career.
Interesting Facts About Him:
Jeremiah was born on 24th November 1984 in the United States.
His birth sign is Sagittarius.
He stands at a height of 5 feet and 8 inches (1.7m)
Jeremiah and his husband, Nate became the first same-sex couple to wed in New York Public Library.
Back in September 2019, he sold his house for $800K.
Jeremiah wakes up at 4 am every morning so that he can find time for himself.
Jeremiah has worked with brands like Baby2Baby, Sherwin-Williams, kt.COLOR, Portola Paints & Glazes, Benjamin Moore, InStyle, Rolling Stone, and the Banana Republic.
Jeremiah's husband, Nate, was born on 17th September 1971 in California.