Is he is 'A bad Influence' or 'An Inspiration?' Well, fans are divided with their opinions for the father of pop sensation, Justin. Jeremy Bieber, whose only identity in the media, is the father of Justin Bieber who never married the mother of Justin, Pattie but now has become a profound figure in the life of Justin. Known for his violent actions in the past, he recently engaged Chelsey Rebelo after the divorce with wife Erin.
Career of Jeremy:
Jeremy now works as a carpenter and doubles up with a job as a construction worker. But previously he tried his luck as an MMA fighter. This multi-talented man has also produced a documentary 'Bodyguards: Secret Lives From the Watchover' as an executive producer.
Apart from that he used to play for some bands and tried to make the career as a musician. Further, he can also take some credit for his son's success as he taught his son Justin how to play guitar.
A Troublemaker more than Being A Father:
Being father of Justin not legally but biological, Jeremy has been caught several times by police and has served jail terms on several occasions. His troubled past and alcoholism in Ontario led people to see him as a bad influence in the life of Justin who faced similar consequences in 2014.
Birth of Justin with Pattie:
Justin was born with Jeremy's sexual relationship with Pattie when Pattie was just a seventeen. The two were never married. After the birth of Justin, Jeremy abandoned Pattie and Justin when he was just ten months old, and Pattie had to rely on food banks to raise her only son.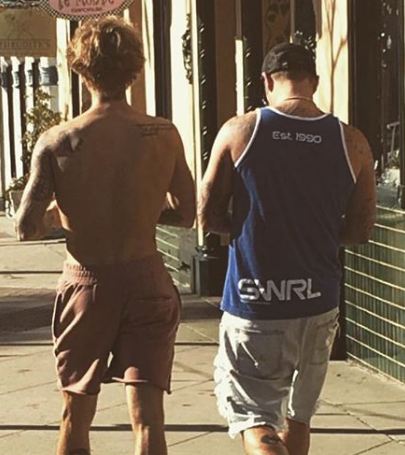 Caption: A tribute post where Justin and Jeremy share a walk on 4th December 2017
Source: Instagram
But after years of Justin's upbringing, Justin has high regards for his father, and he once posted a tribute to his father and said:
I love continuing to get to know my father I love working through hard things to get to the good things. Relationships are worth fighting for especially with family!! Love you forever and always daddy!
And Justin calls Jeremy a hero as Justin often opens about his strained relationship with mother Pattie. Jeremy taught Justin guitar introducing Justin to classic rock music. It was Jeremy who taught driving too. Justin sang a song, "Down to Earth," in the album "My World." This song was inspired by the father Jeremy and mother Pattie according to Justin.
Jeremy's Relationship with wife Erin Wagner and Fiancé Chelsey Rebelo:
Jeremy Bieber then married Erin Wagner and had welcomed two children named Jazmyn and Jaxon. But after seven years of married life, the couple decided to end the chapter of their marriage in divorce.
After his relationship with Erin done and dusted, now he is engaged to his longtime girlfriend Chelsey Rebelo on 19th February 2016.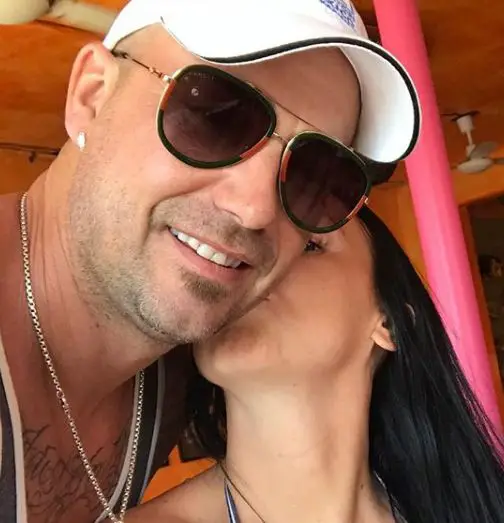 Caption: Jeremy and his fiancé Chelsey on 31st December 2017
Source: Instagram
Happily engaged Jeremy often post pictures of his fiancé in his Instagram account which suggests that the couple enjoy a healthy relationship.
His multiple relationships with woman and marriage prove that he is not gay and has straight sexual orientation.
How much is Jeremy's Net worth?
Jeremy is the father of Justin Bieber, pop sensation who has a net worth of whopping $265 million. However, it seems hard for Jeremy to summon net worth anyway near that margin for his job as a carpenter. His earnings and fortunes haven't been revealed yet.
Jeremy's Short Bio:
Jeremy Bieber took his first breathe on June 4, 1975, with the birth name Jeremy Jack Bieber in Stratford, Canada which makes his age 42.This senior Bieber's family now lives in Canada. He was born to parents George Bieber and Kate Hamill and has four siblings named Rob, Brad, Bonnie and Steve Bieber. He is a Canadian and belongs Canadian White ethnicity. He is blessed with a tall figure with the height of 5 feet and 10 inches.