Try and imagine that you click a random photo of yours, then post it on social media in the night and wake up to find that it has millions of likes. Well, that surprise is not even close enough to what Jeremy Meeks, a high-end fashion model experienced after his mug shot posted on the Facebook wall of Stockton Police Department went viral and became the Internet's Hot Felon. His arrest photo garnered more than 87,000 likes and 18,000 comments even topping the number of likes of the page.
An Arrest That Led To Stardom!!!
A dig into his profile might land you at a time when he used to be involved in the crime which resulted in his arrest record and subsequently the most famous mug shot ever. He was one of the most violent criminals in the area who also had the hands-on shootings and robberies. A noticeable teardrop tattoo that might represent that he has murdered someone but has said that he's not proud of it.
The viral picture of his arrest turned around the things for him making him an overnight star. The world's hottest felon has since been a model and landed many projects from the profound name. After raising money for bail, he joined the fashion modeling through the manager Jim Jordan and debuting at the New York Fashion Week in 2016. He also joined Instagram where he shares heartwarming photos of his family and children along with uncountable topless pics.
Once again all eyes were on him when he modeled for the two looks at Philipp Plein's men's spring 2018 show on 18th August 2017. Although he has moved on life, his past still haunts him on occasions like the time the authorities stopped him from entering London to attend a new issue of Man About Town.
Has Jeremy Meeks Already Married?
If there's any reason that made this man the ultimate and most famous convict, then that's the number of women who swoon over his crisp and chocolaty face. Millions of women all over the world were left in awe, and even asked him to make them his girlfriend, by his mysterious and hypnotizing blue eyes which also earned him the name, The Blue-Eyed Bandit' and 'Jail Bae.' 
The fact that he was already married might have broken hearts of many, but his wife was, in fact, the person who conveyed to him the news that he had blew up the internet and had gone viral. Melissa Curl, who is a nurse is the significant other of his life with whom he been together for over eight years now.
The couple is parents to a son Jeremy Meeks Jr. He also has a son, Robert from the previous relation. They celebrated the eighth year anniversary of their marriage in their brand new mansion. He also owns the $125,000 Maserati in which he takes the family on tours.
However, their relationship could not last long. Melissa parted her ways in different paths claiming that her husband, Jeremy dumped her to seek a romance with Topshop heiress Chloe Green. As several pictures of Jeremy and Chloe peaked the media with many gossips and speculation, Melissa felt heartbroken and betrayed. As a result, Melissa filed a divorce in October, which led the couple to go through the legal separation process. 
Melissa also went through another relationship with the billionaire, Donald DJ with whom she was spotted partying in Los Vegas.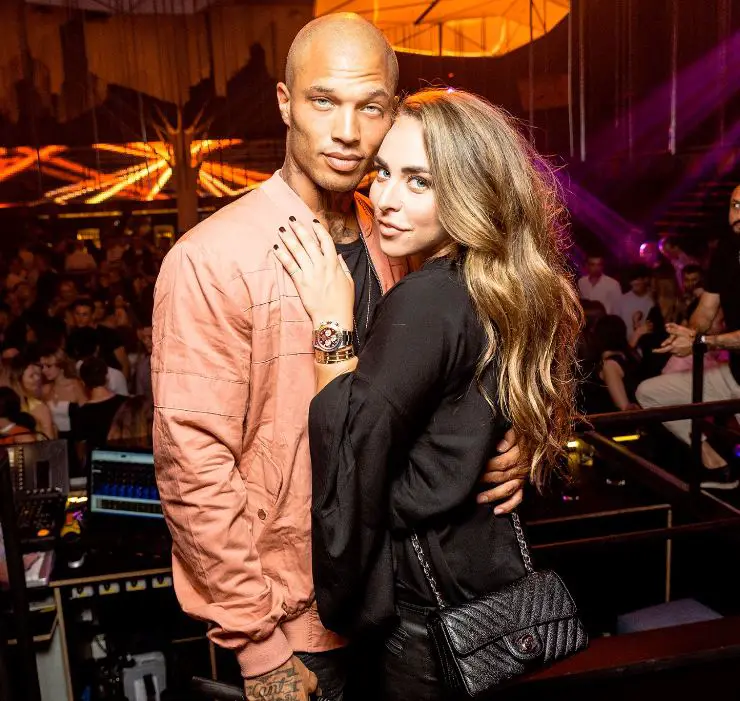 Jeremy Meeks with his girlfriend, Chloe Green (Photo: usmagazine.com)
After the split up, Jeremy relished the freedom to involve romantically with Chloe Green and started dating her since June 2017. The duo was also rumored to be engaged as Chloe was spotted with a diamond ring during in several occasions. Along with their romance and love, they announced that they were expecting a child in March 2018 and after a couple of months they welcomed their first child, Jayden Meeks-Green in June 2018. 
As of now, the couple attends various events and occasion and also goes for spending the vacations together. They display their love and harness through social media with beautiful quotes and pictures. Furthermore, there has not been anything or incidents that could make Jeremy a gay. 
Discover More: Remy Boy Monty Wiki, Age, Girlfriend, Net Worth
Short Bio And Wiki
Jeremy Meeks, currently aged 34, was born on 7th April 1984 in California, the U.S. During his time in incarceration, his mother, Katherine Angier raised up $1 million to free him from the jail and also set up the GoFundMe page for the collection of required money. His fame helped in the procurement of the funds resulting in his release. He has two siblings, both brothers Emery and Bryan. The American National belongs to mixed ethnicity. The handsome and popular fashion model also dons an amazing body and stands tall at a height of 6 feet.