Jeremy Michael Lewis is a digital marketing consultant of the company Platobrand and is also its respective owner. The social media influencer is also a singer and most notable of that being his viral hit "Disney Love Medley."
The Illinois native competed as a soloist on Season four of The Sing-Off in 2013 alongside the acoUstiKats. But it is his relationship with Pentatonix singer Kirstin Maldonado that brought him into the limelight.
Wiki & Bio
Jeremy Lewis was born in 1992 in Rockford, Illinois. He celebrates his birthday on the 22nd of January every year. Jeremy holds American nationality and is of white ethnicity.
As evident by one of his Tweets in 26th April 2016, his height was confirmed to be at around 6'4" tall.  He went to Rock Valley College from 2010 to 2011 after which he was accepted into the University of Kentucky Percussion Studio in 2011 on a performance scholarship. Later, Jeremy earned a BA in business management from the Gatton College of Business.
Details about his family life and his early days are unknown.
Who Is Jeremy's Partner? Engaged or Married?
When it comes to Jeremy's relationship, it is no secret that he was once in a relationship with the cappella group Pentatonix singer Kirstin Maldonado. Their relationship is what brought Jeremy into the limelight.
The couple first met in 2013, and eventually, they started dating one another. On 29 May 2016, she and her partner shocked their fans when Maldonado revealed that she was engaged to Jeremy.
You Might Enjoy: Christine McConnell Wiki, Age, Married, Net Worth
Kirstin showed off her sparkling engagement ring in an Instagram photo. On the bright side, Lewis also took to his Twitter to express his joy of engagement.
Both the couple were ready for the big day where they would turn into husband and wife.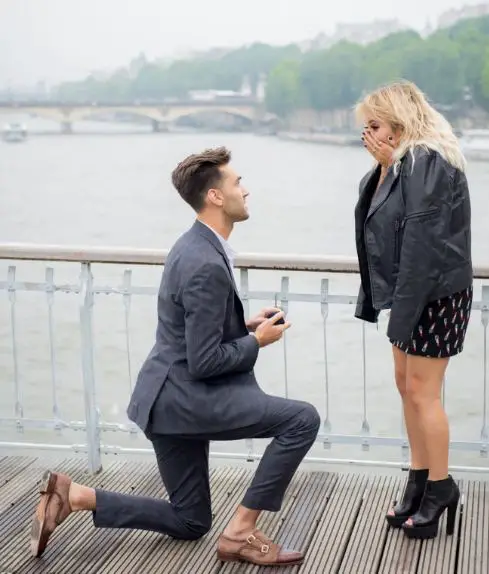 The moment Jeremy popped the question to Kirstin. (Photo: usmagazine.com)
But the big day never came in their love life. After a year and a half from being engaged, the couple called off their wedding which was scheduled to be in December of 2017. Sources close to them stated that they had postponed the wedding to sort out some issues.
But it seems, the issues were never sorted out as the pair not only called-off their wedding but also called it quits on their relationship. As for when the couple officially split was not confirmed or disclosed. 
Current Girlfriend?
After a tragic split, Jeremy moved on from the heartbreak and found himself a new love. After countless speculations and rumors, it was finally revealed that Jeremy is in a relationship with Youtuber Lauren Riihimaki.
When Lauren posted a vlog where she showed off her vacation in Hawaii, her fans were quick to point out that the man she was spending the holiday with looked very much like Jeremy Lewis.
The pair were also spotted cuddling up and enjoying the 2019 Coachella Music Festival. Since then, Jeremy and his girlfriend have been showcasing their blooming love life at Instagram.
As of now, the pair are living their best lives with one another. His relationship with Lauren and Kirstin gives us a clear idea that he is indeed not gay.
Net Worth
Jeremy Michael Lewis is a digital marketing consultant of the company Platobrand and is also its respective owner. He is also the Director of Sales, Entertainment Partnerships at TagBoard and serving since May of 2019.
Interesting: EvanTubeHD Wiki, Age, Net Worth, Girlfriend
Likewise, Jeremy has also dipped his fingers in singing. His viral hit "Disney Love Medley" showed off his singing ability collaborating with his then-girlfriend Kirstin Maldonado.
So when it's about net worth, being an owner of a company and also being the Director, it inevitably secures him a set of perks. Although the exact sum remains undisclosed, it might be safe to assume he has a considerable amount of net worth.