Jesse Underhill is a Musical.ly star who posts primarily lip-sync videos on his 'Jesseunderhill' account which has topped the live.ly leaderboard. His self-titled Musical.ly account has earned more than 1.8 millions of followers. He also has a self-titled YouTube channel where he shares various vlogs along with some pranks and challenges. 
Gave "Girlfriend" Tag To Girl; Prom Date With Friend 
The native of Hood River, Jesse has shared various videos regarding relationship talks on his YouTube channel. He posted a YouTube video on 18 July 2017 where he introduced a 17-year-old girl with a "girlfriend" tag and named her Jacqueline. Jesse also found a kid in a store and named him Justin. The social media star speaks with Justin and jokes to call him dad and Jacqueline, his mother. Although Jesse labeled Jacqueline as his girlfriend, he said the duo were not dating each other.
Jesse is also seen providing tips to impress girls on his YouTube videos. However, the social media star himself is a single guy and has spoken about his singlehood in his various Twitter as well as Instagram post. Among such social media posts, on 4 May 2018, he defined himself as a lonely and hinted that he is not dating anyone via his Twitter.
Jesse who prefers not to involve himself in the romantic association has however many friends to share. He went to Prom with his friend, Jamie and posted their photo on 5 June 2018 via his Instagram. Although Jesse described Prom was fun with her, the social media star states that he shares a friendly relationship with her.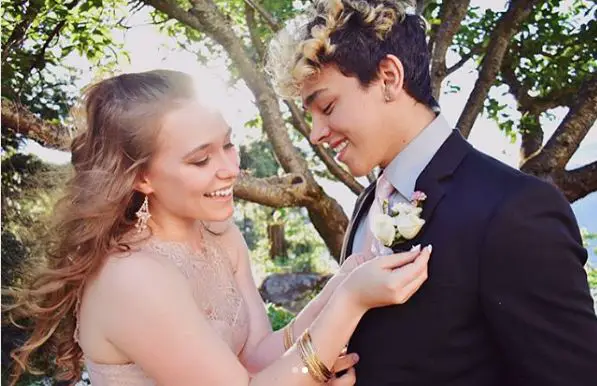 Jesse Underhill and his friend posted on prom on 5 June 2018 (Photo: Instagram)
The 19-year-old star is chilling with his friends residing in his native hometown on Hood River, Oregon.
Jesse has posted a picture with Valerie Hitchcock on 29 July 2018 and said that he loves her and means the world to him. Valerie, who has a private Instagram account, has also mentioned in her bio that she loves Jesse. However, Jesse is yet to confirm her as his girlfriend.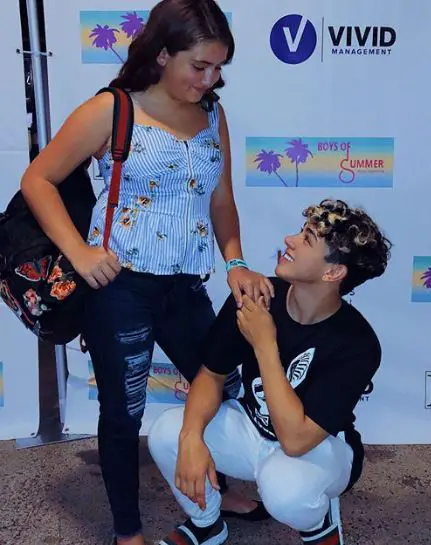 Jesse says he loves Valerie on 29 July 2018 (Photo: Instagram)
After his picture with Valerie surfaced, he then confused his fans by posting a picture with Oliver Moy, Cody Orlove, and Zoe LaVerne (Cody's girlfriend) on 1 August 2018. He even said that he and Oliver better couple than Cody and Zoe. 
Well, after the picture surfaced in his Instagram, his followers questioned about his sexual orientation. But, he is yet to answer the rumors about being gay. And the picture just seems to be friends enjoying time together.
As of now, the Musical.ly star is yet to announce about his girlfriend and often jokes about dating affair. As of July 2018, he is reportedly single.
Read Also: Oprah Sideverson Wiki: Age, Real Name, Girlfriend, Dating, Height, Net Worth
Family Life; Parents have Five Children
Jesse grew up at Hood River in the seat of Hood River County, Oregon with his parents who have five children together. Jesse has three brothers Aaron Underhill, Issac Underhill, and Levi Underhill. He also has a sister named Rachel Underhill.
His older brother Levi is also the Musical.ly star who followed in Jesse's footsteps. Levi, who is at his age 23, is also known for his vlog content and lip-sync videos. Levi on his first Instagram picture shared a snap of Jesse cooking in January 2013.
His younger sister Rachel is active on Instagram as well as Musical.ly. She has gathered more than 20.4K followers on Instagram and 144K on Music.ly at her age 16. She has also posted pictures with Jesse on her Instagram.
What Is Jesse Underhill's Net Worth?
Jesse Underhill has gathered a significant portion of his net worth as the Musical.ly star. The 19-years-old added fortunes when he topped #15 on the Musical.ly leaderboard and garnered over 1.1 million emoji in November 2016.
He joined Instagram and posted his first photo on 31 July 2013. He then started publishing various pictures of himself on Instagram and joined Musical.ly through which he gathered recognition.
Jesse also has self-titled YouTube channel where he joined on 22 September 2015. He posts various vlogs on his YouTube along with some pranks and challenges. His YouTube channel has gathered more than 56 thousand subscribers.
You Do Not Want To Miss: Megan Massacre Wiki, Bio, Age, Boyfriend, Dating, Tattoo, Family, Net Worth
Short Bio
Jesse Underhill who was born in 1998 at Hood River, Oregon. He celebrates his birthday on 1 July. The Musical.ly star stands at the height of 1.73 m (5' 8") and holds American nationality. As per wiki, the musical.ly star possesses Caucasian ethnicity.