Well-known for his "Watters World" interview segment of the Fox News show 'The O'Reilly Factor,' who is also famous for his job on the Fox News talk programs 'Outnumbered' and 'The Five,' is Jesse Watters.
He was a guest presenter on the TV series 'The Five' from 2013 to 2014 and had also been a guest anchor on the television series 'Fox and Friends' from 2013 to 2014.
Jesse Is Engaged
Congratulations are in order for Jesse and his now fiance Emma DiGovine.
The pair have gotten engaged to one another on the 25th of August in 2019. News about their engagement was shared by Emma on her Instagram. She shared a picture of Jesse, where he got down on his knee and asked her to marry him.
Read Also: David Crosby Wiki, Wife, Children, Net Worth
She captioned the romantic picture by writing, "Today, my best friend asked me to marry him. I love you forever".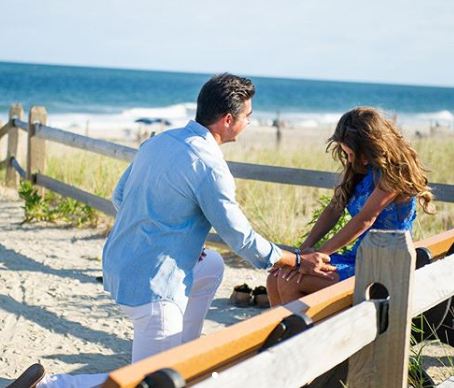 Jesse Walters proposes to his girlfriend Emma in a beautiful setting (Photo: Emma's Instagram)
What's more fascinating is that even President Donald Trump has congratulated Jesse on his engagement.
While many feel joy and happiness for Jesse and Emma, some might find it not so amazing considering the fact that Emma was Jesse's mistress when he was still married to his ex-wife Noelle.
The extramarital affair is what prompted Noelle to file for divorce and end their marriage. But regardless of that, Jesse has moved on and is en route to begin his new journey with Emma. Hopefully this time, Jesse will not feel the need to look outside his marriage for some good time!
Relationship History With Emma
Amid his ongoing heated divorce battle with his then-wife Noelle Inguagiato, Jesse savored a lovey-dovey relationship with Emma. He mostly flaunts their romantic snap on social media. In February 2019, he and his girlfriend captured some fervent shot at TAO Downtown.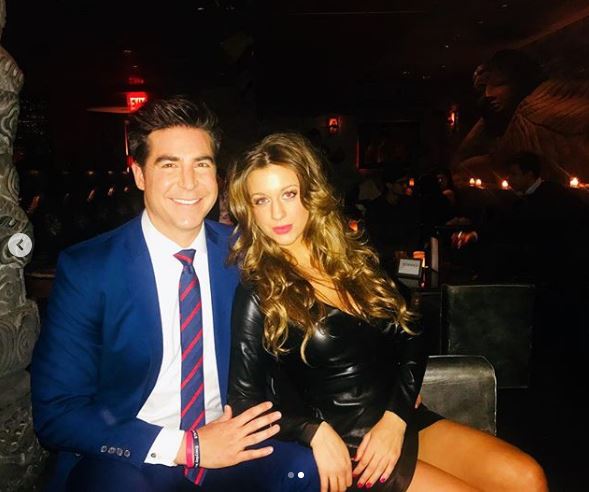 Jesse Watters and his girlfriend, Emma DiGovine in February 2019 (Photo: Instagram)
In March 2019, he and his girlfriend Emma went skiing at Windham Mountain Resort in the northern section of the Catskill Mountains. Emma shared the gorgeous snap of them and captioned, 'ski bunnies.' Jesse also went to meet Emma's grandparents in early April 2019 and enjoyed spending time with them.
Don't Miss: Madeleine Mantock Wiki: Age, Ethnicity, Parents, Boyfriend, Dating
According to Emma's LinkedIn profile, she worked as an associate producer at Fox News and was a fit model with MSA Models.
Jesse Finalized Divorce With Wife
Jesse Watters is no more married to Noelle Inguagiato.
The Fox News host has finalized his long heated divorce battle in March 2019. He and Noelle have had divorce battle since October 2017, after his estranged wife Noelle filed the case following his cheating scandal. Jesse also admitted his extramarital relationship and cheating on his wife
He and Noelle were set to appear at the court in Suffolk County, New York for their first day of a divorce trial in March 2019, but they didn't make their court appearance, as they settled things. Not many things have been revealed on their divorce settlement, and it is also not clear whether Noelle obtained the legal fees that she demanded back in October 2017.
Messy Divorce Battle With Journalist Wife; Know His Children And Personal Life
As a successful journalist, it is also true that he is also a successful father and was a married guy. Moving onto his personal details, this guy married his childhood friend and also his long-time dating girlfriend, Noelle Inguagiato.  
We found some clues about their wedding date in 2009. Jesse and his wife were together since their childhood, and in some of his interviews on wiki sites, he told that his wife was the best and right woman around the globe as well.
His wife Noelle also serves at Fox News as well as a host and as well as the presenter of 'Something Called iMag Style' on Foxnews.com. In mid-2011 Noelle announced her pregnancy and gave birth to their twins' daughter in late 2011, Sophie and Ellie.
But their married life could not propound to the fullest after Jesse allegedly cheated Noelle of his reported fling with FOX co-worker. The sources told NY Daily News that he informed the network that he was in a relationship with a woman named Emma DiGiovine.
The sources added that after Jesse voluntarily reported to the Chief of Human Resources in November 2017, he was involved in a consensual relationship with a woman. Within a month after his alleged cheating, his wife filed for divorce in October 2017, and since then, Jesse was involved in a messy divorce process.
How Much Is Jesse's Net Worth And Salary?
Jesse Watters, age 40, garners the net worth of $5 million from his career as a TV personality and producer. From his stint as a political commentator on the Fox News Channel, he earns the annual salary of $2 million, according to Celebrity Networth.
You May Like: Ariela Barer Wiki: Age, Height, Parents, Siblings, Boyfriend, Dating, Affairs
This guy deserved these six-figure of net worth by his successful profession and also dedicated work on the biggest network. However, he hasn't revealed where he invested, but he admitted that he is enjoying a lot through his net worth and salary and posts joyful photos as well on his social media account.
Jesse has worked as a producer for the television series 'The O'Reilly Factor' and also regularly appears on the show where the man does "On-The-Street" interview and the segment 'Watters World.'
Jesse began to appear as a guest co-presenter on the Fox News tv show Outnumbered since 2104. This man is also known for ambushing people when looking for an interview.
Bio And Facts:
He was born and raised in Philadelphia, Pennsylvania, the U.S. on July 9, 1978, growing in the Germantown and following East Falls neighborhoods. So it seems that he belongs great family and also holds the American nationality. However, he graduated from Trinity College and is of the White ethnicity and Jewish as well.
Jesse has grand net worth with a successful career as a TV personality and journalist.
However, besides this, he also favored for his handsome and attractive personality, while he has over 5 feet 10 inches of height and an average of weights. Watters also mostly actives on social media account as well, hope you also find him there.