Television presenter and metal Fabricator Jessi Combs was someone, who liked to keep her bucket list empty by doing everything she wished. She was a metal fabricator and was best known as the anchor of the Spike Television series, Xtreme 4x4.
Jessi was known for her appearance on the TLC shows Overhaulin' as a guest fabricator and was even a temporary presenter on hit show MythBusters in 2009.
Sadly, Jessi Combs is no more alive now. She tragically lost her life in a horrific accident in the Alvord Desert in southeast Oregon!
Jessi Dies In Car Crash
Jessi Combs tragically lost her life while attempting a world land speed record in Oregon on 27 August 2019. The Harney County Sheriff's Office confirmed the demise of the late television host and professional racer.
As per the sources, Jessi was driving North American Eagle that was capable of generating over 45,500 horsepower. Sadly, the vehicle crashed into a dry lake bed.  Besides that, Jessi's team member and partner Terry Madden confirmed the sad news on 27 August 2019.
Terry mentioned that he had never loved or been loved by anyone as much as Jessi. Also, he stated that she was the most fantastic spirit that he had ever known. Lastly, he admitted the tragic demise of his girlfriend by asserting that his team lost Jessi in a horrific accident. Also, he added that their team did everything humanly possible to save her. 
Titled the fastest woman on four wheels, Combs was trying to beat her personal best speed of 483.2 mph. But things turned out differently! Condolences to Terry and everyone associated with Jessi!
Jessi's Career And Progressions
She was the top of her class at WyoTech in the Collision & Refinishing Core Program. However, she recorded an AOL Autoblog Show, "The List 1001 Car Tings to Do Before You Die", which would later, started re-showing on the Speed Network. Combs also broke a land speed record in a North America Eagle Supersonic Speed Challenger in 2013.
Well, in October 2012, she also became a co-anchor with Chris Jacobs for the new sixth season of Overhaulin' on the Discovery Channel.
Don't Forget: Elle Mills Wiki: Age, Dad, Mom, Net Worth, Bisexual
Net Worth
The TV personality and race car driver enjoyed the net worth of $1 million, as well as being several world-record-holding ladies. She was a professional racer but was also the businesswoman. Besides that, she worked as a metal fabricator. She was involved in several profession throughout her lifetime.
Apart from these all, she also appeared in several shows, series and even some short movies. Her different venture helped her earn a considerable amount of net worth. 
Injures Herself In Motorcycle Accident!
Known for high-octane hobbies, Jessi had her share of adverse fortunes. In 2014, she met in a motorcycle accident and injured her legs. She updated her fans via Facebook on 6 October 2014 that she has sustained deep lacerations in her right ankles and possibly some broken bones as well.
She revealed that accident occurred when she was about to reach 15 mph and a lady driving her car turned left. She wrote on her Facebook wall that,
"No worries, it's just a couple cuts… and maybe some broken bones… and a mangled motorcycle. I'm ok, really, just pissed… it's my throttle foot!! Was only going about 15 mph and a car pulled out to turn left. I saw her, she didn't see …me, I moved left, she floored it, my ankle gets smashed… and cut up… through my boot! Pray for fast healing… I got lots of awesomeness to do in the next couple months!!
Rumored Bisexual Jessi Secretly Dating?
The metal fabricator lived a stylish life but remained low key when it came to personal growth. 
She was married to her co-host Ian Johnson. But their short-lived matrimony dissolved after just a few months. The Famous People reported that the reason for their divorce was Jessi's bisexuality. However, Jessi and Ian did not reveal about their separation and alleged married life. 
After Ian Johnson, she was reportedly in a relationship with her Overhaulin' co-host Chris Jacobs. But, as she preferred a secretive personal life, she did not confirm her fling with Chris.
Don't Miss: Karen Finerman Net Worth, Age, Husband, Family, Wiki
Media also covered that she was romantically dating with Patrick McIntyre. But she later told that Patrick was her best friend, nothing happened between them. 
All the speculations side, she raised excitement in her fans when she posted a Valentine's Day picture with a man named Luis Robles on 15 February 2012.
Jessi's Valentine's Day post with Luis on 15 February 2012 (Photo: Facebook)
However, Luis is married to Rosario Ada and has two daughters. So, Jessi and Luis were probably not in a romantic relationship.
She posted a picture on 23 March 2018 and hinted her single relationship status. She posted a photo giving a flying kiss to an animal and mentioned the animal as her boyfriend. She also added that she met "her boyfriend" in Canada while she was enjoying snowmobile. 
Read About: Hailie Deegan Wiki: Age, Dad, Mom, Height, Net Worth, NASCAR, 2018
Afterward, she'd found love after all. After numerous rumors circulating online, it was finally revealed that Jessi was dating and in a relationship with her team member Terry Madden.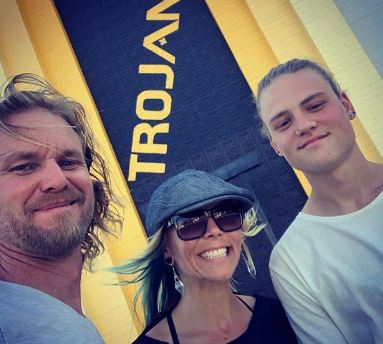 (Photo: Instagram)
The pair could be seen posting tons of pictures of themselves together having a wonderful time. How and where their relationship began remained unknown but regardless, love seemed healthy between the two.
Short Bio
She was born on July 27, 1983, in Rapid City, South Dakota to her Native American parents. Late Jessi, age 36, stood at the height of 1.70 m (5 feet and 7 inches). She held American nationality and belonged to white ethnicity.
She maintained a seductive body measurement of 34-24-35 inches, as a result of her daily workout and hobbies.