The manager of Twitch TV Ninja, Jessica Gosh is known for her live streams of a military science fiction first-person shooter, Halo on Twitter. The University of Wisconsin-Whitewater graduate as well as the tutor, Jessica has amassed over 428K followers on the platform of Twitter.
The American streamer is also associated with the acclaimed video game publishing company Ubisoft. She came to limelight after she married a fellow streamer, who is popularly known as Ninja.
Married To Long-Time Boyfriend
Jessica Goch, 26, and her longtime boyfriend, Tyler Blevins, 27, are married since August 2017. They shared their wedding vows in Lake Villa, Illinois on 12 August 2017. The Video production service, Old North Film Company captured the moments of their extravagant Lake Villa wedding where Jessica wore a beautiful long white gown and Tyler (famously known as Ninja) dressed up in a black suit and red tie.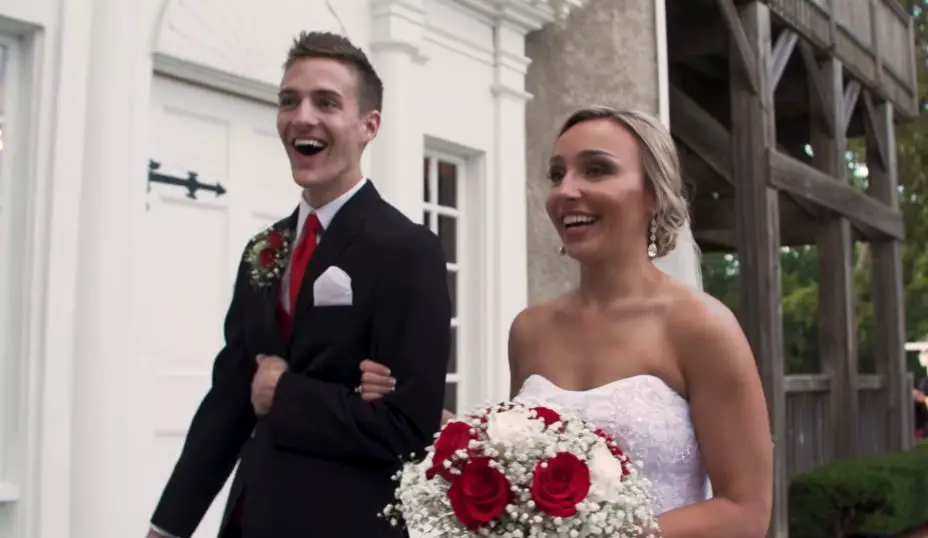 Jessica Goch married her longtime boyfriend, Tyler Blevins on 12 August 2017 in Lake Villa, Illinois (Photo: Old North Film Company's YouTube Channel)
The Twitter star has changed her surname from 'Goch' to 'Blevins' after she and Tyler officially became husband-and-wife. She took her Twitter on 2 June 2018 and said that her name is not Jessica Goch anymore. The University of Wisconsin-Whitewater graduate affirmed that her name is Jessica Blevins.
Read About Virginia Williams' Wedding: Who is Virginia Williams? All You Need To Know About Pusha T's Wife
Jessica was in a relationship with her mysterious ex-beau when she met Ninja. However, she fell for the professional Fortnite streamer, and the duo started dating each other. The gaming couples then had their engagement in November 2016. 
Family Life: Mother Remarried & Brother Had Wedding
Her family roots consist of the former Soviet republic country, Armenia. However, her brother did not inherit the dark skin Armenian genes of his family. She attended her brother's wedding ceremony in May 2018. Her brother donned a white coat with a gray shirt whereas the bride wore a thick white gown. The social media star also shared the photo of her brother's wedding on 6 May 2018 via Twitter.
You Don't Want To Miss: Evan Sausage Wiki, Age, Weight Loss, Relationship with SSSniperWolf
The manager of Twitch TV Ninja star's mother has remarried after her divorce from Jessica's father. Her mother and stepfather gifted beautiful plant and balloons for her birthday on 23 June 2015.
What Is Jessica Goch's Net Worth?
Jessica Goch has gathered her net worth from her jobs in various sectors. Throughout her career, she gathered revenues from business companies like STI Fleet Services, Cyber Solutions Agency, Ubisoft, and Plantronics via ESL. She also inferred some fortunes from her tutoring job in business law, computer science, and communication courses for the college students with disabilities in University of Wisconsin - Whitewater for four months.
The Twitter star was at the age of 23 when she joined Recruiter in June 2015 as Remedy Intelligent Staffing and worked for three months before arriving at Plantronics via ESL as the sales representative. In March 2016, she went to the Twitch TV Ninja and became the manager. She is currently working in the Twitch TV Ninja, and her job is to endorse communications and contracts between the client and talent along with managing the business.
She started her career as a social media star through the live broadcasting streams of Halo under the name of 'JGhostly.' The Wausau West High School graduate also holds the job at various E-Sports events and serves as a host and interviewer. With her popularity, she has amassed over 158,000 subscribers on her YouTube channel named 'JGhostly.'
See Also: Naomi Kyle Wiki, Age, Husband, Dating, Height, Feet
She is also enjoying the net worth of $6 million of her husband, Tyler Blevins. Tyler has mostly gathered fortunes as an American social media personality. The Twitch star reportedly earns over $500 thousand per month as a professional Fortnite streamer. He has also assembled some big bucks from the competitive gaming tournaments and has traveled around the world. 
Short Bio And Facts
Jessica Blevins, who is known as Jessica Goch, was born on 23 June 1992 in the United States. She is a big fan and likes to play Nintendo's platform game, Super Mario. Jessica stands at the height of 5' 4" and posses American nationality.
Jessica attended Wausau West High School in Wisconsin from 2006 to 2010. The Twitter star then went to University of Wisconsin-Whitewater and graduated from Bachelor's Degree in Interpersonal Communication and Human Resource Management, in 2014. As per wiki, she traveled to the gaming events in the U.S. as a representative of Ubisoft in 2014.