Death is inevitable, but taking your life by suicide is the worst way to tackle your issues. But FOX2 Detroit Meteorologist took her last breath and left the world with a legacy and questions surrounding her death.
Late journalist Jessica Starr was renowned for her job as the FOX2 Detroit meteorologist. She was the former weekend meteorologist of WLNS-TV.
Jessica Starr Commits Suicide; What Is Suicide Reason?
It's a sad moment for the well-wishers of FOX2 Detroit meteorologist Jessica Starr because she is no more in this world.
On 13 December 2018, Jessica died after she committed suicide at the age of 35. The news of her death flooded on the internet after the Morning anchor Amy Andrews sorrowfully shared the story on her Twitter. She wrote that her heart broke after she and her team got informed that Jessica took her life. She even expressed her heartfelt of condolence in the grief of Jessica's death. She wrote;
Our hearts are broken. Last night we were informed our Jessica Starr took her life. Her Fox 2 family is deep shock and cannot believe such a wonderful, bright and intelligent woman is gone. Keep her family in your prayers in the coming days as we all deal with our grief.
Explore: Kai Cole Wiki, Age, Wedding, Husband, Divorce, Net Worth, News
Amy and the whole FOX2 team were shocked by the news of her death. The station did not provide the details about her death and a suicide note. With her fans speculating about her suicide reason, the representative for the medical examiner's office confirmed that the death was by hanging. Some say that the reason she decided to end her life was depression after eye surgery. But, experts believe that eye surgery and depression are not linked, and she might have depression before her Lasik eye surgery.
Just two months ago, Jessica was recovering from her Lasik eye surgery, which she underwent in October 2018 because of her eye illness. On her Facebook last post on 14 November 2018, she even gave an update about health, saying that she was struggling after her surgery and needed more time to recover.
You May Like: Mike Jerrick Wiki, Married, Wife, Girlfriend, Gay, Salary and Net Worth
Jessica, who completed her graduation from Michigan State University and Mississippi State University, started her career in journalism as a weekend meteorologist for WLNS-TV in Lansing, Michigan, in 2008. In 2012, she got hired as the meteorologist for Fox 2 Detroit. As per PayScale, an estimated salary of Meteorologists ranges between $31,379 - $101,481, as per the wiki.
A Glare on Post Surgery Details
In an interview dated back to March of 2019, Jessica's husband Daniel Rose spoke about the connection between his wife's death and the eye surgery. According to him, the operation didn't go as planned for the journalist, and she suffered a lot during the recovery time. A procedure that generally takes a few days to heal had elongated to five weeks of excruciating pain, and this had greatly affected her personal and professional life.
Jessica had undergone SMILE treatment as per her husband's advice on the 11th of October, 2018. Rose shared that the strong and independent woman had cried after her first day of treatment. She kept applying drops on frequent intervals and even had problem driving. He was the witness of her wife's agony and strongly believed the incident drove her to suicide.
Jessica's social media consists of a series of videos that showed her post-surgery battle. It almost seems like a video diary that captured her degrading eye situation and her building frustration. She was continually indicating her husband and her family that something had gone wrong. 
Eye surgery professionals, however, think such cases of mental breakdown rarely occur in the field. They do not seem convinced about the allegations Rose has directed towards the professionals.
Fund Raising for her Children
The untimely and sad demise of Jessica Starr has left her family with a void they can't replace. Her husband Daniel has now fixated on recovery and spends most of his time looking after kids. Understanding the gravity of the situation, their family members have come up with the idea that could support the family financially. A charity by the name of GoFoundMe has been set up, which raises money for the kids. 
The charity started in January of 2019 and was successful in collecting $12,900 in 16 days. Fans hope the money basket gets filled with maximum monetary support.  
Jessica Starr's Personal Life!
Jessica Starr, who was born to mother Carol alongside older brother, is survived by her family. She was the mother of two children, Noah (born in 2013), and Riley (born in 2015) from her relationship with her husband, Daniel Rose. She and her husband had tied the holy knot in 2010. 
Read Also: Nikki Taylor, Teyana Taylor's Mother: Wiki, Age, Kids, Family, Sister, Net Worth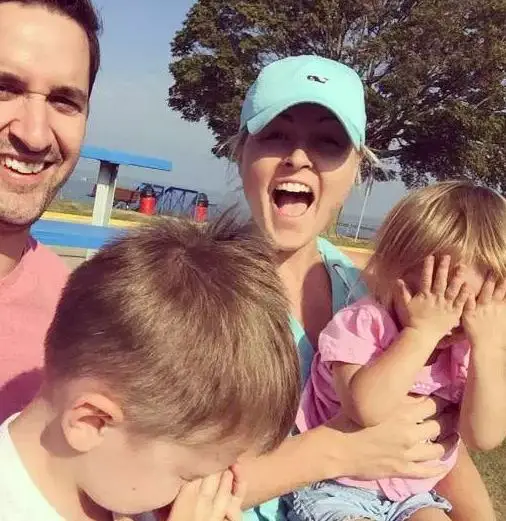 Late Jessica Starr with her husband Daniel and youngsters (Photo: Heavy.com)
Becoming a mother of two, she was pleased. She even gushed her feeling in an interview, saying that she had always wanted to be a mom. She and her spouse often used to spend their quality time traveling to different places. Sadly, Jessica's kids will no more be spending time with their mom.