American comedian and actor Jim Breuer's stand-up comedy often revolve around the stories of his childhood in his hometown of Valley Stream. Though he underwent tragic moments of his beloved ones, he proved his worth as a legendary comedian with his quirky persona filling the audiences with the dose of laughter.
His journey towards comedy began after he joined a weekly television show Uptown Comedy Club in Harlem, New York. His famous comedy shows include Saturday Night Live; Premium Blends; Web Junk 20; and Kevin Can Wait.
Jim's Tragic Family Moments; Wife Suffered Breast Cancer
Though Jim Breuer makes his audiences laugh with his comedic talent, the comedy legend has undergone several tragic moments in his family. His father Jim Breuer Sr. was an experienced soldier of World War II but passed away in August 2014.
Shortly after his father's death, Jim mourned over the loss of his sister who battled cancer. Furthermore, his mother suffered the inescapable disease, and during the mid-2017, he brought her in his house under the hospice care. During his 2017 interview with pressofatlanticcity.com, Jim revealed the sorrowful story of his mother and said:
The first night I brought my mom into hospice care in my house, I just said to myself 'I can't fight this emotionally, I'm just gonna go out there (on stage) and start off with this and just talk about it, and by the end of (the first) 10 minutes, the whole audience — all of us — were howling together, and that's always been a healer for me and everyone else.
Jim's wife Dee Breuer also battled the stage-one breast-cancer in 2012 and received successful treatment. However, in 2015, his spouse was once again diagnosed with cancer on the lymph nodes. The couple who married since 28 August 1993 are parents of their three teenage kids.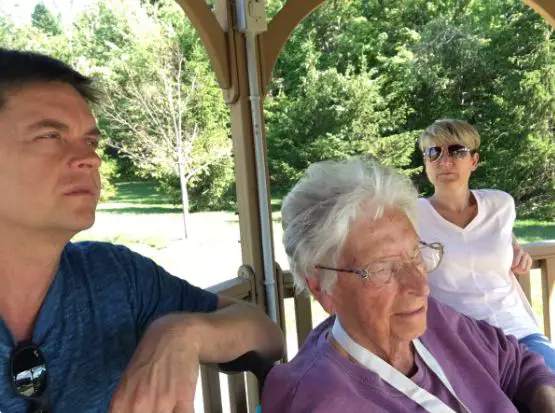 Jim Breuer, his mother, and his wife Dee Breuer in August 2016 (Photo: Twitter)
Among their daughters, Gabrielle Breuer was born in 1999. Jim and her life partner rejoiced the birth of their second daughter Kelsey Breuer in 2003 and third daughter Dorianne Breuer in 2004. The family resides in Chester Township, New Jersey. According to the public records, Jim brought the 3,625 square feet house in Chester Township for $544 thousand in August 1999. 
Jim Breuer Net Worth, Alcohol, And Movies!
American stand-up comedian and actor Jim relishes the hefty net worth of $3 million. He became famous after he starred on Saturday Night Live as a cast member from 1995 to 1998. Jim also made an appearance in a 1998 cult stoner comedy Half Baked. He has made appearances in several comedy shows with the stars like Dave Chappelle, Jeff Ross, Judah Friedlander, Tim Allen, and more.
Explore More: Gretel Packer Wiki, Age, Net Worth, Husband, Family
Along with his comedy shows, the 51-year-old comedian is famous for his alcohol impersonate video in Comedy Central. On YouTube, his video has racked over 7.8 million viewers. In the comedy video, Jim provides the recipe on how to escape the fate of late night vomiting after the over-consumption of alcohol.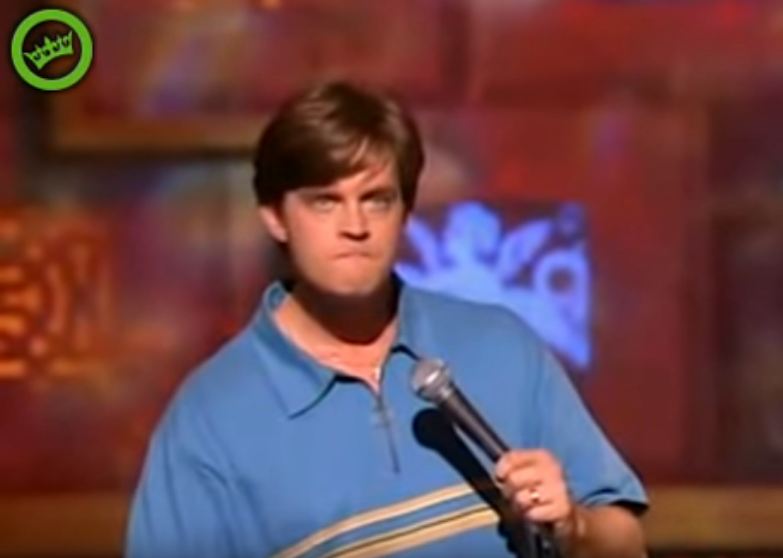 Jim Breuer impersonates the negativity of alcohol in Comedy Central (Photo: YouTube)
The Valley Stream native has also starred in several films showcasing his comedy talents. His first appearance was in the 1998 flick Half Baked where he portrayed a role of Brian. Jim then landed various characters in the movies like Dick; Once in the Life; Crooked Lines; Beer League; and Quitters.
Don't Miss: Francesca Capaldi Wiki: Boyfriend, Parents, Net Worth
As of now, he is all set to make people laugh in his upcoming tours across the United States. In 2019, he has lined up to perform in North Carolina on 28 January. Similarly, in February 2019, he will entertain his audiences in Ohio and New York.
Short Bio
Jim Breuer, who has his hometown in New York, was born as James E. Breuer on 21 June 1967. He grew up in a village of Nassau County in New York. His family carries a military background. The comedian dynamite stands at the height of 1.78 m (5 feet 10 inches) and holds American nationality.