Singapore-based business tycoon Jim Rogers is popularly known as a former co-founder of the global investment partnership, Quantum Fund. He is also a chairman of Rogers Holdings and Beeland Interests, Inc and owner of the Rogers International Commodities Index (RICI). Jim is also a financial commentator and an author.
How Much Is Jim Rogers' Net Worth? 
Jim Rogers has gathered the net worth of $300 million. He derived his wealth from his career as an American entrepreneur and author. Jim collected the fortune from his company Quantum Fund (from 1970 to 1980). He also increased his revenue from his company Rogers International Commodity Index.
Alongside business, Jim collected money as a TV personality and author. He received payroll from Fox News' Cavuto on Business and other financial TV shows in 2002. He sold his written book Hot Commodities: How Anyone Can Invest Profitably in the World's Best Market, that helped him to add wealth to his net worth.
A native of America, Jim also received $16 million selling his mansion in New York City before settling in Singapore.
In the book Hot Commodities: How Anyone Can Invest Profitably in the World's Best Market (2000), Jim tried to mention the facts and fantasies about commodity futures.
He began his first business selling peanuts just at the age of five. He along with his business partner George Soros co-founded Quantum Fund, but later in 1980, he decided to retire.
Jim Believes Everone Should Hold Gold!
Legendary investor Jim Rogers has been a gold holder, and he believes that every people should hold gold. He thought holding gold is nothing less than an insurance policy. As per stansberrychurchouse.com in September 2017, he stated,
"Everybody should have coins, physical coins, as an insurance policy, as an emergency, if nothing else. You hope you never need them. But you've got to start by owning gold coins, coins that are recognized all over the world."
Jim also believes that cash is also a perfect hedge as people don't have to worry about a market crash.
Jim Rogers Married Thrice; Two Daughters With Third Wife
Jim Rogers is a married man and has been married thrice.
He was in a relationship with Lois Biener. The couple got married in 1966. However, the relationship started fading, and the two filed for divorce three years later in 1969.
Later, Jim again ignited a fire of love with a lady named Jennifer Skolnick. He then married her in 1974. Though the relationship was going right, the couple couldn't make it till the end. They parted their ways in 1977.
Jim then fell in love with his third wife. He met his third wife, Paige Parker in May 1996. As per New York Times on 9 January 2000, Jim called Paige after their first meeting and said, ''Something magic happened. Let's pursue it.''
Two weeks later, Jim's wife flew to New York for their first date. After dating Paige for almost four years, Jim got married to her in January 2000.
Well, the couple is in a blissful relationship and is blessed with two daughters named Beeland Anderson and Hilton Augusta.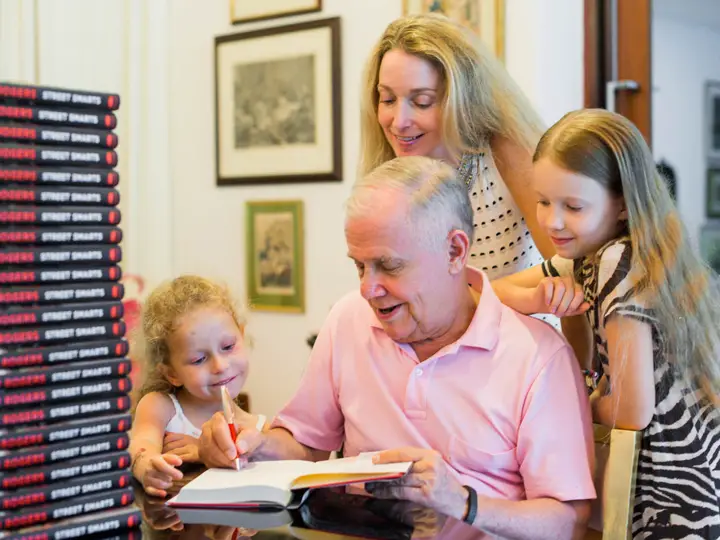 Jim Rogers with his wife and two daughters (Photo: redwiretimes.com)
Jim always wanted his daughters to learn the Chinese language and culture as he believes that China will be the most important country of the 21st century.
Short Bio
Born on 19 October 1942, Jim Rogers was born as James Beeland Rogers Jr. in Baltimore, Maryland, USA. He spent his childhood along with his family at Alabama. His father, James Beeland Rogers was a plant manager at a chemical factory
An-American born businessman, Jim stands at the height of 1.73 meters (5' 6''). He completed his graduation in History from Yale University in 1964. Later, Jim earned his degree in Politics, Philosophy and Economics from Balliol College, Oxford University in 1966.