American reality television personality Joe Giudice has a record of past charges with the law such as driving on a suspended license, broking his car into the pole and fraudulently obtaining a drivers license. Among them, one of his highest charges is bankruptcy. He has been indicted on 39 federal fraud charges along with his wife. Joe, who is serving 41 months sentence behind bars, could be deported back to Italy following his release as he is not a US citizen.
Joe's Troubled Married Life
Joe and his wife, Teresa Giudice, had their wedding on 23 October 1999. Two years later, they welcomed their first daughter, Gia Giudice on 8 January 2001. In 2005, they got blessed with their second daughter, Gabriella Giudice, third daughter, Milania Giudice in 2006 and their fourth daughter, Audriana Giudice in 2010.
Their relationship affair was going smoothly until the duo got convicted of wire fraud, mail fraud, and bankruptcy fraud charges in 2014. Joe's wife, Teresa, served 11 months in jail while Joe got sentenced to 41 months for their involvement in crimes. The jury decided that Joe will be prisoned after his wife gets released out of the bars as he had to take care of their little kids. Teresa returned her home in New Jersey on 23 December 2015 after serving her wrongdoings in prison.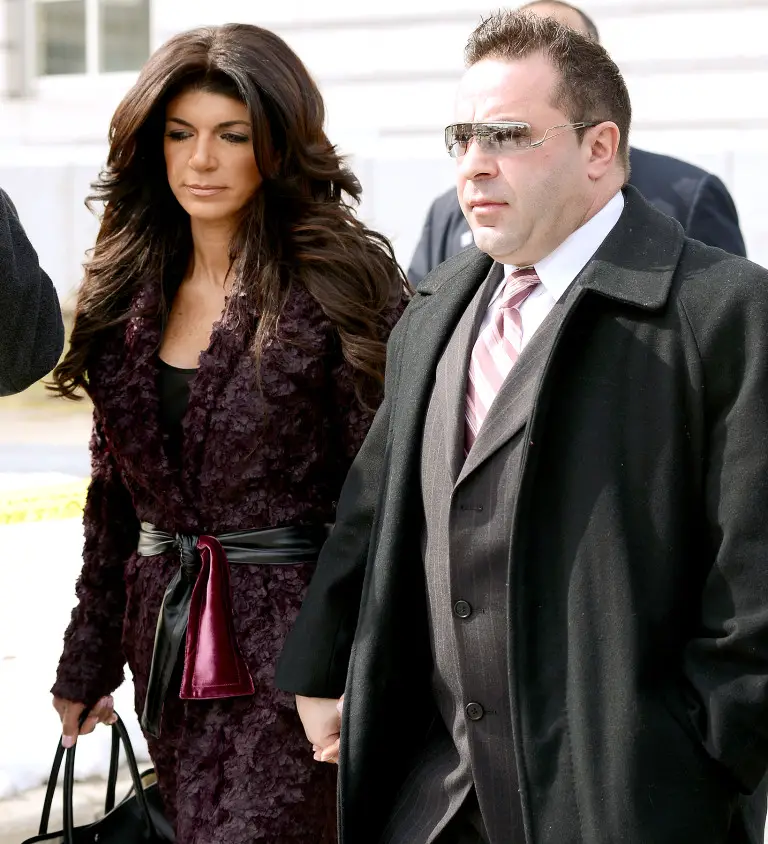 Joe Giudice and his wife, Teresa Giudice, at Newark New Jersey Federal Criminal Court on 4 March 2014 (Photo: usmagazine)
When Teresa was serving in prison in 2015, there were rumors that Joe was cheating his wife. At first, Teresa denied his deception and even refused to address the possibility. Later, she accepted the fact that Joe has satisfied his urges while she was in prison, but she did not split with her hubby.
Joe is currently serving his 41-month prison behind low-security bars in the correctional facility in Allenwood, Pennsylvania. Meanwhile, his wife and kids keep on visiting to know the update of his life behind the prison. While in the jail, he was cut off some months for his sentence, which leads him to release in March 2019.
Released and Awaiting Deportation
After serving a 41 month-long prison sentence for mail, wire and bankruptcy fraud, Joe Giudice was released in March 2019. But ever since, he has been in custody of Immigration and Customs Enforcement. During a bond hearing on September 11, 2019, Joe, along with his lawyer, appeared via video and asked a judge to release him from Immigration and Customs Enforcement custody. While the judge did not issue an immediate decision, he is expected to issue one within a week.
All this comes after Joe, and his wife was arrested in 2013 after being accused of hiding their earnings and worth in a bankruptcy filing. His wife, Teresa was released from prison in 2015 after serving 11 months of a 15-month sentence for fraud while Joe served a 41-month long was sentenced and got released in March 2019. And now, he is currently living at a facility in western Pennsylvania where immigration detainees are housed. 
Joe's Weight Loss
Teresa, who keeps on visiting her husband at the prison, revealed the fact about Joe's weight loss in an interview with US Weekly on 23 February 2018. Talking about her husband's weight loss, she said that he lost up to 60 pounds and is in good shape. Joe, who was 245 pounds when he entered the prison, is down to 185 pounds. Excited with the results, Teresa said,
He looks so hot and I just can't wait for him to come home. I'm really ready for him to come home.
How Much Is Joe's Net Worth?
The American reality television personality, Joe has a net worth of -$11 million. He, along with his wife, was using their advantage to invest in real estate until 2011 after they found themselves in debt. They were forced to file for bankruptcy, and Joe was found to have negligible assets and more than $11 million worth of debt. 
Joe is an entrepreneur who has owned businesses in New Jersey. In his nine years of experience as a reality TV person, he starred on the American drama TV show The Real Housewives of New Jersey from 2009 to 2016. He is also credited in the reality TV series The Apprentice, Good Morning America, Today and Entertainment Tonight.
He has also appeared on the archive footage on various reality television shows. From 2011 to 2016, he appeared on numerous archive episodes on the shows such as The Insider, The Real Housewives of New Jersey and Entertainment Tonight. From 2014 to 2017, he starred on the TV series Extra where he appeared on ten episodes.
Short Bio
Joe was born on 22 May 1972 as Giuseppe Giudice in Saronno. Born of Italian nationality, Joe has mixed ethnicity. The American reality television personality has a height of 5''4' (1.65m). As per wiki, he moved to Paterson, New Jersy, with his parents Frank Giudice and Filomena Giudice when he was a child.