Joe Kernen is an American journalist who is well-known as CNBC news anchor. He has already given more than twenty-five years of his life in the field of journalism.
The anchor is currently a co-host of CNBC's longest-running signature morning program 'Squawk Box.' Along with his successful career, he also enjoys family life.
How Does Joe Kernen Assemble Net Worth?
The famous CNBC news anchor, Joe has amassed a prominent part of his net worth from his journalism profession. His career in CNBC network has increased his fortune little by little.
According to Washington times, the average salary for news anchor is $83,000, which can range from a minimum of $14,000 to maximum of $875,000 depending on the circumstances. As per Daily Beast, Joe receives an annual salary of $250,000 for anchoring CNBC's signature morning program 'Squawk Box.' The show gets $1.79 per viewer, and it has 140,000 total viewers.
Don't Miss: Bob Pisani Wiki: CNBC, Age, Wife, Family, Education, Salary, Net Worth
Joe joined the CNBC network during 1991 merger with Financial News Network (FNN) after his ten-year career as a stockbroker. Before his anchoring duties, Joe worked as an On-Air Stock Editor for the network. He trained at Merrill Lynch and later became the vice-president at both EF Hutton and Smith Barney. During his graduate studies, he served at the MIT Center for Cancer Research.
After dedicating more than twenty-five years of his life for CNBC, Joe has been successful in making an estimated net worth of $14 million. He has a century-old house at New Jersey, which worth millions of dollars after he revamped for his own modern family.
Joe Kernen Speaks On Trump's Policies!
In a discussion in Squawk Box on Thursday on 6 September 2018, Joe Kernen told that he cares about the Trump's policies, not his personality.
While he was having a debate in the Squawk Box, he said that he was not worried about the impetuous president, Trump, whose mind changes all the time. But the CNBC 's journalist cares about the deregulation, tax reform, "new highs in the Nasdaq and the S&P" and fuel stock market highs. But he doesn't care about the character of President and the mean tweets by him.
He also told that where they would have been right then if Hillary was elected. Joe suggested Squawk Box that the discussion should be related to Trump's policies and the remaking of the Supreme Court as an operator for American businesses rather than his personality and what he said in an internet.
Also Read: Seema Mody Wiki, Bio, Age, Married, Husband, Boyfriend, Net Worth
Joe's Personal Life As A Married Man
Joe is a happily married man with a beautiful wife and a daughter in a family. He is married to Penelope Scott, a former trader from Short Hills, New Jersey. The couple met after Penelope joined CNBC network in 1996.
Their relationship turned to beautiful married life in 1998 when they tied their nuptial knot on a golf course. They have a beautiful daughter name Blake and a son. Back on 26th December 2012, the news anchor tweeted wishing his daughter Blake her 13th birthday. In the year 2014, he posted a picture on his Twitter with her daughter spending a quality night at the office when his wife and son were away at Odyssey World Finals.
Joe has also shared a family picture on his Twitter on the day of Halloween, stating, "Big Halloween Birthday at Roots for my perfect wife #Wiccansrock."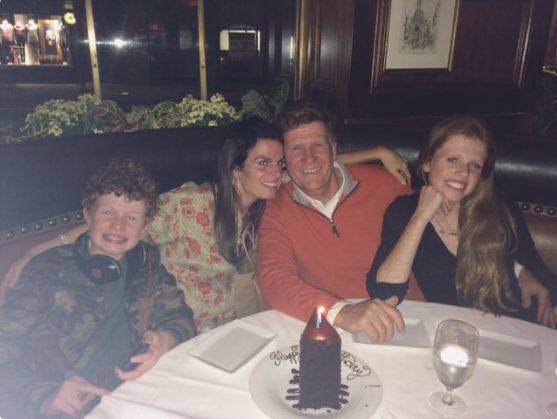 Joe Kernen with his family during 2015's Halloween day (Photo: Instagram)
Despite being a busy journalist, Joe has managed to build an affectionate relationship with his family. He maintains a strong bond with his father, Joe Blake Kernen
Related To CNBC's Journalist: Dan Nathan CNBC, Net Worth, Bio, Age
Short Bio
Joe Kernen, age 62, was born with the birth name Joseph Richard Kernen on 6 January 1956 in Cincinnati, Ohio, the United States. His nickname is 'The Kahuna.' Joe stands at the height of 1.80 meters (5 feet and 11 inches).
Joe earned two educational degrees, as per wiki. First one is a bachelor's degree from the University of Colorado in molecular, cellular and developmental biology and the second one is a master's degree from Massachusetts Institute of Technology.