A famous gospel singer-turned-realtor John Starnes is a dynamic Christian speaker who sings inspirational gospel music that stirs the heart. Some of his famous songs include Let's All Go Down To The River, Let The Hallelujahs Roll, Love Grew Where the Blood Fell, and Palms of Victory.
John now works as a Real Estate Agent with Keller Williams Realty Signature Partners in Marietta, Georgia.
Net Worth
John Starnes is a tenor and gospel singer with over 15 recorded albums in his name. Not only that but he has also got featured in the series of southern gospel concert videos Gather Homecoming. On TV, he is a familiar face on programs like Homecoming Friend.
The average salary of a gospel singer has been estimated to be around $29,545 to $80,481 per year. Concerning John's long tenure in music and being one of the greatest singers of all time, he likely relishes some hefty paychecks. The Audio CD of his Spiritual: Southern Gospel songs consisting of his most significant hit is also available on Amazon.
Although the multi-faceted gospel soloist has a long stint in the music industry, his total net worth is yet under the radar, as of 2019.
Family, Wife
John transition to real estate business is something to do with his family legacy. His father, who was born in 1921, used to be a vice president of the bank, where he managed the Real Estate/ Mortgage division. On the other hand, his older brother served as the assistant vice-president in the bank in the Mortgage division. 
Interesting: Brian Ross: ABC News, Suspension, Fired, New Job, Salary, Personal Life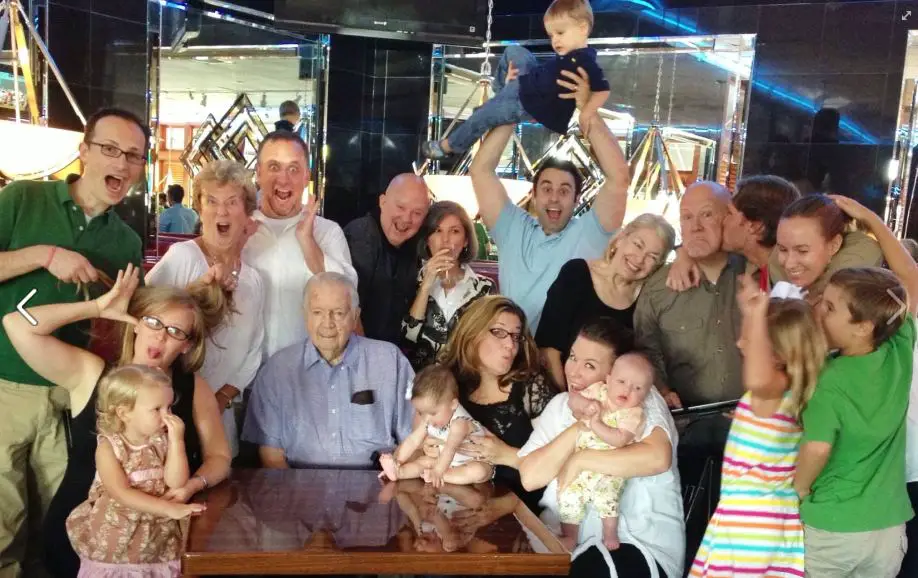 John Starnes with his dad and Stranes family (Photo: John's Facebook)
Also, his large family is blessed with his four grandchildren.
John and his wife Teresa Starnes, who met at the Mount Paran Church of God in Atlanta, have been married for almost four-decade. Also, they are proud parents of two daughters. John and his spouse raised their two daughters named Christia and Jessica after moving to Nashville in 1992.
The couple's two daughters are married to Jared and Jimmy. From John's son-in-law Jared, John has a grandson named Cayden. Likewise, he has a granddaughter from the side of his son-in-law, Jimmy.
Wiki(Age), Where Is He Now?
A native of Atlanta, Georgia, John Starnes was born on the 7th of December in 1950.
Since he was involved in gospel music from an early age, he couldn't complete his education while he was young. After accomplishing success in the career, he returned to college and graduated with a degree in B.S. in Liberal Studies in May of 2008 from Belmont University, at the age of 58.
Six months later, in December of 2008, John received an honorary doctorate of sacred music from Canada Christian College.
You May Like: Rich Dollaz (Music Executive) Net Worth 2018 | His Facts Unveil
Now, John encourages the local Church and has become a must-requested speaker at churches and conventions. Currently, the 63-years-old gospel singer also works as a realtor, who has been affiliated with Keller Williams Realty Signature Partners in Marietta, Georgia.
Facts
Let's inspect some of the quick-facts on John Starnes that you might find interesting.
John, who is now a gospel singer, was once a rock singer himself. He is a former local Atlanta rock and roll band singer, who used to be the main vocalist of the group called Choice during the early 1970s. After deciding to leave his band, he devoted his life to full-time ministry.
 
At the age of 41, John began his solo ministry and appeared in several faith-based TV programs including Homecoming Friend. He also sang as the part of a Benny Hinn crusade in front of more than 1 million audiences in India.