Johnathan Abram is a pro-American footballer who made his space among the Oakland Raiders as a 27th pick of the first round in the 2019 NFL Draft. After securing the considerable progression from Georgia and Mississippi State, he made his way to the NFL which was initially acquired from the Dallas Cowboys. 
Also, San Francisco 49ers head coach Kyle Shanahan invited him to the 2019 Senior Bowl.
Johnathan's Career And Net Worth 
Johnathan started his football career from Georgia and later moved to Jones County Junior College. Also, he played from Mississippi State for his final two years. He was named to the first-team All-SEC by the media and to the second team by the coaches as he led the team with 93 tackles. 
See This: Jelani Alladin Dating, Gay, Net Worth
Johnathan made his place in the NFL as a 27th overall pick in the first round by Oakland Raiders. He signed his four-year contract with the Raiders for $11,495,194 with an average salary of $2,873,799. 
Also, as oer the contract,  he will summon the base salary of $1,017,509, $1,540,018, and $2,062,527 in 2020, 2021, and 2022 respectively. Summing up his fortunes, he has the guaranteed worth of $10.25 million.
Married Life; Miscarriage And Children 
Johnathan Abram was at East Marion High School when he initiated his love life with his wife, Bri'Anna. At the time, Bri had already cleared her high school education. After a few years, the couple moved to Georgia together.
Also Read: Doug McMillon Net Worth, Wife, Children
By two years, Bri'Anna was pregnant with his twin children in January 2017. However, Bri'Anna entangled through the severe pregnancy-related health issues throughout the periods. She was diagnosed with TTTS at the hospital in Cincinnati. At 24 weeks, one of her twins, Halle lost amniotic fluid, whereas Harlee was also experiencing heart distress. 
As per the reports, she explored growth restriction in Halle due to Twin-to-Twin Transfusion Syndrome or TTTS. However, a couple of hours later, Halle passed away, and a week then, Bri'Anna welcomed Harlee on 21 May 2017.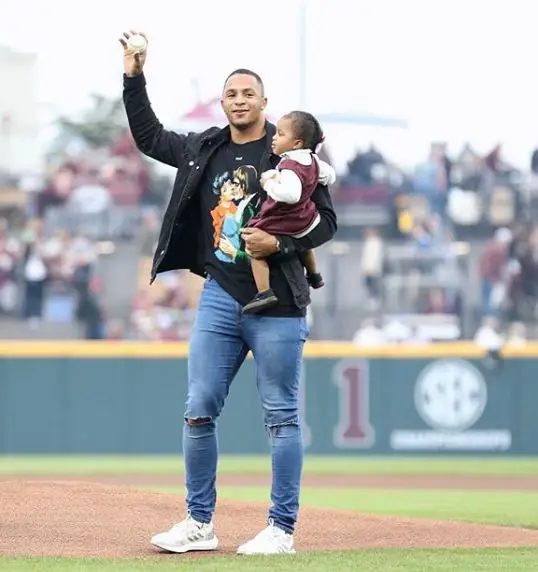 Johnathan Abram with his daughter (Photo: Johnathan's Instagram) 
After a year, Johnathan and Bri'Anna shared their wedding vows on May 2018.
As of now, the couple relishes nearly a half-decade of the romantic relationship and treasures their quality time with a selfless bond. Often the professional football player shares his family life on social media. Back on 13 April 2019, he shared the photo of his daughter on Instagram and mentioned that the most significant thing was 'giving her experiences that she will never forget.' 
You May Like This: Jazmyn Simon Husband, Parents, Net Worth
Bio, Measurements
Johnathan Abram was on October 25, 1996, in the United States. The body measurements of the 22-years-old pro football player include his height of 5 feet and 11 inches tall and weight of 205 lbs.
For the education, he attended Georgia College where he started his football career. Later, he joined East Marion high school. 
The facts and information about his family background and early life lie in mystery. However, he encloses a close bond with his mother. He gifted his mom a new car after Raiders drafted him in overall 27th pick in 2019.