Jon Gosselin is an American reality personality. He is best known for his appearances with then-wife, Kate Gosselin and their eight children on the American reality show Jon and Kate Plus 8. The father of twins and sextuplets, who was living a happy married life with his wife for more than a decade, now can barely look at his other half. The lengthy courtroom battle over the custody has brought him to a new low and had to depend upon fund by his fans.
How Much is Jon's Net Worth?
The American television personality Jon has a net worth of $10 thousand. He starred in 108 episodes of Jon & Kate Plus 8 where his salary per show was $22,500. Jon split with significantly less when he left the show in 2009. After leaving the program, he got engaged in other jobs. In 2011 he worked as a solar panel installer and in 2013, he started working as a waiter for two restaurants in Pennsylvania.
Jon accumulated most of the income from the popular show Jon & Kate Plus 8 and The New York Times Best Seller book Multiple Blessings: Surviving to Thriving with Twins and Sextuplets that he wrote with his wife.
Where is Jon Now, 2018?
Life hasn't been easy for Jon since he quit TLC hit documentary series Jon & Kate Plus 8. Most recently he found himself in financial trouble in the middle of an expensive custody battle with Kate of his children. The custody exchange between them is still growing argumentative. To cover up his expenses, he undertook a job as a stripper at Atlantic City's Dusk nightclub. The former reality star even shed 25 pounds to prepare for his new job in April 2017.
Then former television star has now turned DJ and doing everything to win the custody battle. Along with his DJ career, he also works on regular jobs so that he can get his kids back. But all his efforts was not enough. Eventually, in April 2018, it was reported that his girlfriend Colleen set up a crowdfunding page to cover up his legal expenses. 
Married Life Turns Into Divorce
Jon was happily married to Kate before the couple finally decided to part their ways in 2009 bringing an end to their ten-year married life.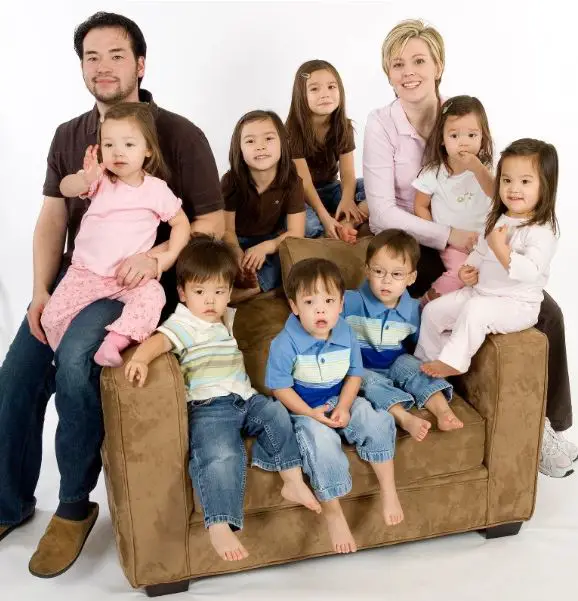 Jon along with her then-wife and children (Photo: usmagazine.com)
The couple first met at a picnic back in 1997 and got into a romantic relationship. They married after two years on 12 June 1999 and welcomed their first twin daughters, Cara and Mady on 8 October 2000.
The couple made headlines in the media when Kate gave birth to sextuplets, three sons, and three daughters, on 10 May 2004. The birth of sextuplets was a blessing to them as they got an offer of television show Jon & Kate Plus 8 on TLC.
In November 2008, the couple renewed their wedding vows in Hawaii. They married again with their eight children there to witness at Kleinfeld in New York City.
However, after ten years of married life, the couple announced their divorce on the 22 June 2009 in one of the episodes of their show. Kate said that the main reason behind the divorce was that Jon was cheating her hanging out with a woman called Hailey Glassman who was the daughter of Kate's surgeon.
But Hailey denied that she played any part in the divorce of Jon and Kate. She further said that she dated Jon months after their separation.
After many legal issues of months, the pair's divorce was finalized in December 2009, and Kate was granted primary custody of the children and the ownership of the family home. Even after eight years of divorce, the ex-couple is still sweating over custody and divorce settlement.
A Womaniser
After separating from his wife Kate, he justified his bad boy image by dating multiple women, which started from dating Hailey. He then had brief encounters with Kate Major and Stephanie Santoro. After which he started dating Ellen Ross. Jon appeared to be getting along nicely with his new girlfriend. However, the couple broke up in 2012. The reason for Ellen breaking up with Jon was the media attention and other things that came with the relationship.
After his split with Ellen, he had a fling with Liz Janetta in 2014 but their relationship without any drama. And in 2015, Jon was spotted with a new girlfriend Colleen Conrad, a registered nurse. She was Jon's childhood friend who grew up with him. Jon has a romantic relationship with her lady love. Back in 2017, he took Instagram to announce that his girlfriend graduated with Master's Degree in Nursing from Drexel University in Philadelphia.
Short Bio
Jon Gosselin was born on 1st April 1977 in Wyomissing, Pennsylvania, the USA to Korean mother Pamela Castello and French-Canadian, Irish and Welsh father Thomas Gosselin. As his family belongs to a different nationality, he possesses the mixed ethnicity. The father of eight graduated from Wyomissing High School in 1995.He stands at the height of 1.71 m ( 5'7.5'').