An infamous figure, Jordan Bernt Peterson is a Canadian clinical psychologist and a professor of psychology at the University of Toronto. 
He is famous as the author of the million-plus selling "12 Rules for life: An Antidote to Chaos (Jan 2018, Penguin Books), which has been a Number 1 bestseller in the US, Canada, the UK and more.
Here are some fascinating wiki, covering how he got married, info about his family members and how  he earns his net worth:
'Feminist' Wife Is Childhood Sweetheart, Married in 1989
Jordan Peterson met his wife Tammy when they were very little. They lived on the same street in Fairview, Northern Alberta. He fell in love the moment he saw her. He told his father, Walter Peterson, that one day he would marry her.
When the pair were in their teenage years, the pair drifted apart a little. During one day on that period of time, she was with her friends talking about feminism. Jordan happened to be delivering the newspaper to her house. He heard her talked about how she wouldn't take the last name of her husband. He heard her say,
"I'm gonna have to marry some wimp because I am a feminist."
Soon after saying that, she saw Jordan; she smirked and teased him, asking him to marry her.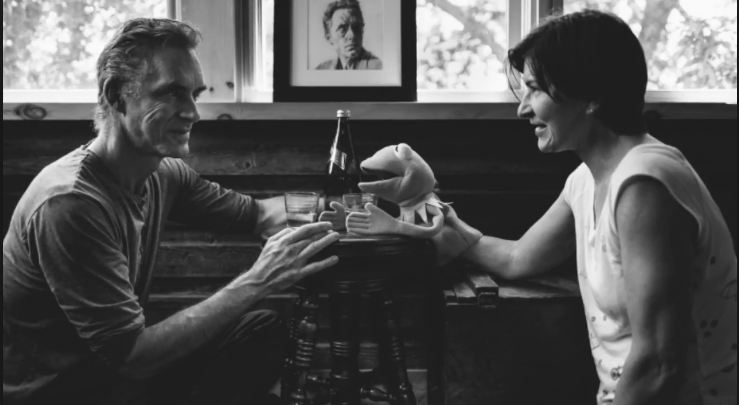 Jordan Peterson's moment of joy with his life-partner, Tammy Peterson (Photo: Pinterest) 
Fast-forwarding to when he was 28-years-old, they began discussing marriage. From that point, they reached a discussion on what the last name she would take. He promptly reminded her of that moment when she asked him/ wimp to marry her, and insisted that she take his last name; she did.
The lovebirds then got married in 1989. They have been happily married ever since.
Family: Shares Two Children With Wife Tammy
Jordan Peterson has two children with wife Tammy Peterson- one daughter and one son. The daughter's name is Mikhaila Peterson, and the son's name is Julian Peterson. His wife is a former massage therapist. She has been working for Jordan after he became famous - she has been keeping up to increasing interview requests.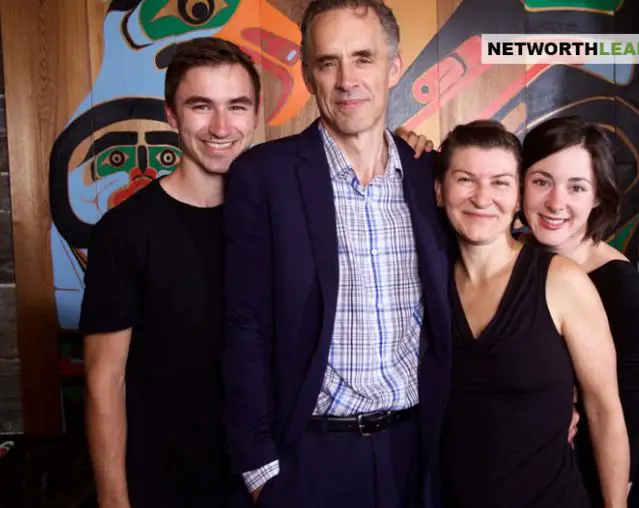 Jordan Peterson poses with wife Tammy (middle), and children(left, right) - son Julian and daughter Mikhaila (Photo: Pinterest)
The famous professor is someone who has motivated millions in their personal life. In his Youtube lectures, one can take valuable insights from how to manage your relationships to how to be a great parent. 
Of course, that doesn't mean Jordan Peterson doesn't face issues in his personal life - the great professor-of-the-modern-day relishes upon the catharsis he reaches analyzing psychology and religion. 
How Has Jordan Peterson Generated His Net Worth?
The 56-year-old has generated his net worth from his career as a clinical psychologist and a professor, and also from his Youtube videos, book sales, and public-speaking stints.
He receives a lucrative salary as an experienced professor at The University of Toronto. He also generates revenue from his Jordan Peterson Videos channel on YouTube that has more than 1 million followers. The videos on his famous channel have been viewed more than 15,000,000 times. He collects money from his Patreon account as well.
As per July 2017 article by Vice.com Peterson was making nearly $50,000 a month from his Patreon page. The donations money overwhelmingly exceeds his salary at the University of Toronto. He made $161,635 CD in the year 2015, according to sunshineliststats.com.

Dr. Dislikes Gender Pronouns: Jordan Peterson gives pro-free speech open lecture in October 2016 (Photo: Toronto Life)
Before rising to fame for his opposition (uploading Youtube videos debating students) against pro-gender pronouns supporting Canadian policy called Bill C-16 in 2016, he was treating 20 people a week as an active clinical psychologist. In the past, he has also amassed income from his five years at Havard as an assistant professor. 
The channel, Jordan Peterson Videos, features his university and public lectures, his responses to the polarizing political crises of today, and his interviews with intellectuals such as Camille Paglia, Jonathan Haidt, and Ayaan Hirsi Ali.
Dr. Peterson has made appearances on many popular podcasts and shows, including the Joe Rogan Experience (episodes: #877, #958, #1006), The Rubin Report (episodes: 12 Rules for Life: An Antidote to Chaos, Free Speech, Psychology, Gender Pronouns),  and H3H3 (episode: #37), and many more.
Jordan is also the author of the best-selling books, including Maps of Meaning: The Architecture of Belief; and 12 Rules for Life: An Antidote to Chaos.
Short Bio
Jordan Bernt Peterson was born on 12th June 1962. He was born in Edmonton, Alberta.  He called himself a Christian in a 2017 interview but did not identify himself as one in 2018 - responding to his belief in God; he mentioned that he unidentified himself from God saying 'no,' but conflicted the stance saying 'but I'm afraid He might exist.'