New Zealand actor Julian Dennison is known for his award-winning role as Ricky Baker in the movie Hunt for the Wilderpeople. The teen actor gathered spotlight after he starred as Russell Collins a.k.a. Firefist in the Hollywood movie Deadpool 2. Before he arrived as an actor, Julian booked his debut film role after casting session on his school of New Zealand.
How Did Julian Gather Net Worth?
Julian Dennison, age 15, accumulated his net worth from his career as New Zealand actor. His movie, Hunt for the Wilderpeople in 2016 and became the highest-grossing film in New Zealand history. It was able to gross $23.2 million over the production budget of $2.5 million. In Australia, it has gathered over $10.9 million, $507,380 in the UK and over $5 million in North America. Julian, who played the role of Ricky Baker, won the New Zealand Film Awards 2017 for Best Actor.
The actor also witnessed the 2018 movie Deadpool 2 where he played the role of Russell Collins a.k.a. Firefist. The American superhero movie was able to gross $497.6 million in a box office over the production budget of $110 million. In the United States and Canada, the sequel of Deadpool accumulated $207.4 million whereas gathered $279.7 million from other countries. Julian also increased his net worth by featuring in the American Twentieth Century Fox film.
He started his acting career in 2013 where he appeared in the New Zealand movie Shopping and played the role of Solomon. In his debut, he bagged the New Zealand Film Award for Best Supporting Actor. In 2015, he starred in Australian's 3D children's drama film Paper Planes where he portrayed the character of Kevin. Further, in 2016, he performed in the Drama/Science fiction film Chronesthesia with a role as Beni. He also appeared in 2016 TV series Funny Girls in Series 2.
Julian's Hollywood Debut In 'Deadpool 2'
After starring in various New Zealand films as well as Australian movie, Julian got a chance to shine in the Hollywood industry. On 28 June 2017, American actor Ryan Reynolds announced the news of Julian's Hollywood debut from the movie Deadpool 2. Ryan shared an adorable photo of the young actor via his Instagram. The American actor also captioned: 'Giving Julian Dennison a warm welcome as we stare off into our beautiful future together.'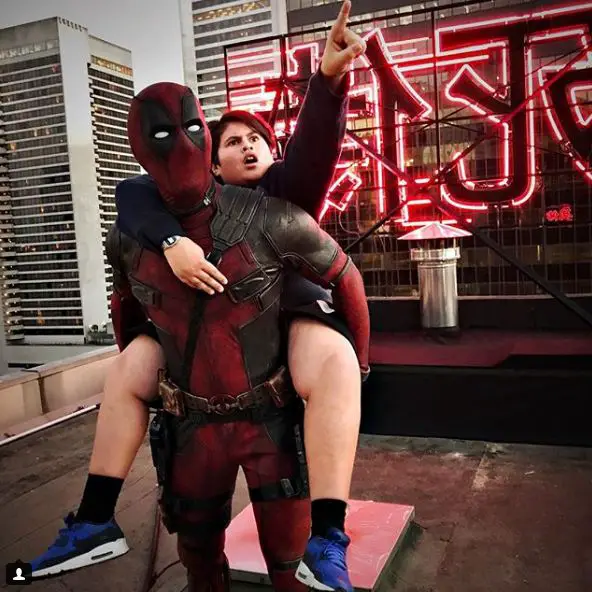 American actor Ryan Reynolds sharing the photo of Julian Dennison on 28 June 2017 (Photo: Instagram)
The young actor, who impressed on 2016's movie Hunt for the Wilderpeople, thrilled with his portrayal in Deadpool 2. The director of his 2016's film, Taika Waititi also had the connection with Deadpool's filmmakers and recommended Julian for the role.
His On-Screen Weight Loss
In the interview with Scpr.org published on 23 June 2016, Taika said Julian is a charming and a timid little boy. Taika also gets impressed by Julian's sweet-natured and prioritize the young actor in the role of Ricky Baker. During the Sundance Film Festival, Taika explained Julian's character based on Wild Pork and Watercress novel.
What happens in the book is the kid starts off quite hefty, he's quite fat, and then by the end of the book he loses all that weight because of all the time he's out in the wilderness. I'm pretty sure it's illegal to crash diet 12-year-olds.
As in a sequence with the novel, Julian's on-screen role as Ricky also has a hefty weight. His character struggles in the wastelands and loses the weight.
Julian's Family Life
Julian is the second youngest child of his parents. Among his four siblings, Christian Dennison is his twin brother. Julian who enjoys living with his family also says they keep him grounded. On June 2016, he and Christian made their YouTube channel and uploaded their first video.
His twin brother Christian in 2017 announced a new online series, Wild Eyes designed to get kids outdoors and comprehend the nature. The online series received a fund of $400,000 by Ministry of Business, Innovation, and Employment as well as the Autonomous crown entity New Zealand on Air.
Short Bio
Julian Dennison who was born on 2002 in Naenae, Lower Hutt, New Zealand has his birthday on 26 October. The Maori New Zealander possesses a height of 1.63 m (5' 3"). Julian has an endomorph body structure with a zodiac as Scorpio. As per wiki, he attended Naenae Primary School and started his audition for the 2013 film Shopping.