Death comes for everyone, but some people carry such a legacy that even death can't erase it. Among few such personalities was Junaid Jamshed - a man of many superlatives- a pop star, a fashion icon, a spiritual person, and a center of attraction whether it be in media or controversies.
Sadly, on 7 December 2016, on the way to Islamabad from his religious preachings (Tableeghi Jamaat mission) in Chitral, the Pakistan International Alliance (PIA) plane, PK661, carrying him and his second wife along with 48 other crashed near the town of Havelian, in Islamabad, Pakistan.
Nobody survived the crash, and his followers went into a state of grief. Initial reports suggested the plane was haunted by an engine problem, which was hinted by the pilot through an emergency Mayday call to the air traffic controller.
Let's take a rollercoaster ride into his personal and professional life and the accident leading to his untimely demise at the age of 52.
Junaid Jamshed Bio (Age)
Junaid was destined to be a Pakistan Air force officer like his father; however, God had a different plan for him.
Son to father Jamshed  Akbar Khan, a former Pakistan Air Force (PAF) officer, and mother Nafeesa Akbar Khan, Junaid Jamshed was born on 3 September 1964 in Karachi. Like his father, he also wanted to join the PAF. So, he studied mechanical engineering and graduated from the University of Engineering and Technology in Lahore in 1990.
However, everything didn't go as planned for Jamshed. He drifted ashore from his dream and ended up being the front man in one of the legendary music bands of Pakistan, Vital Signs, in the 1980s.
Climbing through the stairs of success, Junaid gained massive popularity in the music industry with hits like Dil Dil Pakistan, Tum Mil Gaye, Aitebaar and Who Kaun Thi between 1986 and 1996.
Similar Topic: Barbara Walters Wiki, Bio, Spouse, Children, Health, Death or Alive, 2017
Despite his marvelous singing career, Junaid announced his retirement in 2004 and focused on religious preaching on TV.
Family Background / Wife / Children
Junaid is no more, but his large family survives him.
Before his death, Junaid Jamshed was a husband to two wives and father to three children - two sons and one daughter were all from his first wife, Ayesha.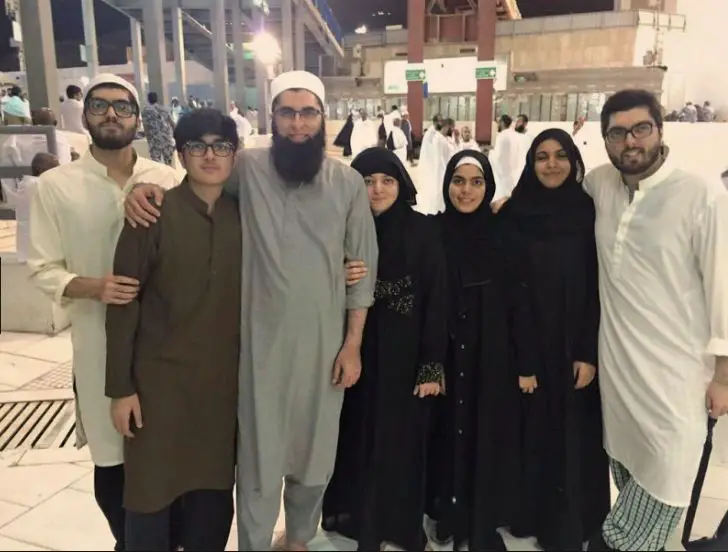 Family Time:  Junaid Jamshed performs Hajj with his family in 2016 (Photo:somethinghaute.com)
However, his second wife Nayha died alongside him in the plane crash in 2016.
Junaid Jamshed Net Worth 
Junaid Jamshed was, no doubt a very successful person. His voice pushed him to substantial commercial success, whereas his religious beliefs planted him in the hearts of people.
Though his success cannot be illustrated in numbers, he had a net worth of more than $20 million US dollars before his death. The late singer had made a substantial financial leap with his breakthrough hits like Dil Dil Pakistan and solo album Us Rah Par.
Later, after his retirement from singing in 2004, he opened a fashion mall J. and started religious preaching. He also received one of the highest honors Sitara-e-Imtiaz in 2007.