Life is full of problems, but the big deal lies in how strongly the person faces it and moves ahead with the flow. Kadian Noble, a British Actress and a model, has repeatedly proved her strength by coming out victorious from the circumstances life throws at her. She had once escaped death in a terrific accident and later became the victim of sexual harassment.
Career and Net Worth:
Kadian's career got started as she participated in 'Britain's Next Top Model' in 2010. After that, she worked on some TV shows including 'Riot on Redchruch'. She is also the founder of an image consultancy business, Elizabeth & Noble which was launched in 2017.
Besides that, she hasn't disclosed much about her earning. But given her television appearances and earnings from consultancy, we can suspect that he net worth crosses a million dollar mark.
Faced a Terrific Car Accident!
At the age of sixteen, Kadian faced a terrific car accident which nearly destroyed her modelling career. She was forbidden to look mirror due to the damage aroused on her body those days. However, she slowly recovered and regained her strength to become her former self. While talking about her accident and the following trauma with Birmingham Mail, she said,
"After that crash I couldn't stand up. My arm was resting below my chest and couldn't be straightened. I had four operations on it. No-one wanted to look at my face. I wasn't concerned about what I looked like, I just wanted to rebuild myself mentally and physically, and try to get better."
Accused Harvey Weinstein of Sexual Harassment!
Kadian Noble filed the sexual harassment case against Harvey Weinstein, Bob Weinstein (brother) and his company in November 2017.
Kadian claims that she met Harvey Weinstein in February 2014 at the event of British Academy Film Awards. She further shared that both of them were in Cannes while Weinstein asked her to come to Le Majestic Hotel for the audition and harassed her. She said,
 "He gripped me and he led me to the bathroom and I was saying, 'what are you doing? I thought, obviously, this man has something amazing in store for me. I still can hear the rattle from his belt, like him undoing his belt while he had grip of me."
Single Parent to Her Child?
Nothing much is revealed about her married life which makes us unaware of her husband and whereabouts. However, she has a daughter who was born while Kadian was eighteen years old.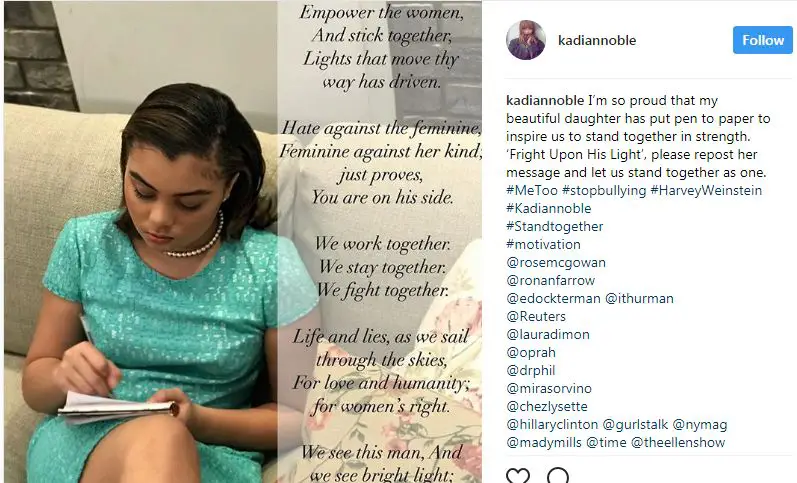 Caption: An Instagram post of Kadian regarding her daughter's support for her.
Source: Instagram
Kadian seems to be raising her daughter as a single parent. And similar to her, daughter Tiara also seems to love her mother very much and often runs her pen in support of her.
Short Bio and Facts:
According to her wiki, Kadian Noble aged 31 was born to her mother, Jean Kelley. Nothing more is detailed about her parents and birthday. Her nationality is British, and she belongs to Afro-English ethnicity.