Karamo Brown's life turned upside down when found about his son, Jason through the stack of paper demanding the child support outside his doorstep. His young, immature relationship during teenage and lack of guidance prompted the mother of the child to move away from Los Angeles keeping it a secret. 
Career and Progression:
Karamo Brown is a television personality and host who began his career in 2004 on the MTV reality television show, "The Real World: Philadelphia." He was the first out gay man on the reality show. Karamo further contributed as a host on HLN's "Dr. Drew on Call" and producer of HuffPostLive for Huffington Post.
Brown starred in the hit Netflix show, "Queer Eye" as the Culture Expert in 2018. The actor and host has not only been acting this whole time. He has as well been involved in activism programs for LGBTI rights and HIV support. The "Queer Eye" cast is the co-founder of 6in10.org, the organization that fights for the HIV stigma and the LGBT community. He is the health and wellness ambassador for "Center for Disease Control" and "National Black Justice Coalition."
Unexpected Fatherhood; The Best Thing Ever!
Karamo Brown is a gay African- American activist and actor who was living his life to the fullest and carefree until he found out about his son, Jason. It appears a high school girlfriend and the mother of his child moved away when she found out about the pregnancy, though the dating affairs are not mentioned in detail.
Not sure about how to react, she kept the identity of her son away from Karamo until the government officials approached him for the overdue child support. After the news, the actor flew to Texas and finally reconciled with his 10-year-old son and received the official custody in 2007.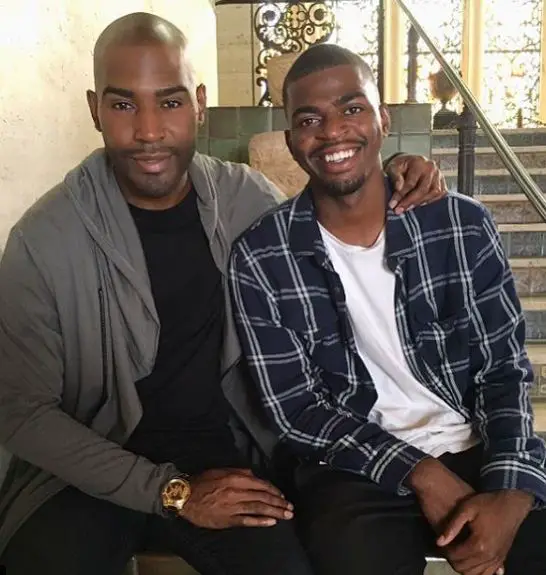 Karamo Brown with his son, Jason in the set of "History Chanel" series on 30 July 2016. (Source: Instagram)
Brown reveals that fatherhood though unexpected was the best thing that happened to him. Later Brown adopted Jason's half-brother in 2010 so that the siblings could stay together. He as of now is not yet married, and the trio lives together in Los Angeles.
According to Advocate, Brown did not have a smooth relationship with his father as he had piling expectations for him. Karamo in his teenage knew about his sexuality but could not really come out to his father, and as soon as he lived alone, he lived his life fully.
He further adds that Jason saved his life because he gave Karamo the reason to work on himself and the relationship with his children that he could never mend with his father.
How much is Karamo Brown's Net worth?
Karamo Brown has earned himself massive followers and admirers through his social activism and his breathtaking acting. It has been quite long for him in the industry, and he unbelievably has mastered it. He as of now has a successful career and probably a humongous net worth and an impressive salary.
Short Bio:
Karamo Brown aged 37 was born on 2 November 1980 in Houston, Texas. Brown earned his bachelor degree in Business Administration from Florida A&M University. Brown though is very open about his professional life; he has not mentioned details about his family in the wiki sources. However, he has posted a picture of his mother on Instagram on 8 May 2016 and wished her a "Happy Mother's Day."