Karlous Miller is an American comedian most notable for his role as a cast member of the MTV2 comedy 'Nick Cannon Presents: Wild 'N Out. Miller's comedic and outgoing personality made him a fan-favorite on the show. Along with that, he has also managed to appear in several TV shows over the years.
The viewers have well and truly appreciated his roles in the shows like Yo Momma' (2006-2007), 'Hell Date' (2007-2008), 'Bill Bellamy's Who's Got Jokes?' (2006-2009). And with all that, Karlous has also managed to squeeze in tours as well. Germany, Puerto Rico, London have been some of his most famous destinations.
It's a safe bet to say that Karlos Miller is one of the best stand-up comedians out there. 
Wife, Son
Those who follow Karlous or watch his shows are sure to be aware of the fact that he was once in a relationship with comedian Ashima Franklin. Details regarding how and when his relationship with Ashima began have not yet been disclosed.
Read More: Amanda Giese Wiki, Age, Husband, Net Worth
And as for why the pair split also remains uncertain but it is for sure Karlous didn't make him his wife. However, their relationship did bless them with a son. Heisformer girlfriend Ashima can often be seen gushing about the baby and his dad Karlous several occasions, including Father's Day.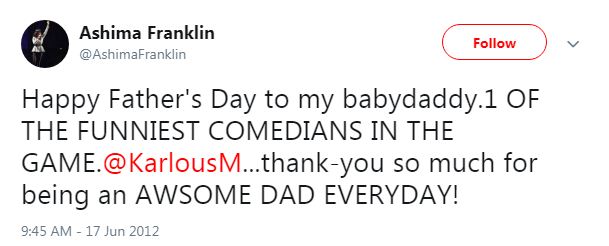 Karlous being wished on the occassion of father's day by his former girlfriend. (Photo: Ashima's Twitter | 17th June 2012)
Despite their split, the pair seem to maintain a very healthy relationship with one another for the sake of their son.
As for whether or not, Karlous is currently single or dating anyone now remains a mystery. There have not been any rumors or any speculations that link Karlous to any possible girlfriend.
And unless Karlous speaks out about the issue himself, we can never really be certain.
Karlous Got Fired From Job? Net Worth
Karlous Miller is a comedian most known for being a part of the show MTV2 comedy 'Nick Cannon Presents: Wild 'N Out. Miller first made his Tv appearance on Robert Townsend: Partners in Crime—The New Generation. From there on, he went on to star in shows such as Yo Momma,' 'Hell Date,' 'Bill Bellamy's Who's Got Jokes?,' 'Comic View,' 'Last Comic Standing,' 'The Mo'Nique Show,' and 'Off the Chain.
You Might Enjoy: Brandon Larracuente Ethnicity, Girlfriend, Net Worth
But in a surprising turn of events, Miller was fired from Wild N' Out. In a February 2018 tweet, Miller showed his shocking expression on being fired from the show. He also went on to express his dismay on The Breakfast Club. No specific reason has been ever disclosed as to why Miller was fired from the show. But as per the show's host Nick Cannon, he claimed that "it was all the doings of the white folks."
But apart from that, Miller, age 36, has various side gigs to his name. He is also a member of The 85th South Comedy Show.  So talking about his net worth, although the exact sum remains uncertain, it might be safe to assume that he holds a number well in the range of thousands or could be well above the range.
Apart from the revenue and incomes, Karlous is set to perform and would be touring around different cities. He is scheduled to be performed on 6 July 2019 at The Fillmore Detroit presented by Cricket Wireless in Detroit, MI.
Wiki & Bio
Karlous Miller, whose birth sign is Aries, was born on the 2nd of April 1983 in Oxford, Mississippi. Very little is known about his personal life and his family life. He was raised alongside eight other siblings-one of them is sister Kayla Miller.
Miller first worked as a firefighter before embarking on a career as a comedian. 
Interesting: Egypt Daoud Dean Wiki, Family Background, Net Worth
Being born in America, he holds American nationality and is of African-American ethnicity. He stands at the height of 5'9" tall.