A professional ballet dancer Kathryn Morgan is a soloist in the Miami City Ballet since May of 2019. She is also a YouTube content creator, who shares ballet, lifestyle, and beauty videos with her more than 168K subscribers on her YouTube channel.
Furthermore, the professional ballet dancer also hosts her podcast named The Kathryn Morgan Show and writes a column for the magazine called Dance Spirit Magazine.
Kathryn's carer does not end right there; her career in dancing has also led her to reserve the sit as a judge and master teacher for the Youth America Grand Prix Ballet Competition.
Kathryn's Bio With Age & Height
Kathryn Morgan was born on 17 August 1989. The Fayetteville, North Carolina native's real parents are a mystery as she was adopted by an Air Force family when she was very young. Her parents were in the force; hence she moved a lot while growing up.
You Might Be Interested In:- Marama Corlett Wiki, Age, Birthday, Height, Boyfriend, Dating, Parents
Kathryn stands at a height of five feet and five inches (1.65 m).
Her Education & Career
The YouTuber Kathryn Morgan started learning ballet when she was only three years old at Mobile Ballet, located in Mobile, Alabama. She then went to the summer program at the School of American Ballet in 2004 and joined the school in the fall later as a full-time student.
After completing the academic studies, she joined New York City Ballet in June 2006 as an apprentice. Less than a year later, Kathryn became a member of the corps de ballet in February 2007. Finally, her career went higher when she became a soloist in October 2009 and performed as Juliet, the Sugarplum Fairy of the musical The Nutcracker.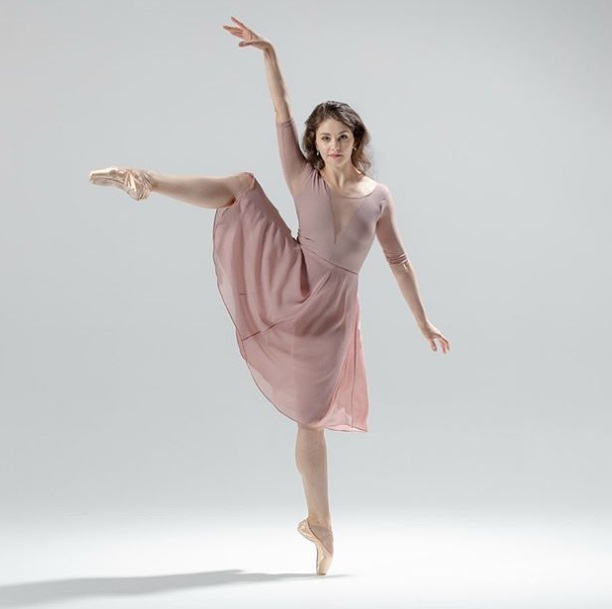 Kathryn Morgan strikes a pose while dancing at Miami City Ballet on 27 September 2019 (Photo: Kathryn Morgan's Instagram)
Sadly, Kathryn had to leave the company in 2012 due to her autoimmune illness. But after improving her health condition, she joined Miami City Ballet as a soloist in May of 2019.
Her Personal Life- Wedding & Divorce Talk
Those who follow Kathryn regularly through her social media must know that she was married to her ex-husband Eric Latham Young. They got engaged sometime in May of 2016. A year later on 27 May 2017, Kathryn and Eric got married—Kathryn had announced the wedding date via Twitter on 6 Jul 2016.
Sadly, their union didn't last long as they got a divorce ten months after their big day. Kathryn even confirmed her tragic relationship via Instagram on 3 September 2019. Since then, she hasn't been spotted with any men.
Interesting Facts- Weight Loss
Due to her sudden heartbreak from her failed marriage, Kathryn stopped eating and quickly lost a lot of weight. She later explained to her fans through a YouTube video about how she lost so much weight, and it was not healthy for her.
Eventually, she got better as she was battling with her sickness; then, she also gained her weight. Finally, she started dancing again and restarted her career as a soloist.