YouTube sensation Katie Betzing uploads videos related to beauty tips, hair, makeups, DIY, life advice, workout routine, and daily routine. Her fascinating videos and content have helped her amassed 1.29 million subscribers in her self-titled YouTube channel.
Also, she is superior in volleyball. She won a Michigan State Championship alongside her volleyball team at Romeo High School. 
Wiki, Age And Birthday
Katie (full name: Katie McKinley Betzing) was born on 10 September 1997 in Michigan, US. She is the daughter of Dough Betzing, a history teacher, and Karen Betzing, a soccer coach. Katie grew up alongside her three other siblings: Elizabeth Reagan Betzing- a model- is her biological elder sister while Jasmine and Andrew are her adopted older siblings. 
Also A Youtube Phenomena: Who Is Rachhloves Husband? Personal Life & Kids Details
Further, the YouTuber attended the Romeo High School near her home in the United States and later got enrolled in a community college at the University of Michigan. There, she studied advertising.  
Is Katie Engaged?
Katie has been engaged to YouTube star and pro-boxer Josh Brueckner since 10 November 2019. It was Josh's first pro-boxing match after MMA, and he had brought Katie on the stage and popped the question to her.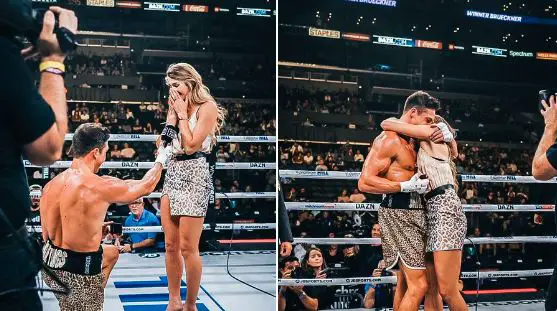 The engagement picture of Katie McKinley Betzing and her fiance Josh Brueckner (Photo: Katie McKinley Betzing's Twitter)
The couple had first met at a boxing gym- Katie searched for a personal trainer online, and Josh trained her. It was Katie who instantly fell in love with Josh and eventually started dating from 4 July 2018. However, Healthy Celeb stated that they didn't express their feelings for each other until August 2018. 
Past Relationship
Katie was in a relationship with Logan for one and a half years. They dated from 2014-2015. She shared the news of her split with Logan with a video titled We Broke Up on 30 August 2015.
As per Katie, Logan was her first boyfriend and that her parents allowed her to date as she was older than sixteen. 
Diet And Workout
The first thing Katie does in the gym is run three miles in between 21-24 minutes. After the warm-up, she works out on her buttocks, cardio, and boxing. However, these are not her everyday workout as Katie switches sometimes. Secondly, she also lifts weights and does farm workouts with her boyfriend at the gym. 
Beauty Vlogger: Allana Davison Wiki Uncovers Age, Birthday, Dating Life, Boyfriend
As for her abs, she does 25 straight leg sit-ups, 50 ankle touches, 40 bicycle kicks, 25 raised straight-leg toe touch, 30-second side plank (each side), 25 single-led V-up (each side), 30-second "hollow man" hold, and lastly, 1-minute plank.
For her diet, she takes a large amount of coffee, fruit, and salad.
Quick Facts
Katie stands at a height of 1.72 meters (5 ft 8 in) and her body weight is 57 kgs (125.5lbs). 

Her middle name was given McKinley as her father was a fan of William McKinley, the 25th President of the United States.

Katie and Josh bought a house in Macomb Country, Michigan in June 2019.