Life is the mixture of good and bad experiences. Sometimes we encounter unexpected happiness and sometimes get stuck in a web of painful circumstance. The experiences of the famous model, Kaylin Garcia also has been the same; she has received immense success as a dancer, fitness instructor, model, host, and singer but has failed miserably in terms of relationship. Neither she had a loving relationship with parents nor with her previous partners.
Career and Net Worth:
In 2011, Kaylin made a debut appearing in the music video featuring Lil Wayne, Mystikal, and Birdman. She later appeared in the videos of few singles including 'Roc,' 'Red Bottoms' and 'Original.'
But she experienced turnover in the career only after becoming a part of VH1 reality show 'Love and Hip Hop' in 2013. She also appeared in 'Couple Therapy' in 2015.
In 2013, Kaylin was named as the Best Body by Juicy Magazine. She also featured in the Reebok commercial. Passionate about dancing, she is working as a choreographer and certified Zumba Instructor as well.
Despite her enormous success, Kaylin has stayed mum regarding her finances and earnings. Her net worth hasn't been disclosed so far, but she surely must be enjoying a well-settled life.
Unstable Relationship with Rapper Joe Budden!
Kaylin stayed in controversies due to her on and off relationship with rapper Joe Budden in 2013. The couple couldn't make their relationship stable reportedly due to Joe's lack of concern towards their love life. 
Similarly, Joe's proposal to his ex-girlfriend, Tahiry served as a primary reason for their split. In 2015, Kaylin shared with VH1 News that she has moved on with her life and has sorted things with Tahiry. She said,
"We were trying to work out, but it didn't happen, we were off. There was a time where on off cameras Tahiry came knocking on the door, she is like we need to talk and i'm like ummmm, ok, so we basically we just cleared the air when he was taming both of us. "
Before that, the couple went to 'Couple Therapy' to clear the misunderstanding, but things couldn't work as they desire, and both decided to break the relationship.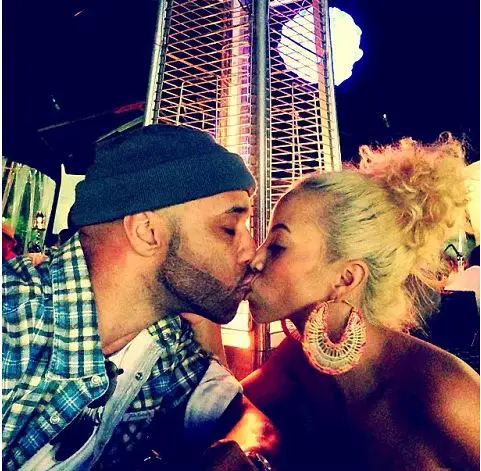 Caption: Kaylin Garcia with her ex-boyfriend Joe Budden
Source: urbanbellemag.com
Afterwards, Kaylin began dating rapper Sage the Gemini. The duo met each other on Twitter and started their long distance relationship right away. 
However, their relationship soon ended in 2014 with Sage accusing Kaylie of being a cheater. Kaylin but confessed with VLAD TV that she would never cheat anyone.
Well, the list of her tragic relationship doesn't end here. In the interview of VH1 news, Kaylin revealed that she was abused both verbally and physically by her mother. She shared,
"My mom was abusive towards me, both verbally and physically. She would put me in a position that I would just be like, uuhhh, is this love? My dad was gone, and come from a broken home."
Her Bio and Wiki:
Kaylin Garcia aged 26 celebrates her birthday on November 10 every year. She was born in 1991 in Florida to Puerto Rican- African father and Thai mother. He birth sign is Scorpio, and she holds an American nationality. The model of mixed ethnicity has an older sister named Simone and a younger brother named JP. She has a decent height of 5 feet 2 inches.