The era of late Richard Franklin Lennox Thomas Pryor inspired American actor Keenen Ivory Wayans to become a comedian. Keenen's intensity towards comedy was so much fervid that he even left his engineering scholarship and marked his path as a legend in comedy.
He is the host and the creator of Fox comedy series In Living Color and is a co-writer and director of comedy film Hollywood Shuffle. Keenen has either directed or acted in the flicks like A Different World; Scary Movie; Most Wanted; My Wife and Kids; and Happily Divorced.
What Is Keenen Ivory Wayans' Net Worth?
Keenen, 60, has acquired the net worth of $65 million from his career as an American actor and comedian. His 2000 horror film Scary Movie grossed the outstanding box office of $278 million with a low budget production of $19 million.
Read Also: Dimitri Portwood Kutcher Wiki | Mila Kunis' Son Birthday, Nick Name, Facts
Likewise, the two BET Comedy Awards-winner gathered seasonal-payrolls as a judge of the reality series Last Comic Standing from 2014 to 2015. The Primetime Emmy Award-winner and one of his brother Damon Wayans inaugurated the career of their siblings and created the Emmy-winning comedy show In Living Color.
Nine Siblings In Family
The second child of Howell Stouten Wayans and Elvira Alethia, his father served as a supermarket manager while his mother worked as a social worker. While growing up in Manhattan's Fulton house projects, his religious family did not let Keenen and his siblings mix with other children in the neighborhood.
In his family, Keenen has a total of nine siblings among which five are his sisters while the rest are his brothers. His siblings include screenwriter sister, Elvira Wayans, and comedian brother, Shawn Wayans. His sister Elvira has a son named Damien Dante Wayans who is a fellow American actor like Keenan.
Five Children With Estranged Wife; Girlfriend Dumped Him
Keenen's ex-wife Daphne Wayans was at the age of 16 when the TV personality met him, but she didn't date him until her 18's. By the time they married on 16 June 2001, the estranged couple had relished four kids and embraced their final child after tying a knot.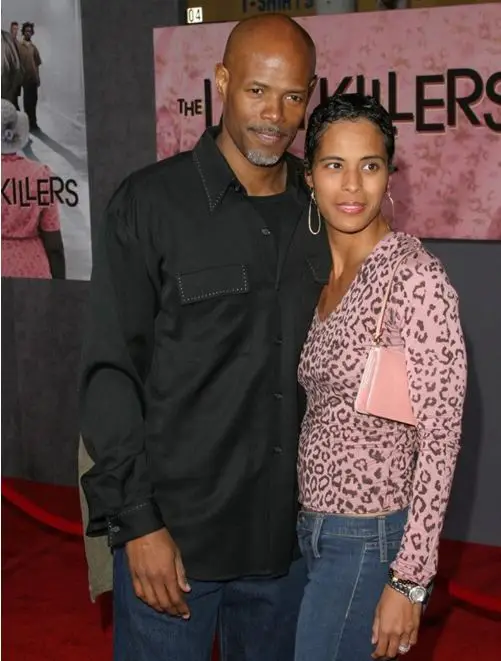 Keenen Ivory Wayans and his ex-wife Daphne Wayans were married from 16 June 2001 to 11 December 2006 (Photo: Pinterest)
See Also: Sue Aikens Wiki, Age, Birthday, Husband, Children, Salary and Net Worth
They welcomed their first children as a daughter Jolie Ivory Imani Wayans on 25 June 1992. Likewise, they shared a daughter Nala Yasmeen Ivory Wayans (born 4 March 1996), a son Keenen Ivory Wayans, Jr (born 14 September 1998) and a daughter Bella Ivory Aziza Wayans (born 7 March 2001). The former duo emancipated their youngest daughter Daphne Ivory Shiva Wayans on 12 July 2003.
Despite having five children, the ex-Wayans couple could not maintain a healthy bond and finalized their divorce on 11 December 2006. Even though they are no more in a relationship, his ex-wife affirmed that they are together in her May 2013 interview with madamenoire.com. When asked why they decided to follow separate parts, Daphne addressed:
There's not any one reason why we decided. When I do these interviews people go, "what happened?," as if I'm going to say, "he kicked me." So, I don't like to call it a split or divorce because we were still together in so many ways. It was more of a shift, a change in structure. We live five houses from each other. We still operate as a family. We're not husband and wife for sure, but we're definitely parents to our children. 
After Keenen's divorce Daphne, he and Sweet Valley High alum Brittany Daniel started dating in 2007. They were spotted enjoying their PDA moments in Miami, Florida in April 2013. However, his ex-girlfriend reportedly dumped him and married Adam Touni in Los Angeles in June 2017.
Short Bio
Born on 8 June 1958, Keenen Ivory Wayans is a native of New York City, New York. The actor has the height of 1.91 m (6 feet 3 inches) and holds American nationality. At the age of 24, Keenen debuted from American movie Star 80 with a role as Comic. 
Rosa Acosta Wiki, Bio, Married, Boyfriend, Dating, Lesbian, Net Worth
The American actor attended Seward Park High School and briefly attended Tuskegee University securing an engineering scholarship.