The whole nation is stunned over the missing case of 29-year-old Colorado mom Kelsey Berreth. A young mother who loves hiking and bicycling went missing since the Thanksgiving Day. She is a pilot and instructor at Pueblo, Colorado. 
Kelsey was last seen tucking a white shirt, blue jeans/dark blue pants, gray sweater, white shoes and she carried a brown purse.
Family Troubled Over Kelsey's Missing! Police Suspect Her Fiance
A Colorado mom went missing since 22 November 2018. Kelsey Berreth was last seen in a supermarket in Colorado during the Thanksgiving. However, the details of her missing report emerged on 2 December 2018, i.e., over ten days later. She is at the age of 29 and serves as a pilot instructor.
Explore More: Sun-jung Jung Wiki, Bio, Age, Oliver Stone, Ethnicity
The footage released by the Woodland Park Police Department showed Kelsey into a Safeway near her home in Woodland Park, Colorado. She then walked at a grocery store carrying her one-year-old daughter, Kaylee in a cart. Her disappearance has led her family members and friends stunned, and the investigators are trying their best to search Kelsey.
There are several concerns about her safety as her cell phone got pinged 700 miles away in Idaho from her last seen place. According to the police, three days after her disappearance, text messages were still being sent from her cell phone. One was sent to her fiance Patrick Frazee, and the other got delivered to one of the employees of her office explaining that she wouldn't return for work.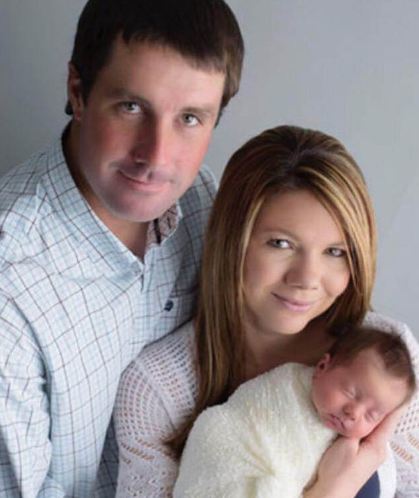 Kelsey Berreth with her fiance Patrick Frazee and their one-year-old daughter Kaylee (Photo: Facebook)
According to the police, her daughter Kaylee is safe with her fiance Patrick. Woodland Park Police Chief Miles De Young said that her fiance Patrick told Kelsey's mother Cheryl Berreth and the authorities that he saw his ladylove while picking their daughter Kaylee on 22 November 2018.
Don't Miss: Alek Wek Wiki, Married, Husband, Boyfriend, Pregnant, Baby, Net Worth
While Patrick said he saw Kelsey last time in the afternoon, according to the police department, they had visual confirmation several hours earlier on the grocery store surveillance video. Investigators suspected Patrick, and his absence from a press conference held on 10 December 2018 led the police to search in his house.
The police department continued to search his 35-acre property in Florissant. They have also offered a $25,000 reward for the information that leads to Kelsey's location or safe return. Though the police list Patrick as their suspect, Kelsy's mother Cheryl during her interview with Inside Edition in December 2018 said that their relationship is a "loving" one.
Cheryl also said that she and her daughter spoke twice on the phone during her missing day and stated that it was a regular day for her daughter.
Short Bio And Wiki
Kelsey Berreth was born on 15 September 1989 in the United States. The Colorado mom has a family in Central Washington, Northeast Washington, and Colorado. As per wiki, she has ties to the Pacific Northwest as well as Kansas.
The pilot instructor stands at the height of 5 feet 3 inches and holds American nationality. Her weight is 110 pounds and has brown hair and green eyes.