It is quite an amusement when the celebrities associated with media industry are very fond of reporting and sharing people's information to the public while keeping their own life away from the limelight. Similar is the 9news anchor, Kim Christiansen who is undoubtedly a pro in her field and has reported numerous information but maintains an entirely low-key profile when it comes to her life.
Career and Progression:
Currently a news anchor and reporter for 9News, Kim started her professional journey as a writer and associate producer for the 6 a.m. news. After working as a writer for some time, she transitioned to gener4al assignment reporter. Kim first anchored on 9News Saturday Morning for 5 and 10 p.m. on weekends with Ward Lucas.
In 2017, after the Denver news anchor, Adele Arakawa announced her retirement on 30 June 2017, Kim Christiansen was chosen to replace her for KUSA 9News. She will be taking over the main anchor slot at the news station.
Kim is a Heartland regional seven-time Emmy award winner for spot news, news writing and news reporting. Well, this veteran news anchor is not only limited to her reporting career. She has an impressive past to her CV. Kim is the former Miss Colorado and an award winner for Miss America Scholarship pageant.
Kim Christiansen: Married?
According to the few sources on the internet, Kim is married to Greg Feith who is an Aviation Safety Analyst at NBC News. However, it seems like she is living quite a low- key life as Kim has not spilled any beans on her marital life and neither has she shed any detailed information on her family life.
If you have been following this Denver News Veteran for quite some time now, it can be known from her Social media posts that the couple is blessed with a son, Tanner. On 21 January 2018, Kim has wished her son on his 17th Birthday.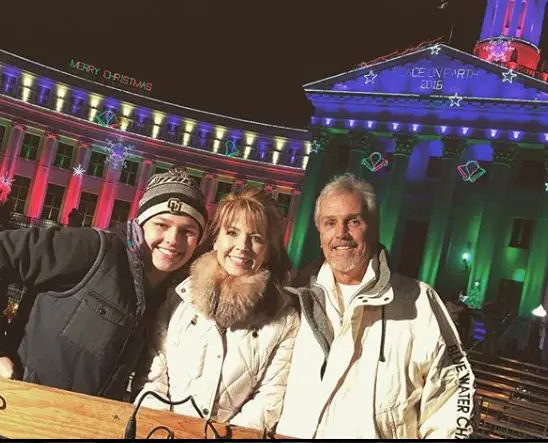 Kim with her son, Tanner, and husband, Greg for Colorado parade of flights on 5 December 2016. (Photo Credit: Instagram)
How much is Kim's Net Worth?
Kim is a successful and renowned news reporter who has worked for many known cases and is well respected in the media community. However, though she is bold, settled and well-respected in her career, Kim does not boast about her salary. She hasn't yet revealed her net worth and salary in exact figures but probably has it in six-figure!
Short Bio:
Kim Kay Christiansen is a middle-aged woman born on 27 November in Colorado. She graduated from the renowned University of Colorado at Boulder with a degree in journalism. Kim right after her graduation worked as a writer and associate at 9 News.
Kim despite being a media personality, she prefers to keep her family life away from the headlines, and so she has kept the information about her family a mystery. However, as per the Denver Post, it is revealed that Kim is blessed with a sister, Keri Christiansen. The 9News anchor has a relatively tall height and belongs to the white ethnicity.