Radio talk host Kim Iversen is known for hosting the show, Kim Out Loud. Further, she delivers news via her self-titled YouTube channel.
Kim rose to stardom after creating a show called Your Time With Kim (2008), which was aired on United Stations Radio Networks. 
Over the years, Kim has served different platforms, including KDND, WAZY, and more.
Bio: Age, Family, And Education
Kim, an American by nationality, was born on 28 March 1980 in Boise, Idaho, United States. 
Know Another Talk Host More Closely: MLB Reporter Sam Ryan Bio, Husband, Children
Her parents got divorced from each other when Kim was only three years old, after which her father Peter Iversen Sr. raised her. After separation, Kim's mother- who is a Vietnamese refugee- moved to South California.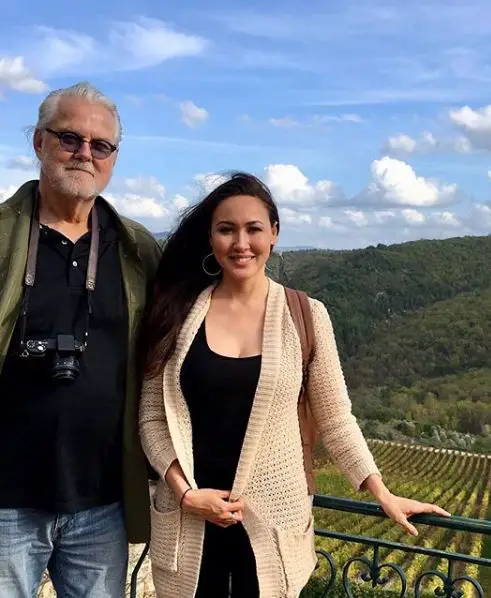 Kim Iversen with father Peter Iversen Sr. on 30 October 2018 (Kim Iverson's Instagram)
While growing up, she attended Capital High School. Later, Kim joined the University Of California, Davis, and studied Philosophy with an emphasis on Ethics.
Kim's Career Information
Kim commenced working as a newscaster for KDVS at the University Of California, Davis. At the time, she was also doing an internship at KDND.
After the completion of her internship at KDND, she took a job from KWOD and started serving as a promotion coordinator.
Soon after that, she moved to New York and got a job at WAZY as a morning show co-host in Lafayette, Indiana. While she was working at the network, she got noticed by radio veteran Jack Taddeo, who recognized her hosting skills as a lead host. When she met Jack Taddeo, he convinced her to create a show on CHR station WQQB nearby Champaign.
Following Jack's suggestion, Kim created a morning show called Your Time With Kim, which focused on women's interest from relationship to social issues. She gained such fame that Entercom Communications made a move to set her as a daily broadcaster across the cities and coast to coast. 
Next Journalist: Fox 11 Reporter Amanda Salas Marital Status & Cancer Update
As a result, United Stations Radio Networks picked her and aided in broadcasting the show, Your Time With Kim, nightly over twenty counties, including Austin, Denver, and more.
Similarly, Kim gained experience working for Premiere Radio Network by joining it in 2013. For the company, she co-hosted The Rendezvous With Simon And Kim, which used to be broadcasted in more than 20 places, including Tampa, Seattle, Miami, and Chicago. She left the company after working for almost four years in 2017.
In 2017, Kim launched her an on-camera talk show, Kim Out Loud.
Quick Facts About Kim Iversen
At the age of 14, she joined the Church of Jesus Christ of Latter-Day Saints to divert her religion because her father is Catholic and her mother is a Buddhist. 
In her show, Your Time With Kim, she used to get more than 30 calls and the show used to feature five guests per-night on average.
In July 2010, she competed for a competition, Women of Radio Co-Host, and became the semi-finalist. 
The news broadcaster's self-titled YouTube channel was created on 31 August 2011.
Back on 9 September 2019, Kim received Silver Creator Award from YouTube for surpassing 100K subscribers on her YouTube channel.