Kodak Black is renowned as one of the most controversial rappers out there today. His list of controversies outshines his musical talent. At just 22 years of age, Black was convicted and arrested several times. Many of which have been for criminal, sexual assault crimes, homophobia, and gay insults.
The rapper, although a talented one, has always had controversy riding on his back, which has somewhat held him back from reaching his exact heights. Born in Pompano Beach, Florida, Black began rapping from an early age and had always wanted to pursue a career in rapping.
Kodak dropped out of school and started hanging out at recording studios and making music. Although his music took some time to reach the audience, he kept on hustling and finally managed to create songs that reached to high numbers in the Billboard list. But yet again, controversies and criminal charges have always held Black back.
Kodak Dating History; Controversies!
Amongst Kodak's list of controversies, his relationships have a big part to play in them. Over the years, Black has dated several different girlfriends, and most of them have ended with some controversies along the way.
Before his name became a household name, Kodak was in a relationship with Jammiah Broomfield, with whom he shares a baby boy named King Khalid. The details of their dating initiation remain a mystery, but what can be made sure is that the pair have separated long ago but done in touch with one another for the sake of their child.
Read More: Brandi Milloy Wiki, Age, Husband, Children
In 2017, Black sued Broomfield, a case claiming that she demanded money every time he wanted to meet his baby boy. Later, the situation got settled with the deal, where Black would pay $4200 every month for his baby until 2033, and he would get to see his baby anytime he likes.
Further down the road, Black became a headline for his relationship with model Cuban Black. The pair seized the attention of audiences for a handful of times. The first one came when Kodak made his girlfriend, Cuban, go down on one knee to propose to him and later showered Cuban with a stack of hundreds.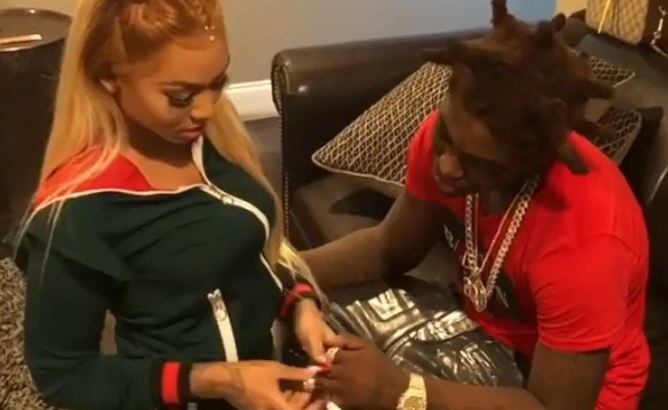 Kodak Black, making his former girlfriend get down on one knee and propose to him. (Photo; Google)
Their second headline-making story came when both Black and Cuban, were detained after a fight outside a club in December of 2018. Later, Cuban got arrested after authorities found a gun in her purse.
Luckily, the charges later got dropped after finding out that the gun did not belong to either Cuban or Black.
As of now, it seems Black has since moved on from his relationship with Cuban as most recently, he mentioned that he was in a relationship with a new girl. However, he did not mention her name or gave away any details. We hope this one works out well for Kodak.
How Much Is Kodak's Net Worth?
Kodak, who at the age of 2, became a member of rap group Brutal Youngnz, has a net worth of about $600 thousand.
From an early age, Kodak has always had a passion for rapping, and he soon made a career out of rapping. Although quite a controversial rapper, his music is loved by millions across the world. 
You Might Enjoy: Trevor Tordjman Wiki, Girlfriend, Net Worth
His debut mixtape Project Baby was well received by the audiences and was the stepping stone in his career. In 2017, he released a single called Tunnel Vision, which reached number six in the Billboard Top 100. In the same year, he released his debut studio album Painting Pictures, which to date, has been his most successful album. Since then, Black has released several other songs and albums which have gone on to great success.
Controversies: Sentenced to Prisoned 
Black, who has always been a headline in most magazines, has yet created another trouble for him. He had a conflict with another rapper Lil Wayne at The Rolling Music Festival in South Florida in May.
 According to The U.S. Marshals Service, Kodak's connection with the weapon had led him to get arrested at Hard Rock Stadium in Miami Gardens. Although it is yet to surface what exactly was the reason, according to Lil Wayne's statement, he had refused to perform at the event after being subjected to a search by security personnel or police.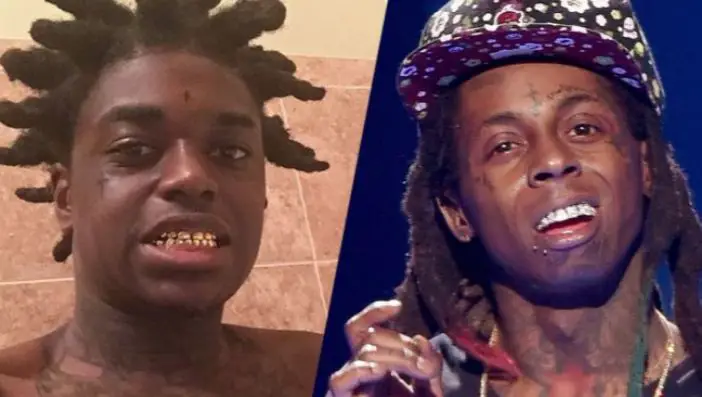 Kodak Black and Lil Wayne have worked together at Kodak Black's Codeine Dreaming that as released in 2017. (Photo: uproxx.com)
Prior to his controversy with Lil Waye, Kodak had been living in federal custody since he got arrested in April. He was arrested for lying on the background check forms while buying multiple firearms at the beginning of 2019. He had used one of the guns in an attempted shooting in March; the police later found two of them at crime scenes and another, int he trunk of a car while the rapper and his team were attempting to cross the Canadian border for New York in April. Meanwhile, he also got charged with unlawful possession of Marijuana.
Regarding the issue, the rapper was asked why he needed so many weapons; he said it was for his protection. On the other side, his attorney made it precise: he had faced several threats from gangs and rivals. For his miscreant, he was supposed to prison for 57 months; however, his prosecutor demanded for 46 months, pointing to his charitable works for over the years.
Besides that, he was accused of beating the correctional officer when awaiting the sentencing in November 2019.  
Wiki & Bio
Kodak Black, whose real name is Dieuson Octave, was born on the 11th of June 1997 in Pompano Beach, Florida. As of now, he goes by the legal name of Bill K Kapri.
His parents are Haitian American. After his birth, his mother and dad split from each other. Afterward, he was raised by a single mother. Besides that, the information of the most iconic rapper's parents still to surface to the public.  
Find More: Matt Sallee Wiki, Age, Girlfriend, Gay, Net Worth
As for his appearance, Black, belonging to Haitian, he is of dark skin and dreadlock hair. His height is considerable, standing at 5'6" tall and obtains a solid body structure.