For Kodi Lee, disability meant nothing to drift his career plans ahead. Kodi, who nearly met the demise and lost his sight did not tumble down through the steep part of life but pulled the efforts that took him to the peak of musicianship. He is a rising American singer, who gained notoriety appearing on America's Got Talent.
Kodi is also popular in YouTube with the cover music compilations. His cover for John Legends' All Of Me has garnered over 1.7 million views till the date.
Kodi Lee Wins AGT
A huge congratulations to Kodi Lee. The aspiring singer is the winner of the 14th season of 2019 America's Got Talent.
Explore Also: Tom Rinaldi Age, Married, Wife, Girlfriend or Gay, Salary, Net Worth
Kodi stands as an inspiration to millions all around that world and his win on the show is a prime example that anyone can achieve great things regardless of what one has going on in their life. As a winner of AGT, Kodi has secured prize money of $1 million. And Kodi, a musician through and through, has revealed that he plans to buy many grand pianos of different colors with his prize money.
He wowed the judges through his mind-blowing performances since the start of the season 14. Kodi, a native of Southern California is blind and has autism. But he has not let that stop him from achieving his dream of becoming a singer and truly has made everyone proud of what he's achieved.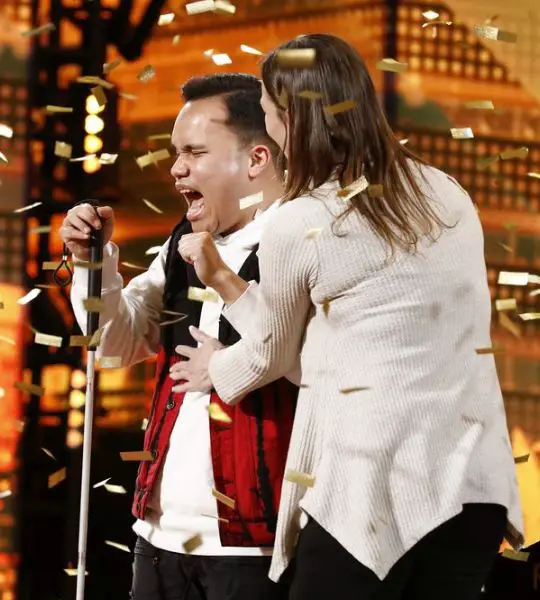 Kodi with his mother after receiving the golden buzzer. (Photo: goodhousekeeping.com)
During the first episode of season 14, Kodi received a standing ovation from the audiences as well as judges Simon Cowell, Gabrielle Union, Julianne Hough, and Howie Mandel. Gabrielle immediately hit the golden buzzer after hearing his performance of Leon Russell's "A Song For You."
Kodi's Music Career And His AGT Journey
The voice of Kodi Lee not only pulls out the goosebumps from your body but also blow your mind. The 23-year-old contestant of America's Got Talent, who came intending to lead the peak received a standing ovation from all four judges during the first episode of season 14. 
Kodi's performance, which was asserted as a great inspiration and talent, also pulled Gabrielle Union's hand to buzz the golden buzzer. With a consistent singing and piano playing ability, Kodi made his way through the semi-finals of AGT.
With great support from his music master, Yiyi Ku, Kodi has been tracing his paths through the fourteenth season of America's Got Talent. His master has earned a degree of Master of Music degree with Distinction in Piano Performance and Composition from the University of Canterbury. 
Parents And Early Life
Kodi was born to his parents Eric Lee and Tina Lee who raised him in California. In his family, the music star has two younger siblings, Kayla and Derek.
Kodi enjoyed his early childhood with his father Eric and mother Tina in Utah, and later they moved to Lake Elsinore. His brother, Derek, is also an aspiring singer and a musician who frequently posts about his musical contents on Instagram.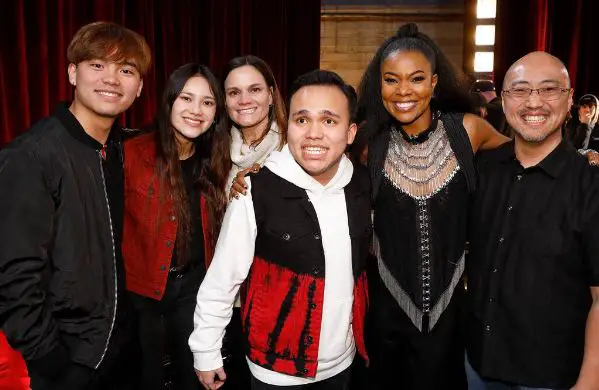 Kodi Lee with his family on the backstage of AGT (Photo: NBC)
You May Like This: Alik Alfus Wiki, Girlfriend, Dad, Net Worth, Now
Kodi shares the mixed ethnicity (half-Korean decent) of his parents. He is also vocational about languages like Hebrew, Korean, Japanese, and Dutch. 
Personal Life
The information about the personal life of the 23-year-old contestant of America's Got Talent, Kodi Lee shows the null background. As the young and aspiring actor has not disclosed any records of his possible fling, he is believed to be single. 
Similarly, he has not given any clue about his plans on getting hitched and being in a relationship.
Wiki(Age), & Bio
Born in 1996, in California, the United States, Kodi Lee celebrates his birthday on 7 July. He underwent the medication of autism at the age of five. Kodi pursued his education from Elsinore High School.
Do Not Forget: Billy Gilman Gay, Married, New Song, Net Worth
As for his height, Kodi stands 5 feet and 1.5 inches tall. The 23-year-old marvelous singer holds an American nationality.
Facts
Some of the exciting facts about Kodi Lee that you should not miss: 
Kodi was diagnosed with Optic Nerve Hypoplasia that led to the underdevelopment of the nerves of his eyes. Despite his narrow escape, he survived his life as a blind man. Despite the poor visibility, Kodi has the Photographic memory, which enables him to recall any music that he listened once. 
 
Kodi, who is used to the genres such as Jazz, R&B, Pop, and Classics including Chopin, Bach, and Mozart has played at Carnegie Hall for a couple of times. Besides that, he is also a great tap dancer and often shares his dancing moves through social media.