The man with the courage of getting far from the shadow of laws against polygamy is Kody Brown, who led his four marriages. An American reality personality diverted his life-line story to the TLC reality series, Sister Wives which led him to the height of fame. 
The father of eighteen children, who had a job as an advertising salesman in Utah, is the president of Das Hundhaus Firearms and Accessories.
Career And Net Worth 
Kody Brown, age 50, is an American reality television star known for the reality series, Sister Wives. The series premiered with the story of Kody's polygamist life experience. The series first premiered in TLC in 2010, and till the date, it has released thirteen seasons.
Also Read: Tye White Gay, Married, Net Worth, Parents
Besides that, Kody is also the president of Das Hundhaus Firearms and Accessories and has launched an online jewelry and clothing line boutique, My Sisterwife's Closet. Also, sources claimed that he initiated Kody Brown Family Entertainment, LLC  in 2011; however, his family business has been canceled. With prevailing their best-known business — Meri Brown's Bed & Breakfast, the Brown family promotes drinks, nails, and healthy foods.
From his multi-dimensional career, Kody has summoned the estimated net worth of about $800 thousand. Similarly, his wives, Christine and Robyn also have a wealth of $400 thousand and $600 thousand respectively. Also, Meri Brown has the net worth of $400 thousand as being the reality tv star. 
Kody's Wives; Divorce!
Despite the bars of laws for polygamy, Kody Brown has been married four times!
Back on 21 April 1990, he shared the wedding vows with his first wife, Meri Brown which lasted for nearly two and a half decades. The former couple first met in 1989 through their mutual friend and got into a marital bond after six months. 
After twenty-four years, the couple subsided their married relationship and finalized their divorce on 25 September 2014. Kody, who wanted to have a legal marriage with his wives, stated that he was no longer interested in being intimate with Meri. 
During the time, Kody separated with his first wife; he was already in a marital bond with his three other wives, including Janelle, Christine, and Robyn Brown. Kody, who met Janelle through Meri tied his nuptial knot with her on 8 June 1993. 
Also, he shared the wedding vows with Christine on 25 March 1994 and with Robyn on 22 May 2010 respectively. As per the sources, it was confirmed that his first wife Meri agreed to divorce so that Kody could marry Robyn.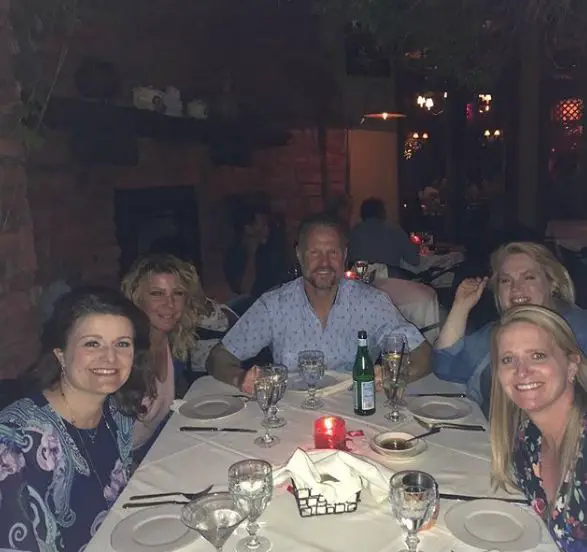 Kody Brown with his four wives (Photo: Christine's Instagram) 
Despite his four marriages, only his nuptial with Meri and Robyn are legal while other three weddings are considered as "spiritual unions."
Rumors Of Fifth Wife
Although Kody is already a husband of four wives, some sources have claimed in May 2019 that he has been looking forward to expanding his family. He might be scouting for his possible fifth wife in the Flagstaff area. 
Kody is yet to remains vocal regarding his plan for the fifth wife.
Children
The Sister Wives star is the father of eighteen children. He and his first wife, Meri are the parents of a child named Mariah who was born in 1996. Similarly, Kody and his wife Janelle welcomed their six children Savannah, Gabriel, Garrison, Hunter, Maddie, and Logan, throughout their sixteen years of married life. 
Likewise, he shares six kids with his third wife, Christine Brown namely; Truely, Ysabel, Gwendlyn, Mykelti, Aspyn, and Paedon. And, he has five offsprings; Ariella, Solomon, Aurora, and Dayton with his fourth wife, Robyn Brown respectively.
Discover More: Manzie Tio Allen Wiki, Family Background, College
Wiki, Age, Bio 
Kody Brown was born in 1969, in the United States and he celebrates his birthday on 20 January. The 50-years-old reality television personality belongs to the white ethnicity and holds an American nationality. 
Known for the TLC reality series, Sister Wives, he is still married to three of his wives.