People might not be familiar with the name Koksal Baba, but they will definitely recognize him when they see him. The guy with a short height full of aggression rose to popularity after his viral video of beating guys taller than him back in 2015.
Despite known for being aggressive and beating other big guys, people still love him and find his videos very funny and entertaining. Some people even knowingly tease him and increase his temper to see him get aggressive and beat other people.
What Is Koksal's Net Worth?
Koksal summons his net worth by being a Youtuber. The information about his other professions, if any, is yet not disclosed and till date, he makes significant money from his YouTube videos. As a YouTuber, Koksal Baba is estimated to make around $9.7K - $155.1K per year.
See Also: Zach King Wiki: Married, Parents, Nationality, Net Worth
Koksal Baba, age 43, is from Trabzon, a city on the Black Sea coast of northern Turkey. He has gained popularity from his viral video of beating a sweeper. Baba also claims to be a retired Turkish boxer and even brags about winning junior boxing championships from 1995 to 1998.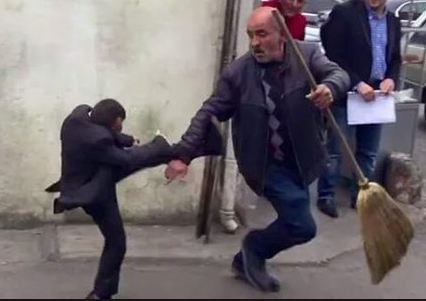 Koksal Baba bitting a sweeper in Turkey (Photo: Twitter)
According to his official website, he retired from boxing back in 2010 and went underground and later made a come back by posting several videos of beating people in the public places during 2015. Because of his small height people whom he beat don't get aggressive, instead finds it funny and takes the beating.
His beating includes the involvement of his hands and sometimes legs as well. He swings them around to beat others and even threaten them. Koksal is very popular on Youtube where he has his own verified channel in the name of Köksal Baba with around 640k subscribers. His viral videos have millions of views, and other regular videos make about 25K-250K views.
Baba's Family And Death Rumors!
Baba has hit the newspaper headlines for the story of his death rumors which were all claimed to be a hoax. The rumor claimed that Köksal Baba was killed in the deadly Truck attack in Sweden.
Talking about his closed ones, his family revolves around his uncle with whom he lives. His uncle supports him very much. Apart from that, Baba has got his another friend named as Kose, who owns a cafe and is the place where Baba spends most of his time. 
Don't Miss: Liz Bonnin Married, Husband, Partner or Boyfriend, Dating and Net Worth
No information is out yet regarding Baba getting married. As of now, he doesn't have a wife and relishes single life.
Short Bio
Koksal Baba with the real name of Köksal Bektasohglu was born on 10 February 1975 in the Black Sea coast of northern Turkey. He holds Turkish nationality and stands tall around the height of four feet.
You Might Also Like: Samira Ahmed Wiki: Married, Husband, Boyfriend, Family, Height, Salary, BBC
Koksal might seem to be a bad guy from outside and why not because he keeps fighting other people, swings his hands and legs on them but the facts cannot get denied that the real picture is not exactly how it looks from the outside. Baba has utilized his fame for a right cause as he has been part of many charity events. In various interviews, Baba has also mentioned that he is working very hard to help differently-abled peoples.