Krazyrayray is a YouTube star who shot to fame for her beauty related videos, travel vlogs, house decorations, skincare, hauls, and giveaways. 
Her delightful videos have managed to amass enormous 3.58 million subscribers in her eponymous YouTube channel, Krazyrayray. Also, she has another channel named HeyItsSarai. It has 817K subscribers. 
The internet star's acclaimed career has a record of working with the web series, AwesomenessTV.
Bio, Age, Family, And BIrthday
Krazyrayray (real name: Sarai Jones) was born on 9 December 1997 to Paul and Nicole Jones. Also, she has one younger brother named Neiko Jones.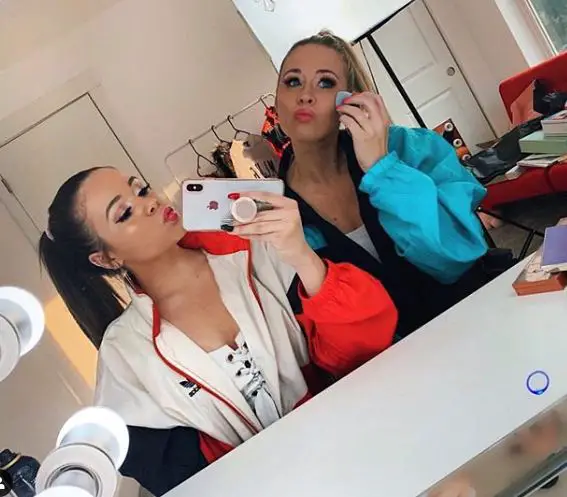 Krazyrayray with mother Nicole Jones in May 2019 (Photo: Sarai Jone's Instagram)
Though Krazyrayray was born in Seattle, Washington, she has spent most of her time in Los Angeles, California. 
Dating Status
Krazyrayray was in a relationship with a man named Cooper in 2019. In the video, life update..I'm moving & we broke up | HeyItsSarai, posted on 19 September 2019, she revealed that they had broken up a couple of weeks ago but were still friends. 
Also A YouTuber: Who Is Rachhloves Husband? Personal Life & Kids Details
Previously, she also dated Jordan Willis for a year from 2017-2018. The two first met at an Instagram- Krazyray discovered Jordan at an Instagram explore and had followed him. However, it was Jordan who first texted Krazyrayray and asked for a date for the next day. They later broke up in good terms and remained friends.
Additionally, the YouTuber was also linked with Jaeger Scheppe, with whom she broke up in 2015. The two have together appeared in her video, BOYFRIEND TAG!!! | Krazyrayray- posted on 14 February 2015. 
Who Is Jaeger Scheppe?
Hailing from the United States, Jaeger was born on 10 July 1996. He has been a huge sports fan since his early age, and he grew up playing football and basketball.
He is a social media personality and an Instagram star who rose to prominence for his relationship with Krazyrayray. 
Back To School Tips and Hacks
Krazyrayray has created twenty-six Back To School-related videos. A list of the school-related playlist can be found on her YouTube channel.
Never Miss: Allana Davison Wiki Uncovers Age, Birthday, Dating Life, Boyfriend
She has created content on Online School vs Public School, Guys vs Girls Back To School Morning Routine, If YouTube Were High School, 25 Major Back To School Life Hacks, Back To School Supplies Haul+ Giveaways, and so on. 
Interesting Facts Related To Krazyrayray
She launched her YouTube channel HeyItsSarai on 6 November 2011 and Krazyrayray was launched on 16 February 2009. However, she didn't post in Krazyrayray until late 2010. 

Her height is 1.62 meters (5ft 4 in) and she has a slim yet curvy body structure. 

She has 990K followers on her Instagram, Krazyrayray, and 408.2K followers on her Twitter.