In order to become famous, a person doesn't necessarily have to be a mainstream media personality. When one becomes an expert in any field, the doors of stardom will consequently open for you. Similar is the case with Kristen Kish who participated in the acclaimed show, Top Chef as a contestant and hasn't deviated from the limelight after that. She is famous for winning the season 10 of Top Chef.
Career and Progression:
Kristen began her professional career at a culinary demonstration Kitchen, Stir as an instructor in Boston, Massachusetts. She was later promoted to the chef de cuisine of the restaurant by the owner in 2012. She rose to fame in the same year after competing in Bravo's Top Chef where she won four elimination challenges. Eventually, she made to the top and became the second female winner in the history to win the Top Chef Franchise.
In addition to that, Kristen co- hosted the first season of 36 Hours, a television series on the Travel Channel alongside Kyle Martino. The former soccer player and TV analyst and Kristen spent 36 hours eating, drinking and exploring a given city for the New York Times travel column with the same title. Looking at the endeavors and achievements of Kristen, we have come to suspect that she enjoys a substantial net worth that could amount to hundreds of thousand dollars as of 2017.
What about her relationship with a lesbian partner?
The excellent chef, Kristen Kish is one of the most courageous ladies who didn't fear the opinions of others and fearlessly revealed her sexuality. The celeb took to Instagram to disclose her gay orientation on March 28, 2014. She made the bold announcement mentioning about her one-year relationship with her adorable girlfriend, Jacqueline Westbrook.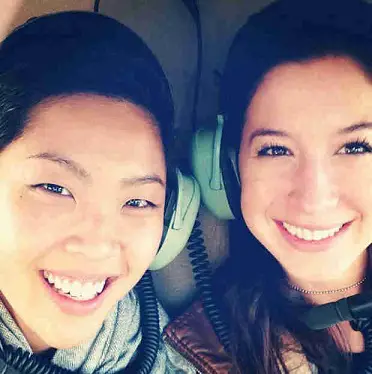 Caption: Kristen and Jacqueline celebrated their first year anniversary in 2014.
              On the same occasion, she also came out as a gay.
Source:  Instagram
However, Kristen, who once used to flaunt her love life in social media, has stopped uploading the pictures with her partner these days. In fact, the chef deleted the previous pictures with her beau and also ceased to mention about her in tabloids and interview. This silence of Kristen has raised rumors that she might have parted ways with the ex-girlfriend. Besides, her fans are still looking forward to seeing the chef getting married and enjoying a lovely relationship.
Her Short Bio:
Kristen Kish currently aged 34 was born on December 1, 1983, in Seoul, South Korea. According to some wiki sources, she was adopted by a family on Kentwood, Michigan when she was four months old. Kristen earned an A.A in culinary arts from Le Cordon Bleu College of Culinary Arts in Chicago. She belongs to Asian-American ethnicity and has an excellent height which suits her appearance.