Kristen McAtee started attracting audiences after making her guest appearances in videos for Viners video Scotty Sire and Toddy Smith. She is also best known as the significant other of the Scotty.
Kristen is also a YouTuber who makes posts about entertaining content, cooking tutorials, and Q&A videos. Besides that, she has appeared in The Reality House in July 2019.
Dating Life With Boyfriend
Kristen is dating an internet personality Scotty Sire.
The couple reportedly started dating before 2015 as they had already started featuring each other on their social platforms by October 2015.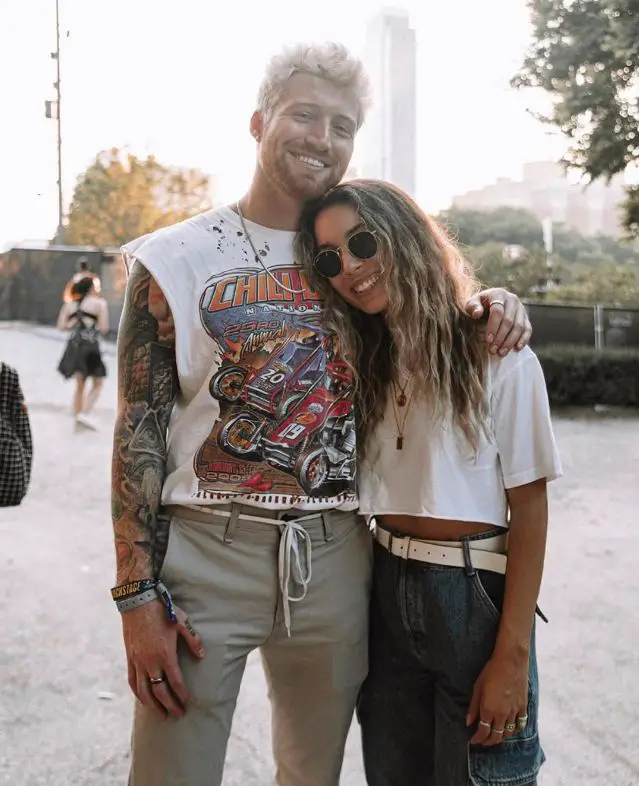 Kristen McAtee with her boyfriend Scotty Sire(August 2019) (Source: Kristen's Instagram)
In the midst of their relationship, Moreover, Kristen McAtee and her boyfriend Scotty were rumored to have gotten engaged. In an interview with Violent Benson-Too Tired To Ber Crazy on 20 September 2019, Kristen joked about getting engaged. But, there is no official statement regarding the topic.
Don't Miss: Zozibini Tunzi [Miss Universe 2019] Wiki, Family Background, Net Worth
Like Kristen, her man Scotty has a successful vlogging career and had amassed more than 2 million followers on his Vine account. He also got signed with Viral Nation in 2014. Besides, his vlogging career, Scotty is also a musician who released his debut album Ruin Your Paty in 2018.
Career
Kristen leads a successful vlogging career since creating her YouTube channel in November 2016. In addition, she is now competing in a 'Big Brother' like-reality show, The Reality House. The show was created by YouTuber JC Caylen and Kian Lawley for their joint YouTube channel KianAndJc. In the show, 13 YouTubers compete-living under one roof and the winner walks away with a $25,000 prize.
Besides that she a member of the group of online creators called the "Vlog Squad." Plus, Kristen owns a merchandise website, where she sells her signature T-shirts.
Net Worth
Kristen McAtee's earnings and net worth come from her YouTube channel and merchandise. As per Social Balde, her YouTube channel Kristen McAtee, which has 1.18 million subscribers, is estimated to make around $3.3K to $52.3K per year.
Also, she is earning income from her merchandise; especially her signature T-shirts.
This Looks Interesting: Who Is Leah Totton Boyfriend? Also About Engaged, Family
Family Details
The YouTube star Kristen McAtee's biological parents are separated and she has a stepfather. She was a toddler when her father left the family. Luckily, her step-father came into her life. He and mother Sonia Rubick raised Kristen.
She has an elder sister, Monica McAtee, in the family. Her sister is three and a half years older than her.
Talking about her ethnicity, Kristen possesses the Filipino, Chinese, Hawaiian and majority of Irish ancestry. 
Wiki-Age, Birthday
Kristen was born on 28 March 1995 in California, US. She graduated from the Fashion Institute of Design & Merchandising with a degree in Merchandise Marketing in 2015. 
Before making a vlogging career, Kristen worked for companies like Zappos, Ted Baker, Threadflip and Chan Luu Inc putting good use of her marketing and merchandising degree.
She was always interested and sure about chasing her dreams towards Fashion design. 
Explore This: Love And Hip Hop's Betty Idol Dating Status Now | Is She Transgender?
Some Facts About Kristen:
Kristen has more than 1.4 million fan followers on her Instagram account. Also, she had over 33K followers in her Vine account before the app was shut down.
 
She is fond of tattoos; Kristen has three tattoos on her body; one representing her zodiac sign.
 
Kristen was a cheerleader in her school.
 
Her boyfriend is estimated to make an annual income between $10.4K to $166.3K from his YouTube channel Scotty Sire, confirmed by Social Blade.