American photographer Kurt Iswarienko with his top-notch photo skills worked alongside the renowned personas like Ewan McGregor, Javier Bardem, Viggo Mortenson, and Ben Kingsley. His camera and electrical works can be visible in the films like Pirates of the Caribbean: The Curse of the Black Pearl, The Pandora Project, and Puppet Master: The Legacy.
He has also served for the several high profile campaigns, and his works have appeared in Harpers Bazaar and Esquire.
Supportive Husband Of Shannen Doherty!
American actress Shannen Doherty is one of the proud ladies who received full support from her husband, Kurt Iswarienko, when she got diagnosed with breast cancer in February 2015. According to her August 2016 interview with Entertainment Tonight, Kurt never missed chemo and her sick day. The 90210 actresses gushed that her marriage with Kurt has been thousand times stronger and she couldn't have got out of the battle without receiving massive support from him. 
See Also: Christian Dunbar Wiki: Age, Engaged, Partner, House, Job, Net Worth - All About Genevieve Gorder's Fiance
Kurt and Shannen are married since 15 October 2011. They tied the knot in a private Malibu beach ceremony. During their nearly five years of the anniversary in September 2016, Shannen shared their wedding throwback photo and inscribed:
Our wedding was exceptional and not for the big event it was. It was exceptional because we committed for better or worse, in sickness or in health to love and cherish one another. Those vows have never meant more than they do now. Kurt has stood by my side thru sickness and makes me feel more loved now than ever.
The proud lady shared the emotional moment and described her better half as her soul mate and uttered that she could walk any path with him.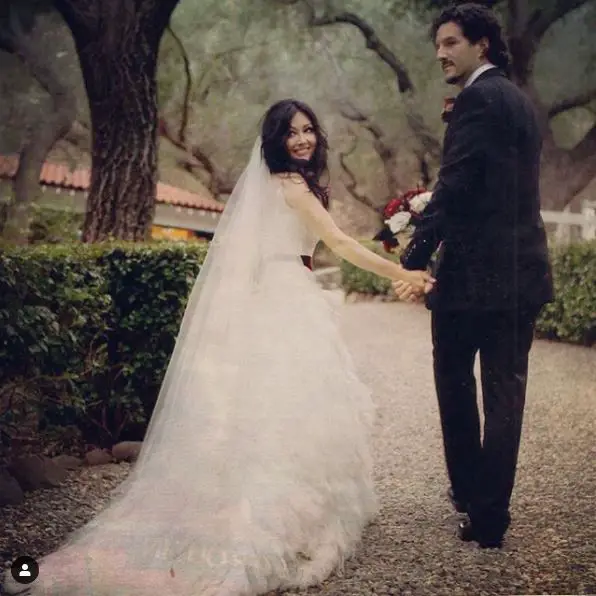 Kurt Iswarienko and his wife, Shannen Doherty, had their wedding on 15 October 2011 in Malibu (Photo: Instagram)
During their fifth anniversary in October 2016, Kurt and his wife Shannen spent their romantic time in Mexico. She was still battling cancer at that time, but with the help from Kurt and medical treatment, she got out during the second-half of 2018. Her treatment involved chemotherapy, radiation, surgery, and the actress also shared her cancer journey with her fans on social media.
Read Also: Mo'ne Davis Age, Baseball/Basketball, Stats, Parents, Net Worth, Now
Before Shannen, Kurt was married to a fashion designer, Taryn Band. The photographer was still married to his first wife Taryn when he and Kurt got together in 2009. Following his extramarital affair, the estranged couple got a divorce, and during Taryn's interview with Star Magazine, she told that Kurt is dead to her. Her mother even claimed that it was Shannen who broke up her daughter's marriage.
How Much Is Kurt Iswarienko's Net Worth?
Kurt, age 44, is an American professional photographer and film producer who has an astounding net worth of $1.5 million. The professional photographer was at the age of early '20s when he arrived at Los Angeles to pursue his cinematographer career. As for his actress wife Shannen Doherty, her net worth is $10 million. 
Explore More: Max Verstappen Girlfriend, Net Worth, Family
The film producer is known for his works in Puppet Master: The Legacy; Dr. Moreau's House of Pain; and Shannen Says. The Akron native took a job in the camera and electrical department for the films like Pirates of the Caribbean: The Curse of the Black Pearl; The Pandora Project; Kiss Toledo Goodbye; and Clockstoppers.
Short Bio And Wiki
Born as Kurt Andrew Iswarienko in 1974, Kurt has his birthday on 22 June. The celebrity photographer grew up in his family hometown of Akron, Ohio to his parents Irene and Alexander Iswarienko. He has resided abroad in the United States including Argentina and Mexico. 
The film producer was involved in controversy when he and his wife Shannen Doherty went to South American vacation during December 2017. He got sued by The Adventure Traveler in 2018. Kurt got prosecuted by the travel agency alleging that he skipped out $10K bill, as per wiki.