Kygo is a renowned Norwegian DJ and producer known for his remix of I See Fire by Ed Sheeran and Younger by Seinabo Sey. He has collaborated with artists like Coldplay, Diplo, Ellie Goulding and released tracks such as Firestone and Stole The Show. He has also released a track titled It Ain't Me in collaboration with famous American singer Selena Gomez.
What's Kygo's Net Worth?
Kygo has gathered the net worth of $8 million as a DJ and record producer. As per Socialblade, his YouTube channel KygoMusic has estimated earnings of $5.4 thousand to $85.8 thousand monthly and $64.3 thousand to $1 million yearly. The musical artist is gathering some lucrative amount of salary from his YouTube channel since 17 January 2012.
He has also earned revenues from his work as house music producer at the 2016 Rio Olympics. His hit tracks like I See Fire by Ed Sheeran; Midnight by Chris Martin of Coldplay; Younger; Firestone; Stole the Show has also served to increase his fortunes.
Kygo has made $422,585 profit from his festival Cloud 9. The record producer has also gathered wealth from his remix works of notable artists like Rihanna, Dolly Paton, Marvin Gaye, The Weekend, and many more. He donated $50,000 to Raftopris Winner 2011, Frank Mugisha, to support his work for gay rights in Uganda.
The DJ is set to heat the stage of Asia and Oceania during his tour from October to November 2018. Some of his destinations are Sydney, Singapore, Soul and his gig in Bangkok, Thailand will be his first one. His Asia and Oceania tour starts from Auckland, New Zealand on 17 October 2018 in Spark Arena. The musical artist will then jet towards Australia, Thailand, Philippines, Japan, Korea, and Indonesia. His last Asia and Oceania tour is in Singapore on 5 November 2018 in Singapore Indoor Stadium.
Read Also: Rob Brydon Net Worth Levitate Amid Busy Tour
Girlfriend Gains Fame After Dating; Friends With Kygo's Business Manager
Kygo is dating nursing student Maren Platou, 25, since 2016. His girlfriend, Maren gained fame on social media after she began a relationship with him. After Maren started dating the Norwegian DJ, she racked more than 30,000 followers on Instagram.
She often travels with Kygo on his tours. Kygo wished his lady love's during her 25th birthday on Instagram. He shared a picture with Maren on 23 April 2018 and captioned, 'Happy Birthday Baby.' On Maren's birthday, the couple enjoyed their time together at Coachella Valley, a desert valley in Southern California, U.S.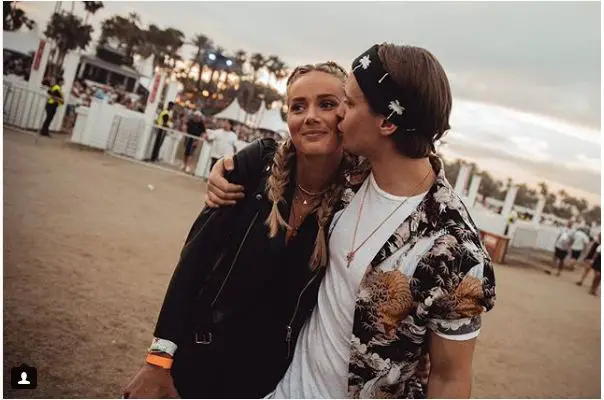 Kygo whishes his girlfriend, Maren Platou on her birthday on 23 April 2018 (Photo: Instagram)
Maren hails from Bergen, Norway and is friends with Myles Shear, who is also the business manager of Kygo. Myles and Maren have become great friends.
Myles, 26, was studying music production at Full Sail Orlando when he reached out to Kygo on Facebook and asked to represent him in 2013. Alongside Kygo, he is business manager for Australian DJ Thomas Jacks.
You Don't Want To Miss: Wynton Marsalis Married, Wife, Gay, Children, Net Worth, Tour
Fun During The Tour With Canadian Pop Star Shawn Mendes
During Kygo's August weekend tour in Budapest, Hungary, he performed at the Sziget Festival. After his visit, he went towards a bar with his friend Shawn Mendes, who is Canadian pop sensation. The duo had some fun in their outing at Budapest. In the test of a fist, they strengthen each other in an arm wrestling contest arriving at a local bar.
At the evening, Kygo and Shawn were encharged of their bartender duties and served the customers in the bar. The Canadian pop star and Norwegian DJ served the patrons and enjoyed their day at Budapest. Kygo, who is busy on his tour, is scheduled to stop in Japan, the U.K., and Asia and Oceania.
Kygo's Family: Abroad Worker Father, Dentist Mother; Has Four Siblings
Kygo was born to his parents Lars Gorvell Dahll and Kjersti Gjerde. His father, Lars is an abroad worker in the maritime industry whereas his mother, Kjersti is a dentist. He has four siblings; two elder sisters, Jenny Dahll and Johanne Dahll, and two half-brothers, Mads Dahll and Sondre Dahll. 
He has traveled with his family to various countries like Brazil, Japan, Kenya, and Egypt in his childhood.
Short Bio
Kygo was born on 11 September 1991 in Singapore as Kyrre Gorvell-Dahll. Kygo has the height of 1.8 m (5' 11"), and his weight is around 156.5 lbs (71 kg). He is of Bergen, Norway origin. So, his nationality is Norwegian and Singaporean. He has Norwegian ancestry and possesses white ethnicity.
See Also: Mike Bettes Wiki, Married, Wedding, Wife, Children, Salary and Net Worth
He studied business and finance from Heriot-Watt University in Edinburgh. As per wiki, Kygo grew up in several countries like Brazil, Japan, Kenya, and Egypt. Kygo has received several awards and nominations including YouTube Music Video Award, International Dance Music Award, and MTV Europe Music Award.