Lana Lokteff is a YouTube personality known as an American white nationalist and white supremacist. She is also the co-host of Red Ice TV along with her husband. The couple's talk show- which operates from Sweden- is widely considered as the CNN of the alt-right.
With her ties, Lana is considered one of the most prominent women on the alt-right. She also adopted a libertarian and anarchist position before taking the path of white nationalism. 
Lana's Bio: Age & Family
Lana Lokteff was born on 14 March 1979 in Oregon, U.S.A., to Ruben J Lokteff and Vera Agaphia Lokteff. Her father, Ruben, who is ethnically Russian, previously worked as an investment advisor and later owned a church called Touchstone Ministries located at Redmond, Oregon. Similarly, Lana's mother, Vera, used to be a shareholder of Piggyback Records, which is now inoperative.
Another Host You Could Explore:- Christiane Amanpour Net Worth
The TV show host also has a brother in her family, who goes by the name Joseph Lokteff. The two even set up their recording studio in 2003.
For her studies, Lana went to Portland State University to study physics as her major and philosophy as a minor. However, the alt-right insurgent dropped out of college to start a career in film, music, and writing. To achieve her goals, she moved to Los Angeles, but as the rent was expensive, she moved back to Oregan.
Her Married Life Details
Lana Lokteff is married to a Swedish husband, Henrik Palmgren. The two have a channel called Red Ice Radio, in which they work as hosts interviewing other white supremacists. They also had a YouTube channel titled Red Ice TV, which was banned by YouTube in October 2019 for spreading hate messages.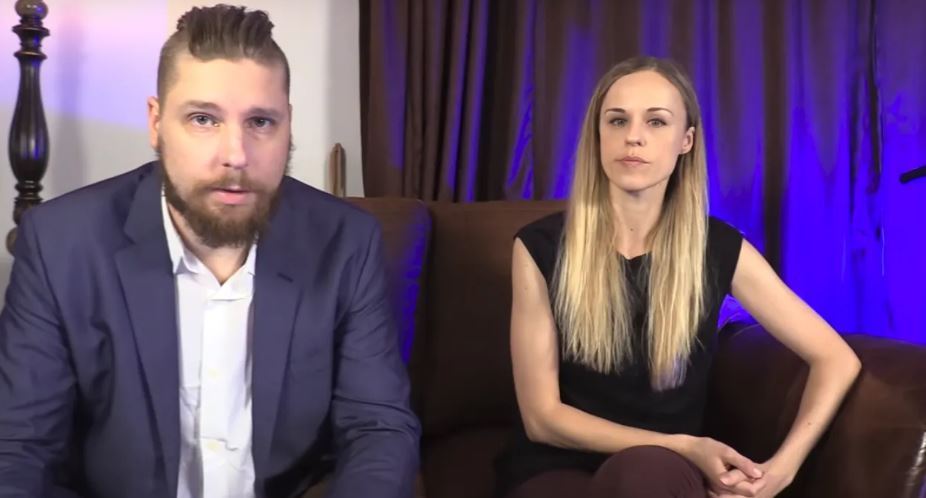 Lana Lokteff with her husband, Henrik Palmgren (Photo: thinkprogress.org)
The couple also had a secondary channel they created a few years before their original channel was banned. It was meant to be a backup for their original in case YouTube decided to ban the channel. Unfortunately for them, their second channel was also banned a week after their main channel faced a similar fate.
Furthermore, due to the duo promoting hate culture, they were banned from a fund-raising site called Paypal, which made them search for other ways to cash in on their dogmatism.
Related To Net Worth
Most of Lana's earnings come from her clothing brand called Lana's llama, which is sold through a webshop called lanasllama.com. The website is valued at $480 as of January 2020. The clothing she sells is claimed to be non-toxic. 
Celeb With Their Clothing line:- Stephen Sharer Wiki, Age, Girlfriend, Dating, Gay, Family, Height
Furthermore, her personal website called LanaLokteff.com, redirects the visitors to her webshop and to the website of her show called Radia 3fourteen. However, the link to the talk show seems to be redirected or sold as to when clicked, takes the users to a random website.