Google has revolutionized the internet through its services and products that include online advertising technologies, search engine, cloud computing. Larry Page is one of the icons behind the great innovation. A visionary who revolutionized the way people looked at the internet.
He is a co-founder of Google alongside Sergey Brin. The 46-years-old, who is a graduate of Stanford University, is also a CEO of Alphabet Inc.
Wiki & Bio
Larry Page was born on the 26th of March 1973 in East Lansing, Michigan to parents Carl Page and Gloria Page. Both his mom and dad were computer science professors, and he was raised in a household without religion. He has a brother named Carl Page Jr. 
Read More: Celeste Barber Wiki, Age, Husband, Net Worth
Raised in a family of professors, Larry's childhood was surrounded by computers, techs, and books. It led to his early fascination for computers and technology.
Education
Larry Page is an educated personality and holds a master degree in computer science.
He completed his high schooling from East Lansing High School in 1991. After then, he went on to attain a bachelor's degree in computer engineering from the University of Michigan and graduated in 1995. Larry also earned a Master of Science in Computer Science from Stanford University in 1998.
Married To Wife; Divorce?
It's over a decade since Larry and his wife Lucinda Southworth, a research scientist have indulged themselves in the relationship of marriage.
On 8 December 2007, the pair shared the wedding vows just a year and a half of their dating. They rented out a private island (Necker Island) in the Caribbean for their nuptial and greeted over 600 guests including the celebrities personalities, respective president Donald Trump and American media executive Oprah Winfrey.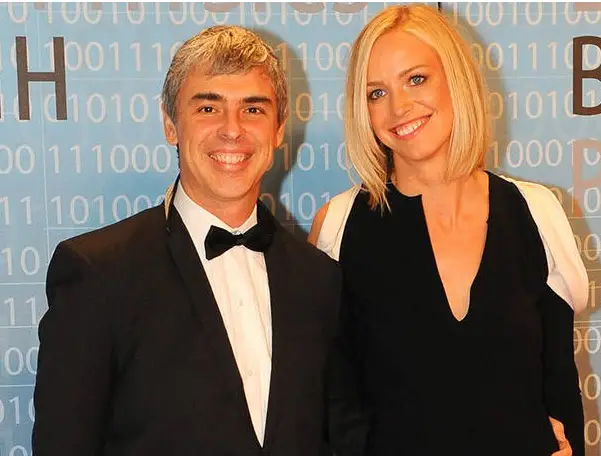 Larry Page alongside his wife, Lucinda. (Photo: allthatsinteresting.com)
Already parents of two children, born in 2009 and 2011, Larry and his spouse are supportive not only in their personal life but also they are assisting their professional life fluently. The married pair established their charitable organization name The Carl Victor Page Memorial Foundation, where the donated $15 million to help people with Ebola virus.
Larry's marriage to Lucinda is his first and hopefully his last. There are no sorts of hints about their turmoil relationship that would lead them for a divorce.
Career And Net Worth!
While attending Stanford University, he met Sergey Brin in 1995. The two bonded over their love for computers and technology and in 1996, they created a search engine, which they called it BackRub and it was operated on the Stanford servers.
After a few trial and errors, the two decided to start a company with the help from Sun Microsystems co-founder Andy Bechtolsheim who invested $100,000 for their start-up. Later, in 1998, Page co-founded Google along with Sergey Brin, which turned out as the turning point in their life. Page served as CEO of Google from 1998 up until 2001 when Eric Schmidt was appointed to become the new CEO.
Page, on the other hand, served as the President of products from 2001 to 2011. In 2011, he was again appointed as the CEO of Google and served until 2015. Later, the same year, 2015, Google opened an umbrella company named Alphabet. Page became the CEO of Alphabet while Brin served as President. 
Interesting: Dr. Joe Dispenza Wife, Net Worth, Parents, Now
Along with Google, Page also has several side projects to his name. As per Bloomberg Businessweek report, it is believed that Larry Page has secretly invested more than $100 million of his fortune to fund two flying car companies named Kitty Hawk and Zee. Aero.
As of now, Larry Page has a mind-boggling net worth of about $53 Billion. He ranks at number 7 on the Forbes' annual list of billionaires.