Gone are those time when it felt compulsory to hate the person who is in a relationship with your former partner. In the progressive world of this century, one can have a friendly relationship with your boyfriend's ex-wife and, Lauren Lyster, who is the reporter and correspondent at KTLA, is the living proof of this ideology. Lauren is in a relationship with Carter who is the former husband of her friend, Courtney.
Dating her Friend's Ex-girlfriend!
Things can turn ugly when your colleague and friend have an explicit romance with your former partner. Lauren Lyster is in the similar turning for her life as she is dating Courtney Friel's ex-husband, Carter Evans.
Carter Evans was a married man and is the father of two children with KTLA Weekend Anchor. But after personal differences, she divorced her husband, and now, he is dating none other her friend and colleague, Lauren.
But in spite of ugly turn of things, Lauren and Courtney share a cordial relationship. Courtney even thinks that Lauren is sweet, cool and amazing with her kids.
Lauren kept her personal life a top secret until few wiki sources posted unconfirmed news of her dating Carter. It was until Courtney's Instagram post which cleared every bit of air.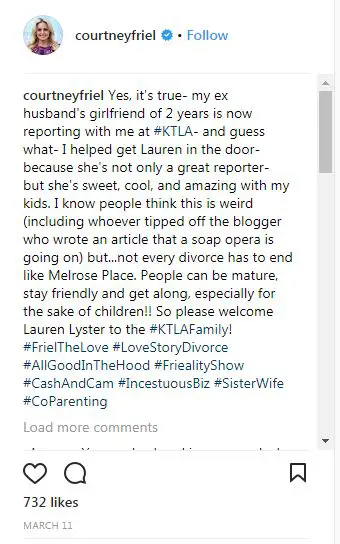 Caption: Instagram post of Courtney proving Lauren's dating life on 11th March 2017
Source: Instagram 
In a post posted on 11th March 2017, she said that every divorce doesn't have to end like Melrose Place. She said, she is mature and stays friendly with Lauren and Carter for the sake of their children. In the post, she revealed that Lauren is dating her boyfriend Carter for two years.
She even claimed that she helped Lauren to get in the door of KTLA and requested everyone to feel her welcome in KTLA family.
Career of Lauren Lyster:
The alum of Northwestern University has a bachelor's degree in journalism where she double majored in gender studies.  Before taking her steps to journalism, she had a successful career in finance where she worked for Tiburon Research Group as an equity analyst.
She also worked as a correspondent for Yahoo! Finance. She worked as a correspondent for CBS News and at ABC News where she reported Brussels terror attack. The talented correspondent currently works as a freelance reporter for KTLA 5 News.
Lauren's Salary in KTLA:
The talented reporter, who has a CV which includes the experience at CBS and ABC, is without a doubt a top earner in KTLA. There are reports that an average news reporter at KTLA earns about $84,000 on an annual basis, but given her experience and work ethics, her salary belongs to the top drawer. Her salary contributes on her net worth which is expected to be in thousands of dollar.
You may also like: Lynette Romero Wiki, Age, Married, Husband, Family, KTLA, Salary, Height
Her Short Bio and Family:
Lauren Lyster is the native of Irvine, California and was born with the birth name Lauren Shelley Lyster. She took her first breath in the year 1981 and celebrated her birthday on 13th October which adds her age to 36. Though nothing much is known about her family, she was raised by her mother and has a sister, named Lynn. Belonging to the white ethnic background, Lauren is an American national. KTLA news reporter stands at a decent height and has a body shape which complements her personality perfectly.