The recent 'Me Too' movement has made it evident that not only the ordinary females but the established and reputed ones are also prone to sexual harassment. Ironic to the achievements he has received, Harvey Weinstein has been accused of harassment from over thirty woman which includes the American journalist, Lauren Sivan. Lauren is known for appearing on 'Good Day L.A' and 'Red Eye With Tom Shillue.' 
Accused Harvey of Sexual Misconduct!
Lauren Sivan was among the few women who came forward to speak against the sexual misconduct of the well-known producer, Harvey Weinstein. According to Huffington Post, Harvey masturbated in front of her after approaching to kiss her and trapped her between two rooms.
Lauren claimed that the incident took place while she was in her twenties, and went to meet the producer at Cipriani, a famous Italian restaurant in Manhattan. She further confessed that she was working as an anchor on Long Island 12 back then when he offered her a tour of the restaurant he owns. 
She wrote that she strongly opposed his activity telling him that she is in a serious relationship with her boyfriend, but Harvey refused to let her go until a security guard halted him and she left out with friends.
She remained quiet for some time due to her relationship with her boyfriend and Harvey's power but after a decade, detailed the incident on the HuffingtonPost article published on October 6, 2017.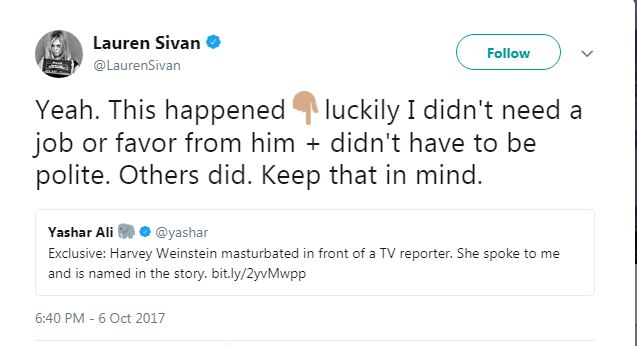 Professional Life and Net Worth:
Lauren chose to become a journalist and has worked as a broadcast and television personality for many programs like 'Good Day L.A' and 'Red Eye with Tom Shillue.'
She also worked on WETM-18 News in 2003. She also got the offer to contribute to Fox Channel's 'Red Eye' in 2008. In 2010, she started serving as an anchor and reporter for News 12 Networks. Later on, in 2011, she got a job of anchor and reporter at KTTV Fox 11 in Los Angeles.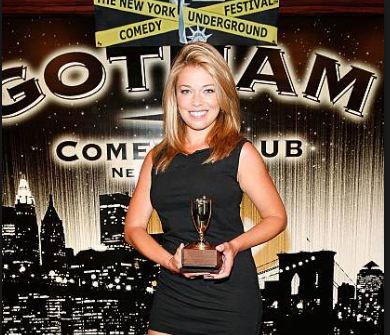 Lauren attending New York's Funniest reporter show at Gotham Comedy Club on August 19, 2010 (Image: Getty Images)
In 2015, Lauren appeared on an episode of 'Drunk History' in the role of Barbara Walters. In 2017, she also appeared on Megyn Kelly's 'Today Program' to discuss the incident involving Harvey.
Besides, the total amount of her net worth isn't revealed, but given her professional achievements, it can be suspected that her salary constitutes of six figures. "Simply Hired" magazine has reported that an average wage of Fox News reporter in 2014 is around $74,000. 
Was Previously Engaged To Rick!
Lauren Sivan was previously in a relationship with ex-boyfriend, Rick Leventhal who happens to be a senior correspondent of Fox News.
The couple announced their engagement in September of 2005, and also fixed the date for marriage in February 2006. However, a week before exchanging the vows, the couple canceled the plans of getting married.
The reason behind canceling the wedding was reported to be their decision to wait for some time. Lauren and former fiance also waited until 2010 and but parted ways before they could accept each other as 'husband and wife'.
Afterwards, Rick was married to Penny Daniels with whom he shares two daughters but has already taken a divorce.
Her Short Wiki:
Lauren Sivan aged thirty-nine was born on April 6, 1978, in the United States. Lauren's birth sign is Aries. Her mother's name is Jackie Sivan. She attended George Washington University where she completed her bachelor's degree in journalism and political science. Her ethnicity is white, and she possesses a notable height.