In the world inflicted by sorrow and stress, the one that puts a smile on your face definitely takes a valuable place in your heart. One such hilarious personality is Lil Duval. He is the American stand-up comedian best known as the host of MTV2's comedy show, Ain't That American. 
Lil Duval is also popular for appearing in the shows like Guy Code and Hip Hop Squares. The American comedian is also recognized for his acting credits in Meet The Blacks (2016), Scary Movie 5 (2013), and School Dance (2014).
Is Lil Duval Divorced? His Tweet Related To Break-Up
Lil Duval is super expressive in his professional life but he has successfully covered up his personal life. The stand-up comedian has kept the details about his love life and possible wife under the radar. However, he has posted a humorous divorce letter on Facebook on 24 September 2011. His post, which went viral within no time, is still famous on social media.
In the hilarious post, he said that he divorced his ex-wife after seven years of togetherness. He stated about his wife not giving him the proper attention that time. His funny post even stated that his wife's lawyer confirmed that he won't be getting a dime after the letter he wrote that time.
Lil Duval has numerous breakup posts on his social media profiles which require to be demystified. The stand-up comedian even tweeted on 8 February 2018 that said,
When you break up with yo ex and things ain't been good for them since
Well, the comedian has kept his personal life notoriously private. He has never hinted his love life on social media though he shares the posts related divorce and break-up. However, we have come to know that he welcomed a baby girl name Nyla with his girlfriend in 2008.
See Also: Comedian and Video Producer Felix Kjellberg Married, House, Net Worth
Lil also has a godson and grandbaby. On the occasion of Father's Day on 17 June 2018, Lil shared a picture of his godson with his baby on Instagram and wished him Father's Day for being a good father. He captioned,
Happy Father's Day to my son for being a good father to my grand baby.....Yes i said grand baby. Shit i don't know how i got so old so fast  oh well SMILE BITCH!
On 27 July 2018, Lil shared a vintage picture of him grabbing the buttocks of a girl. Though he hasn't mentioned if she was his then-girlfriend or not, he said that he was forced to do such a stunt with her and was a victim then.
Jokes About His Gay Sister; Would Kill A Transgender Girl
Lil Duval has a sister named Rolanda Powell. She is gay and was married to another woman as per her brother's Facebook post on 24 April 2011. He wished her on her birthday on 30 September 2014 and said that she wanted to become like him so badly that she ended up being gay. The Scary Movie 5 actor showered light on her relationship status about being single then.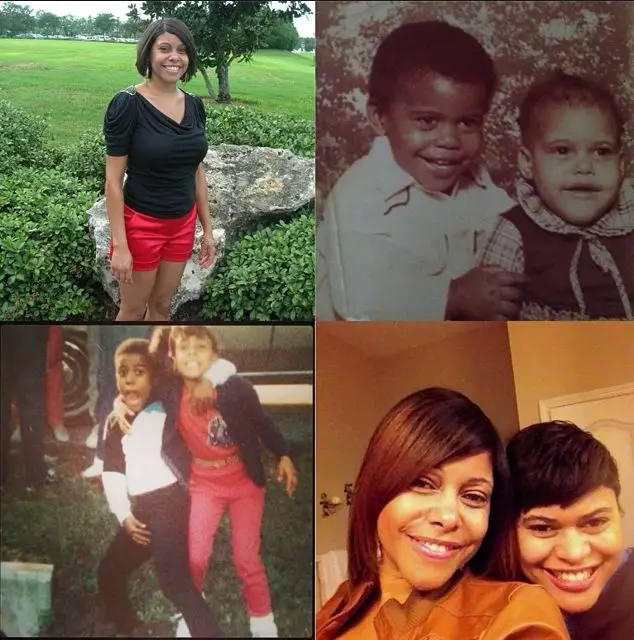 Lil Duval and his sister Ronalda in a picture posted on Facebook on 23 June 2014 (Photo: Facebook)
He shared his sister's picture on 23 June 2014 and joked about her being ugly since childhood. He further added that their mother also thought that she was horrendous. He misled Rolanda into thinking that she was adopted until she was 17 years of age.
Lil has a funny view regarding gay and transgender people. As per advocate.com of 30 June 2017, he said on an episode of The Breakfast Club that he would kill the transgender girl even if he unknowingly dated her. He is horrified about having sex with a trans woman. The comic actor added she had to die for her deceit.
What Is Lil Duval's Net Worth?
Lil Duval has earned a massive net worth of $1.5 million. He has accumulated his wealth from his acting career span of two decades. He also collects his fortunes from the MTV2's regular series Guy Code and Hip Hop Squares.
After completing his high school, Lil moved to Atlanta and started performing stand up comedy at the Atlanta staple, Uptown Comedy Corner. His professional career spiked after he competed on the Oakland talent completion in 2001. He met Cedric the Entertainer's road manager and was privileged to perform on the show.
Visit Here: Rell Battle Wiki, Age, Birthday, Height, Family, Dating, Instagram
The comedian-actor was also the finalist on the comedy competition Coming to the Stage in 2005 that aired on BET Network. The stand-up comedian was also the host of his own show Aint That American on MTV2 in July 2013.
Recently, he released his song titled Smile Bitch featuring Snoop Dogg. He has also previously entertained the audiences by appearing on various music videos. His video displays the psychedelic journey and old-school vibes of the artists. The nationally recognized comedian has also signed a contract for a sequel of the hit comedy Meet The Blacks. He has also cast the magic of his comedian aura to the audience at Goodnight Comedy Club in Raleigh on 27, 28 and 29 July.
Short Bio
Lil Duval was born on 12 June 1977 in Jacksonville, Florida as Roland Powell. The comedian holds an American nationality and belongs to African-American ethnicity. He has a height of 1.57m (5 ft. 1 in). He graduated from First Coast High School in Florida. He has a birth sign of Gemini. He resides in Atlanta with his family members.