Linda Hogen is an actress and executive known for her works in the 1994 TV series Thunder in Paradise and as Mrs. Becker in the 2009 film, Little Hercules in 3-D.
Additionally, she has also appeared in the 2013 music video of Ricky Romance's song, M.I.L.F.
Linda Hogen's Bio
Linda stands at a height of 1.74 meters (5 ft 8½ in). 
She was born on 24 August 1959 in Miami, Florida, as Linda Marie Claridge. She is the older sister of actress Christie Claridge, the Miss International 1982. 
Do Not Miss: Who Is Jenn Im Husband? Details On Her Married Life & Bio
Growing up, Linda attended the Chatsworth High School (Chatsworth, California); she was in the class of 1977. After graduation, she launched a beauty and nail salon at Devonshire St. in Chatsworth. 
Engagement And Split Details
Linda was engaged to her boyfriend, Charlie Hill, before they called it off in May 2012.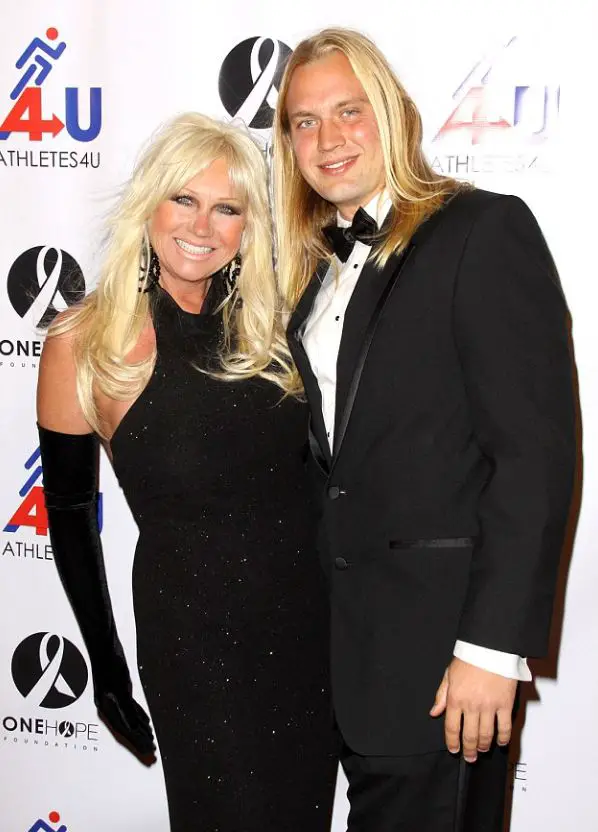 Linda Hogen with Charlie Hill at an event (Photo: dailymail.co.uk)
Linda shared the news of their split on her Facebook page saying,
"Ok... My status has changed. I am now single. After the great therapy we had together and time to think and concentrate on who we are and who we want to be, Charley and I decided that we should each travel through life in different directions."
Linda and Charlie had previously gotten engaged in July 2010 and were set to get married in summer 2011. 
Allegations And Charges
As stated by TMZ, Linda was sued for $1.5 million by her ex-fiance in July 2014. He accused Linda of involving him in menial labor during their relationship. Charlie claimed that Linda made him do all sorts of things like waxing the yacht, digging a creek, pull reeding from the lake along with construction and landscaping works. Nevertheless, he also revealed that she let him fertilize 25 acres of avocado trees. 
Learn About This Reality Star: 'Summer House' Carl Radke Shares Gay Experience, But Is Straight
However, it turned out that Charlie violated a settlement made by him and Linda during their breakup. Charlie was obligated to remain silent about the details of their relationship and the activities he got involved in during the time. But, he didn't comply with the contract and filed a case against her.
Linda Hogan's Past Relationship
Previously, Linda was married to former WWF Champion Hulk Hogan from 18 December 1983 to 27 July 2009. Linda eventually filed for a divorce in 2007, alleging Hulk of physical abuse and extra-marital affairs. 
Net Worth Info
As stated by Celebrity Net Worth, Linda has a net worth of $20 million- which she earned as a media personality, public speaker, and entrepreneur.  
Interesting Facts
Linda first met Charlie as a friend of her son, Nick. They eventually flourished their intimacy and started dating in 2008. Charlie was 19 years old at the time, while Linda was 48. 

In 2012, Hulk's sex tape was revealed. He was seen with his best friend Bubba the Love Sponge's wife and Bubba in the video. As stated by the US magazine, he sued the publishing party Gawker- an American blog- for $100 million. However, he later denied the sexual encounter. 

Linda and Hulk are parents to a son named Nick, and a daughter, Brooke. Brooke went to school with her mother's ex-fiance, Charlie Hill and is only one year younger than Charlie.