Lindsey Bennett and TV are a match made in heaven. The TV personality is a bubbly person, has high energy and fun, and is photogenic. Professionally, she is a designer and collaborates with her partner to create some breath-defying stuff.
Lindsey is seen in "Desert Flippers" show which is broadcasted on HGTV. In the show, she and her husband make towing rocks, chipping up tile floors, and scouring mold from a formerly abandoned ranch house to turn it into something spectacular.
"Television Duo"; Relishes Life TV Partner Husband
Lindsey is married to her TV partner, Eric Bennett, and parent three boys. The desert flippers got married in 2011. Since then, they grew up, met and launched their real estate career in the Madison area. In the show "Desert Flippers," they buy, renovate, and re-sell homes near Palm Springs, California.
Also Read: Richard Armitage Gay, Married, Wife, Girlfriend, Engaged
The couple is dedicated to their three young children, Dean, Roman, and Graham. They are often seen going on vacations with their kids or attending soccer games. The pair continually shares their family outings on Instagram.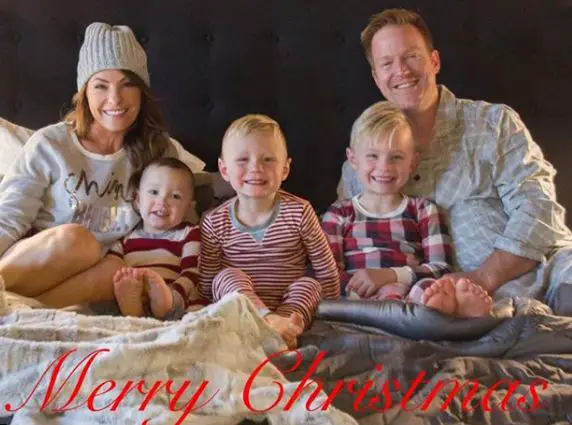 Lindsey posted a family picture wishing her followers for Christmas (Photo: Instagram )
The two of them are also religious, so they believe faith has brought them all the success they have achieved so far. Lindsey is very grounded to God and gives some the credit of the show to the God.
How Much Is Lindsey's Net Worth?
At the age of 39, Lindsey summons her net worth from the reality show "Desert Flippers." The TV star flipped their home together just one month after they met and used the money to move to California to start a new business.
Maybe that was the best decisions they ever made, which made them the TV stars today. After a decade, they own their house renovation show on HGTV that is set in Palm Springs. They have completed two seasons of the show and has started the third season from July 2018. Along with the hit house flipping show, they have also seen as a judge in HGTV show "Brother vs. Brother" in 2017.
The couple is often compared to Chip Gaines and Joanna Gaines, who was seen in the similar show, the Gaines' show "Fixer Upper." This show was a big hit and has accomplished in building an image for Waco, Texas and highlighting the city on the map.
The duo together has amassed a lot of property. They have flipped more than a hundred houses and made a good amount of profit from each of them. They own four long-term properties in Dane County and one in Whitefish Bay. Looking at the number of properties they own and the overall popularity of the show they have probably garnered a massive sum of fortune.
Do Not Miss: Mike Greenberg Wife, Kids, Family, ESPN, Contract, Salary, Net Worth
Short Bio
The TV star was born in 1979 and celebrates her birthday on 25th May, as per wiki. Lindsey, 39, lived in Madison, Wisconsin area before moving to California to start her career.