Louis Rossmann is a famous personality of YouTube and an independent repair technician. He created his YouTube channel on 28th June 2017 and rose into fame showing his repairs as an educational resource, frequently live streaming repairs on both Twitch.tv and Vimeo.
He gained further attention after uploading a video titled Apple & Customs STOLE my batteries, that they won't even provide to AASPs on 18th October 2018.
Besides uploading the videos on YouTube, he also operates his company, Rossmann Repair Group Inc. in New York and is a "right to repair" advocate.
Louis' Bio With Age
Louis was born as Louis Anthony Rossmann on 19th November in 1988. 
Related: Jack Maynard Wiki, Bio, Age, Girlfriend, Dating, Sister and Net Worth
Louis revealed the marks he got while he was in school through his video titled Louis' education history; who is this idiot on screen and what are his credentials? on 17th April 2015. For instance, he mentioned that he got 60 out of 100 in his English quiz and 50 out of 100 in Maths test. Also, Louis disclosed that he passed his high school with 76.37 percentile.
Dating Status, Girlfriend
Louis is dating a girl named Erica. He features his girlfriend time and again in his videos.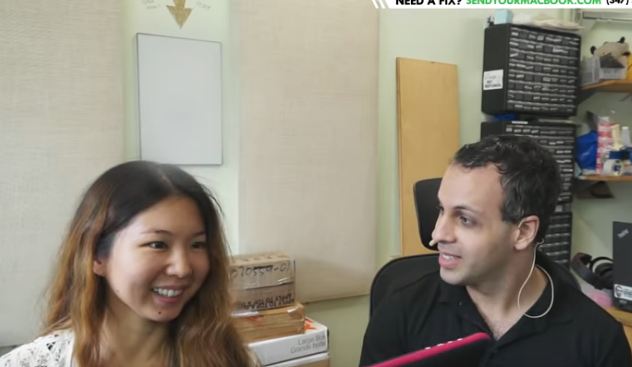 Louis Rossmann repairs his girlfriend's MacBook on 22nd June 2019 (Photo: Louis Rossmann's YouTube) 
As such, on 22nd June 2019, he uploaded a video on his YouTube channel where he seemed to be recovering his girlfriend Erica's MacBook. 
Career Information
Prior to starting his company, Rossmann Repair Group in 2007 and running his own YouTube channel, Louis worked as an unpaid intern at Manhattan's Premier Recording Studios. Later, he became a freelance technician and considered himself a workaholic since he used to work 80 hours a week.
Next YouTuber: YouTuber Antonio Garza Wiki, Age, Net Worth
Before being dedicated to his work, he was renowned for being screwed over by contractors, suppliers, landlords & service providers. It didn't demotivate him but instead encouraged him to do the best in his company. Louis learned to provide the best service to his customers first and then thought of generating the profit at the last. It is the reason why he is recognized by many.
Net Worth
Louis makes a good income from his self-titled YouTube channel which has over 1.08 million followers.
In addition, he is also making a decent earning from his website, rossmanngroup.com which is more than a decade old. The website has an estimated worth of $82,800 and has a daily income of around $138.The site is specially focused on providing the services related to the repair of iPhone data, iPhone screen, Mac laptop, and hard drive data recovery.
Interesting Facts About Him:
Louis also uploads tutorials on life and business practices on his YouTube channel.
His company, Rossmann Repair Group Inc. is a participant in the Amazon Services LLC Associates Program.
Louis first started working when he was 17 years old.