Food enthusiast Maangchi is one of the prominent YouTubers who serves authentic Korean food recipes and knowledge of food cultures. Her cooking videos have garnered her 4.14 million subscribers on her YouTube channel, Maangchi.
Additionally, she has also written cookbooks, namely Maangchi's Real Korean Cooking (2015) and Maangchi's Big Book of Korean Cooking (2019). 
Maangchi's Bio And Nationality 
Maangchi (real name: Emily Kim) was born in 1957 in South Korea. 
The YouTuber of Korean-Canadian nationality later moved to Manhattan's West Side, New York, to pursue her career as a counselor at a nonprofit organization and as a YouTuber. She later quit her job as a counselor and gave full time to her YouTube career.  
Family Details
Maangchi hails from a cooking family. Her father had a seafood auction business. As a result, she learned cooking and other traditional ways of making food from an early age. Her first culinary tutors were her mother, grandmothers, and aunt. 
Learn About This Chef: Adam Glick Chef's Age, Wife, Family
Maangshi spent most of her early life separated from her father. Later, Maangshi and her mother reconciled with her father when she was in second grade and started living together in Yeosu, a harbor city.
Cookbook Related
Maangchi's first cookbook, Maangchi's Real Korean Cooking (2015), is especially focused on beginners. Her second book, Maangchi's Big Book of Korean Cooking (2019), is mainly focused on Korean food and contains 150 cooking recipes alongside steps to cook and final pictures of the food.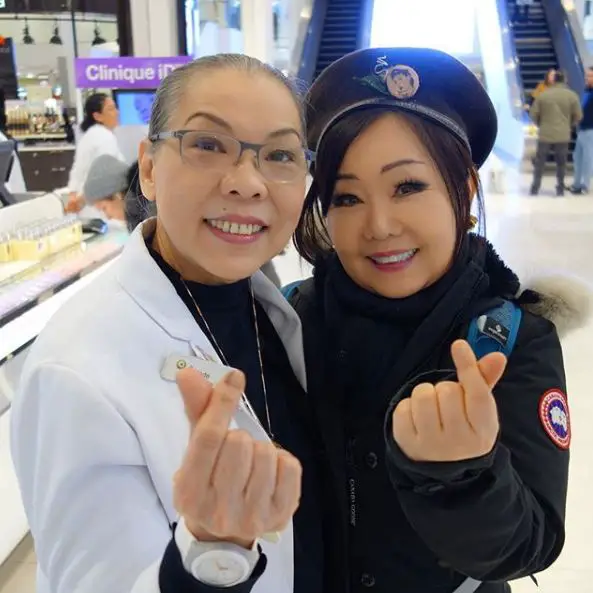 Maangchi with a fan named Jade in March 2019 (Photo: Maangchi's Instagram)
As per her website Maangchi.com, her second book, Maangchi's Big Book of Korean Cooking, is bigger in size and contains more recipes, information, and pictures related to Korean cooking and ingredients than her first book, Maangchi's Real Korean Cooking. 
Married Life, Husband
Maangchi has been married to a Web developer of The New York Times, David Seguin, since 2009.
The duo now lives together in an apartment above the frenzy of Times Square. 
Past Relationship And Children
Maangchi is divorced from her first husband, with whom she first came to the United States in 1992. Her ex-husband had immigrated for a teaching job at Columbia. 
She lived alongside her ex-husband and two children- a son and a daughter- until they divorced in 2003. After that, she started living with her children.  
Journey To YouTube
Maangchi had a job as a counselor for Korean-American families- who were victims of domestic abuse. On the other hand, she was slowly drowning into the online battle game, City of Heroes. Later, she discovered her addiction to video games after she spent most of her free time doing the same. 
Another Notable YouTuber: Meet Marques Brownlee [MKBHD] Girlfriend & Know His Net Worth
Concerned about Maangchi's addiction, in 2007, her children persuaded her to try more aspects of the internet like cooking videos. She then released her first cooking video on 9 April 2007 and got instant positive feedback.