American actor Malcolm Barrett is most-recognized for his character as the scientist and time traveler, Rufus Carlin in the TV series, Timeless. He is also known as Lem Hewitt in Better Off Ted. He is also famous for his portrayal as Dave Mack in the movie, Larry Crowne. A native of New York City, Malcolm is also a hip-hop artist and performed under the alias Verbal the Rapper.
How Does Malcolm Barrett Summon His Net Worth?
Malcolm Barrett summoned the net worth from his career in Hollywood industry. Malcolm earned the revenue appearing on the American romantic comedy film, Larry Crowne, that made the worldwide collection of $72 million from the production budget of $30 million.
He also increased his income appearing on long-running TV series like Law & Order (2001-2002), Timeless (2016–present), and Preacher (2017–present).
See Also Law And Order Cast Member: Alexa Mansour Wiki, Age, Parents, Ethnicity, Height, Boyfriend, Dating
The 38-year-old actor, Malcolm had a recurring role in the TV series Law & Order. As of now, the Preacher actor is portraying the character of Rufus Carlin in the TV series, Timeless, and Hoover in the TV series, Preacher.
With two successful seasons of Preacher,' the series has released their third season on 24 June 2018. With the release of the third season, Malcolm returned back in the series. The series is at its sixth episode now. On 31 July 2018, he uploaded a short clip on Instagram and mentioned that the TV series Preacher is back at 10 pm on Sunday.
Malcolm Barrett's VR Movie Wins Award
On 25 July 2018, Malcolm came up with an announcement that his VR thriller movie "Dinner Party," won the Grand Prix at Fantasia Virtual reality award. He even congratulated his team involved in the movie. He gave a special thanks to Ángel Manuel Soto for his passion and thanked Rachel Skidmore, Skybound Entertainment for their support and interest in the innovative work. 
The movie Dinner Party was directed by Angel Manuel Soto and in the movie, Malcolm portrayed the role of Barney
Reprises Role In Timeless With Dinner Party's On-screen Wife; Who Is His Real Spouse?
Malcolm Barrett portrayed the role of Barney Hill in the VR thriller movie, "Dinner Party" whereas Sarah Sokolovic portrayed the character of his wife named Betty Hill. On Malcolm's tweet on 29 April 2018, he mentioned that he and Sarah star in the TV series, Timeless.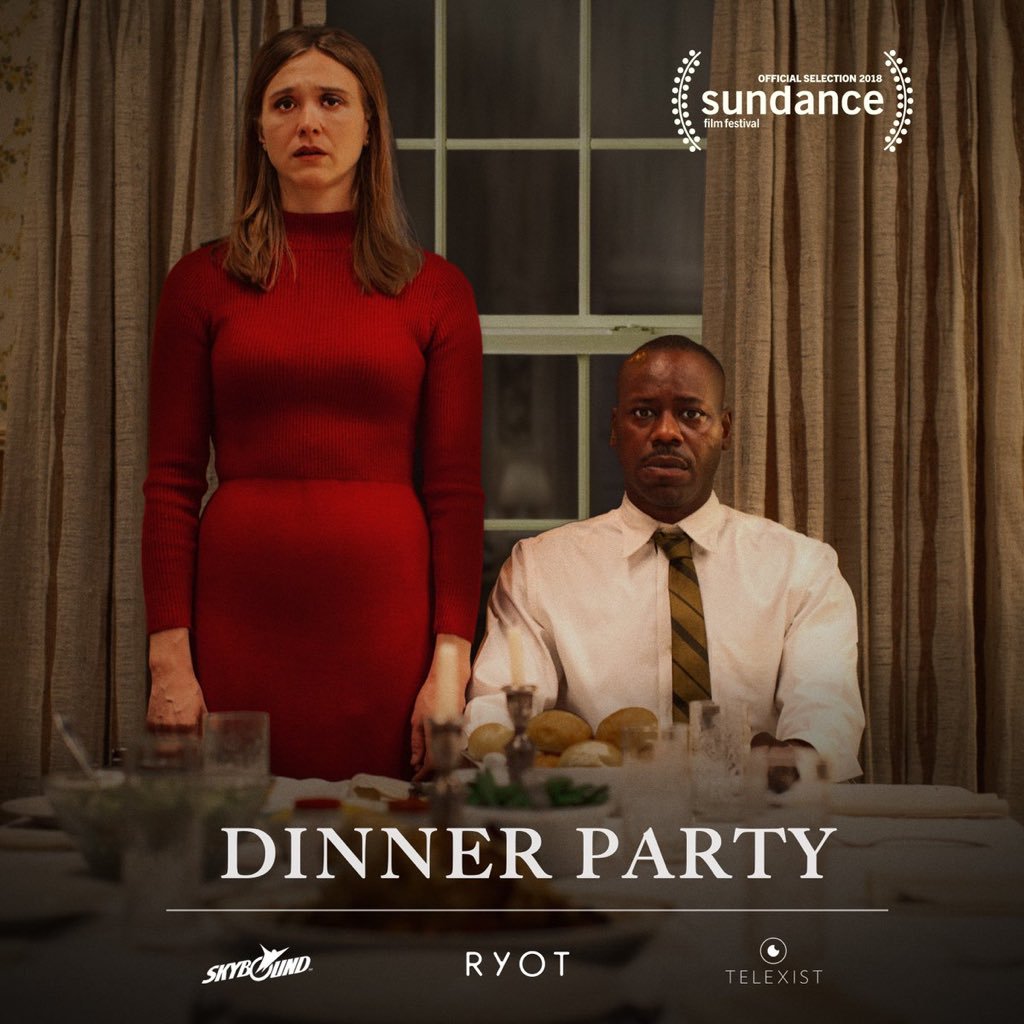 Malcolm Barrett with his on-screen wife Sarah in Dinner Party (Photo: Twitter)
He also added that the pair didn't have any scene together but gave credit to Sarah for bringing detailed, specific work, and the light to the set of Timeless.
On 14 April 2015, he hinted as if he was bounded by husband and wife relationship via Twitter after he wrote: "Catch my 'wife' on Conan tonight" and shared a picture of actress Angela Kinsey. Malcolm appeared in an episode of The Office in 2013, in which Angela is one of the lead roles and has 188 appearances to her name.
Read Also: Shaun Robinson Wiki, Married, Husband, Dating, Family, Height, Net Worth
However, Angela is currently married to Joshua Snyder, and Malcolm and Angela do not share any husband and wife relationship onscreen or offscreen.
Before uploading the photo of Angela, Malcolm on his one of the tweet on 29 July 2011 wrote that he loved his girlfriend. Also, on 22 November 2012, he wrote on Twitter that he spent his day showing his girlfriend's family the first part of R. Kelly's "Trapped in the Closet."
Mentions Gay On His Tweet; Is He Anti-Gay?
Malcolm Barrett often is seen tweeting on Twitter relating to gay. On 20 January 2012, he suggested not to run on the platform of the sanctity of marriage. He further added that the importance of marriage is being ruined by gay.
Following his tweet, many fans mentioned him as anti-gay. Then on 7 May 2018, he came out and urged supporters not to refer him as anti-gay.
Short Bio
Born on 22 April 1980, Malcolm Barrett raised in Brooklyn, New York. The Timeless actor, who is nicknamed as Verbal, stands at the height of 5ft 10 ½ (1.79 meters).
Law and Order fame actor completed his graduation from Stuyvesant High School in Manhattan in 1998.